Ho Chi Minh City Residents Enjoy 'New Normal'
After months of lockdown, Ho Chi Minh City has eased some pandemic prevention restrictions. Expats and locals in the area are happily adapting to the new state.
Children in a park in Ho Chi Minh City (Photo: VN Express)
Marvin Contapay, an expat in Ho Chi Minh City, put on sports shoes and walked around his apartment at 5 p.m. on Sept. 27. It was the first time he jogged outside after nearly four months of staying ínide.
"Today is my first outdoor exercise," said Contapay, a Filipino English teacher. "It's nice to see signs of normal life," he said.
District 7, Cu Chi, and Can Gio are the first three districts of Ho Chi Minh City to relax social distancing according to the city's roadmap from Sept. 16. The districts have allowed people to go to supermarkets, wet markets, or essential services. In Tan Phu and Tan Phong wards of District 7, people who have been fully vaccinated are allowed to take up outdoor exercise. For Marvin Contapay, these changes are a "gift of gold."
"Living during a pandemic is not easy, especially for foreigners," said Marvin, who has been in Vietnam since 2018.
During social distancing between Ho Chi Minh City, the Filipino man faced many difficulties. His English center was temporarily closed, leaving him having mental insecurities.
Over the past several months, he has only gone out a few times to go to the supermarket and get vaccinated.
"Most of the shops have not yet open and the streets are not very crowded. But we are grateful that the pace of life is slowly returning to normal. At least we are able to breathe in the fresh air to ease our boredom," he said.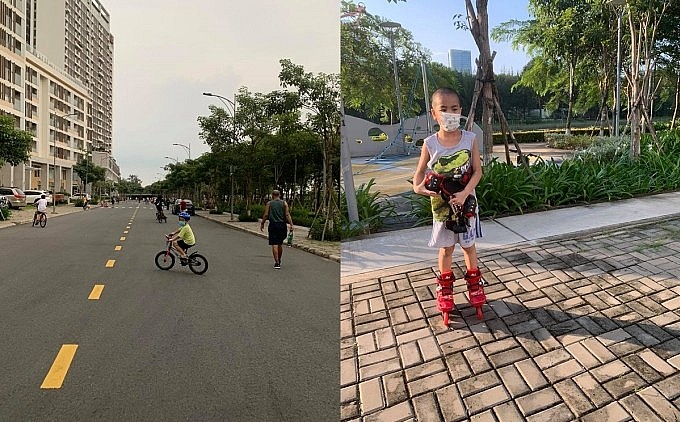 Children in a park in Ho Chi Minh City (Photo: VN Express)
Going for a walk used to be normal, however, during the pandemic, it became a luxury. Similar to expats, locals in Ho Chi Minh City see the new normal state as "a dream."
"As social distancing was loosened on Sept. 19, the first thing my family did was order food online. After many months of cooking at home, ready-to-eat meals tasted so delicious," said Truong Ngoc Thien, owner of a jewelry shop in district 1.
Since Tan Phu ward allowed people to go out to exercise, Ngoc takes the children to a nearby park to ride bicycles and play skate. Ngoc said district 7 has piloted reopening since Sept. 16, however, people in his neighborhood had only gone outside since Sept. 25. The pace of life has not fully returned to normal, but "at least the neighborhood is no longer quiet."
"On the days of distancing, it was very quiet here. Not a single person on the street. The squirrels in the nearby park even climb into our garden," Ngoc said. "What happened in the last four months has made me appreciate life so much more," he said.
For Tran Phuc, a banker, happiness means being able to go to work. The 28-year-old man said he felt a bit strange when driving to work after three months of working from home. "On the first day at work, I felt excited and a little nervous as if I had just been recruited," Phuc said.
Tuyet Loan in her uniform. (Photo: VN Express)
District 7 has allowed people in green areas to shop for essential goods at 9 supermarkets and 154 convenience stores from Sept. 16, but Le Thi Lien, a local in Binh Thuan ward is not yet confident to go out.
"Entering the supermarket, pushing a heavy cart, and smelling fresh food, it feels so different," Lien said about her first supermarket visit after the lockdown.
In addition to easing social distancing, a district in Ho Chi Minh City named Can Gio has reopened for tourism. Tuyet Loan, a receptionist, welcomed the first group of tourists to Can Gio reserve on Sept. 19. The woman said she had not worn makeup and uniform for months.
"The group revives this place," said Loan.
She happily greeted guests on the pilot tour, then showed them around. "The first day I went back to work I was happy, though quite tired,", she said.
Due to the current outbreak, the Vam Sat eco-tourism area in Can Gio closed from May 28, right in the peak tourism season, leaving its employees, including Loan, in great income loss.
Tuyet Loan's joy of going back to work is somewhat similar to the wish of Contapay.
"Right now, what I'm most interested in is when will English centers can reopen. I think we often take things we have for granted until it has gone," says Contapay, who wants to "live every moment to the fullest" and "appreciate every moment" after experiencing lockdown in Ho Chi Minh City.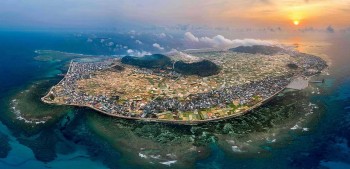 Viet's Home
Dozen of beautiful photos from the "Homeland View from the Sea" national photo contest will be featured in a 2022 calendar.