Ho Chi Minh City to randomly test Covid-19 for arrivals at Tan Son Nhat airport
The Ho Chi Minh City's health sector will randomly perform Covid-19 testing on arrivals from Hanoi, Quang Ninh and Hai Phong to Tan Son Nhat International Airport as a large number is returning to the city after the Tet break, said the national flag carrier Vietnam Airlines.
From February 17, the airlines strengthens COVID-19 prevention and control measures for flights from Hanoi to southern localities to ensure safety for passengers and its staff, according to Vietnamplus.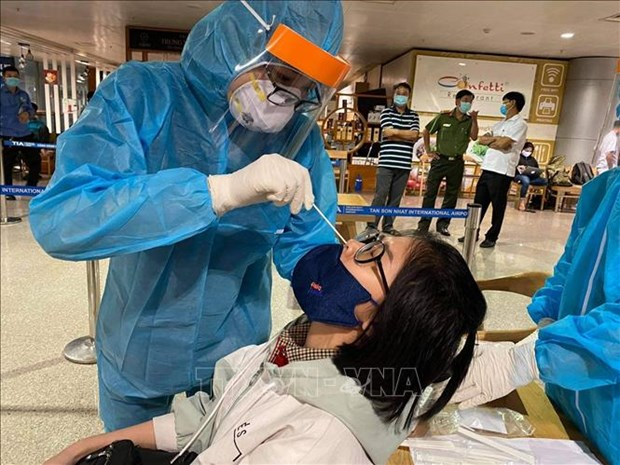 Taking samples of airport staff for COVID-19 testing at Tan Son Nhat International Airport on February 6 Photo: VNA
The measures include wearing facemasks throughout the flights, making health declarations, and measuring body temperature before boarding. It may refuse to serve passengers who fail to follow medical regulations against the pandemic, a leader of the carrier said.
Airplanes from Hanoi will be sprayed with disinfectant according to international standards right after landing at airports in Da Nang and HCM City.
Other safety measures will also be implemented on all domestic flights of Vietnam Airlines.
Passengers can seek support at the website www.vietnamairlines.com, the mobile app Airlines, Facebook fan page www.facebook.com/VietnamAirlines, the carrier's hotline at 1900 1100, or its ticket offices nationwide.
The Ho Chi Minh City Center for Disease Control and Prevention (HCDC) has also been randomly screening 200 passengers arriving from Hanoi's Noi Bai International Airport, Van Don International Airport in Quang Ninh Province, and Cat Bi International Airport in Hai Phong City every day, Vnexpress reported.
The move came as part of the city's expansion strategy to early detect community transmissions and prevent further coronavirus outbreaks after a series of staff at Tan Son Nhat, the country's largest airport, was diagnosed with Covid-19.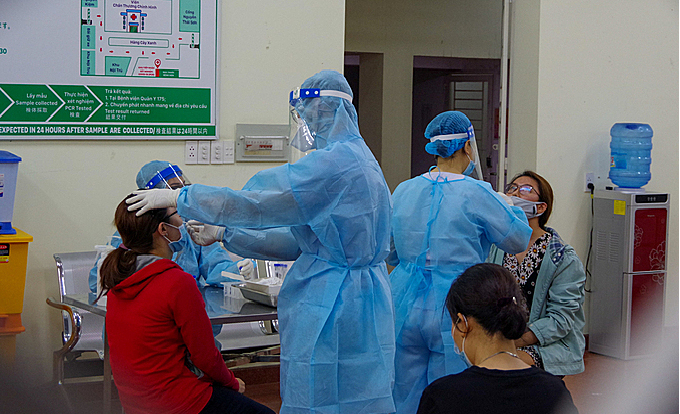 Medical staff in HCMC take samples of residents in infected areas for coronavirus testing, February 10, 2021. Photo: VnExpress
Between February 11 and 14, medical staff in HCMC had worked non-stop to Covid-19 test thousands of people living in high-risk areas like motels, employment premises, bus stations, and markets.
From Jan. 30 to Feb. 16, the city has performed Covid-19 tests on around 40,000 samples, including 5,400 from Tan Son Nhat ground staff and their family members.
Health Minister Nguyen Thanh Long told a government meeting February 16 that the outbreak at the airport is "basically under control."
The HCMC health department on Tuesday requested people entering the city from other localities within the last 14 days to medically declare themselves to authorities. Meanwhile, the HCDC said those entering HCMC from areas experiencing Covid-19 outbreaks or areas being imposing social distancing must enter centralized quarantine for 14 days and be tested four times. The HCDC also began randomly testing those entering the city via public transport.
Places under social distancing include the communes of Thuy An, An Sinh, Binh Duong, Nguyen Hue in Dong Trieu Town in the northern province of Quang Ninh, and the entire Hai Duong Province, the current Covid-19 epicenter.
Ho Chi Minh City so far has reported 36 Covid-19 community transmission cases.
The national Covid-19 total stands at 2,329, with 1580 recoveries and 35 deaths. Seven of the recoveries were confirmed on February 17.
Among the active patients, 104 have tested negative at least once for the novel coronavirus.
Over 145,000 people are in quarantine, 15,000 in centralized quarantine facilities, over 500 in hospitals, and the rest at home or other designated accommodations.
Covid-19 has claimed 2.4 million lives globally.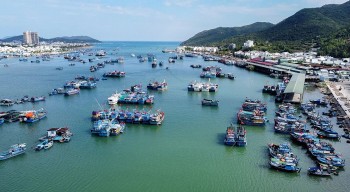 Economy
GDP growth quickened to 7.72% in the quarter ended June, beating the government's 6%-6.5% target.