Speaking at a meeting between the Standing Government and the National Steering Committee for COVID-19 prevention and control on February 15, Prime Minister Nguyen Xuan Phuc requested the health sector in the localities to re-conduct Covid-19 testing for foreign experts entering Vietnam. Although it is not yet concluded that the foreign experts are the transmission source, this action is really necessary.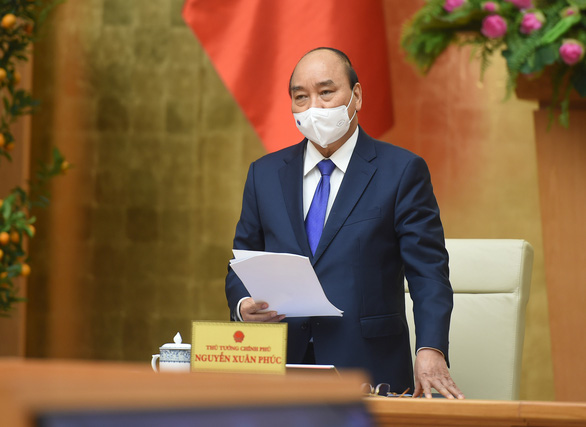 Prime Minister Nguyen Xuan Phuc speaks at the meeting between the Standing Government and the National Steering Committee for COVID-19 prevention and control on February 15. Photo: VGP.
Prime Minister Phuc said that from the incident of a Japanese man who died at Somerset West Point in Hanoi's Tay Ho District tested positive for the novel coronavirus, the localities need to remind people to seriously implement health declaration as well as to take more drastic anti-epidemic measures at accommodations.
At the same time, the Prime Minister asked to establish a standard procedure to handle suspected Covid-19 cases. In addition, he assigned the Ministry of Health to study epidemic preventive measures in the new situation.
PM Phuc also lauded the great efforts of the National Steering Committee for Covid-19 prevention and control, the health sector, and localities. Many medical workers left their Tet celebration behind and join the fight against Covid-19, he added.
The Prime Minister agreed to suspend spring festivals and religious activities with crowded people. He also assigned the Ministry of Education and Training, in coordination with the localities to consider allowing students not to come back to school after Tet and shifting to study online. The residents are required to strictly comply with the 5K message, especially wearing face masks, avoid "non-essential" gatherings, etc. Offices, agencies, factories, etc need to take anti-Covid-19 measures before returning to work.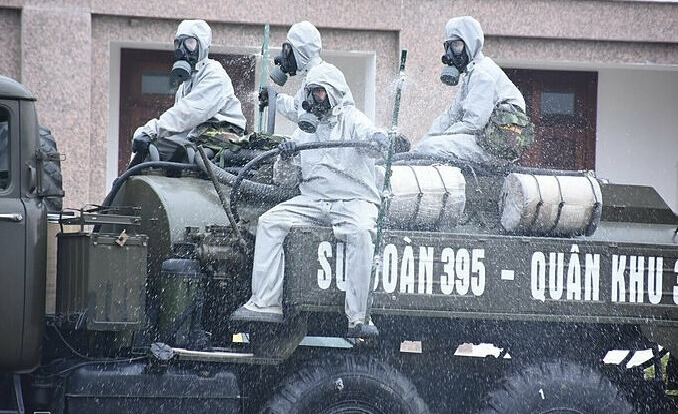 Soldiers spray disinfectants at a centralized quarantine facility in Hai Duong Province, January 30, 2021.
Photo: VnExpress
The authorities need to strengthen inspect, examine and strictly handle those who breach the regulations on the Covid-19 prevention and prevention. Promoting the online activities; thoroughly reviewing cases that have close contact with patients; strictly controlling illegal entrants; conducting Covid-19 testing on the large scale, etc are also really essential.
Prime Minister Nguyen Xuan Phuc also asked to tighten management at the quarantine and blockaded areas to prevent cross-transmission. The military forces take responsibility for managing the concentrated isolation facilities. Halting production and business activities is not really necessary but needs to follow Covid-19 safety protocol.
Localities especially pandemic-hit ones such as Hanoi, Hai Duong, Quang Ninh, Ho Chi Minh City, etc to strictly and drastically implement epidemic preventive measures in accordance with the guidance of the Ministry of Health.
Prime Minister approved the social distancing imposing under Directive 16 in the entire Hai Duong Province, adding that Ha Noi and Ho Chi Minh City can implement the measure in high-risk areas.
Ensuring food security, promoting local farm produce consumption, and tight monitoring of entry-exit activities are also necessary, according to Prime Minister.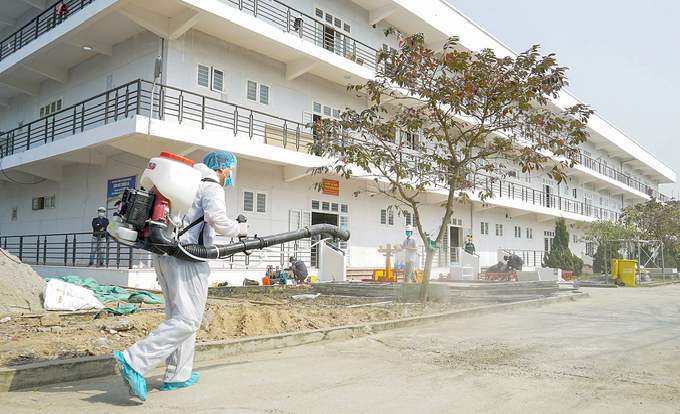 A medical worker disinfects an area of a field hospital for Covid-19 patients in Hai Duong Province.
Photo: VnExpress
At a meeting of Hanoi's Steering Committee for COVID-19 Prevention and Control on February 15 afternoon, Vice-Chairman of the Municipal People's Committee Chu Xuan Dung requested to close all street eateries and coffee shops starting 0:00 February 16 as part of efforts to combat the Covid-19 pandemic.
Dung also ordered to close relic and religious sites as these places attract a large number of people at the beginning of the New Year.
Vietnam has recorded as many as 679 locally transmitted cases of Covid-19 ever since community transmissions reemerged in the nation on January 28 after 55 clean days in a row, with Hai Duong topping the list at 501 cases.
The country's total Covid-19 infection tally is now 2,271 with 1,546 recoveries. Around 128,000 are in quarantine nationwide, either in hospitals, quarantine zones, or at home.
Malie Nguyen