Hongkong Media Tycoon Jimmy Lai Arrested As New National Security Law Came Into Effect
Hong Kong police arrested media magnate Jimmy Lai for alleged foreign collusion under the new security laws.
According to The Guardian, the 72-year-old founder of news outlet Apple Daily has already been facing several other charges over the organisation and promotion of protests last year. This morning (Monday, August 10) he was handcuffed and taken away from his home and did not answer any question related to the arrest.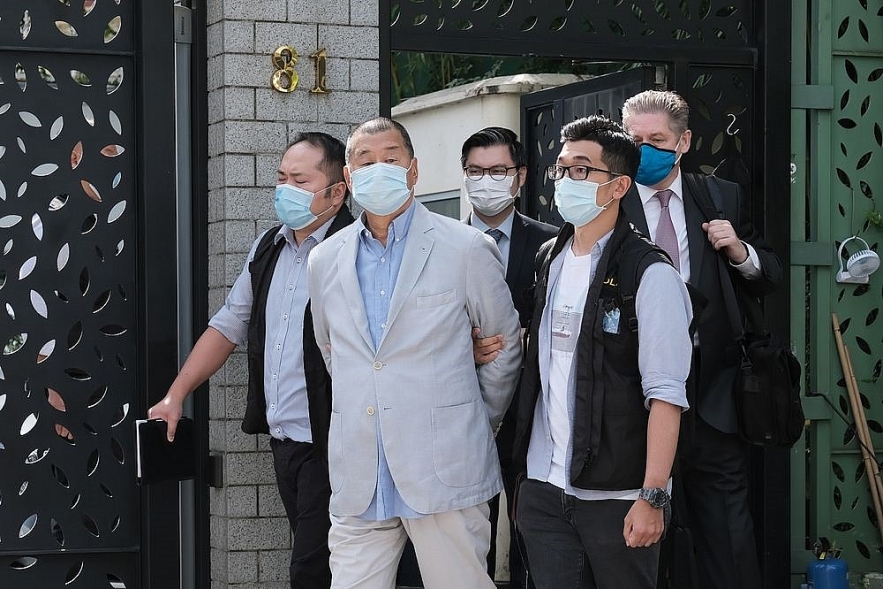 Jimmy Lai handcuffed and taken away from his home. Photo: WSJ.
As reported by the BBC, Lai was arrested for attending a banned anti-government march on 31 August, 2019. That day, crowds of protesters defied a police ban on their march and clashed with riot officers. Hong Kong police spokesman also stated that Mr. Lai was also arrested on allegations of "criminal intimidation" over an incident three years ago, using foul language and uttering threats at one of the reporters at a vigil commemorating the 1989 Tiananmen massacre.
Lai's own newspaper, Apple Daily, reported that his son has been detained as well. Seven other people aged 39 to 72 were reported to have been seized due to suspicion of collusion with foreign forces against national security, and conspiracy to commit fraud. Chinese state media, CCTV said the seven people including Lai were arrested by the newly established Hong Kong national security office.
The Guardian also stated that Lai's arrest is the most high-profile under the new law since it was implemented. It comes after the US enacted sanctions against senior Hong Kong officials, including the chief executive, Carrie Lam, and comes amid deepening concern over Hong Kong's democratic decline.