How a dog become a get-out-of-jail card in lockdown Spain
While Spain approving a lockdown amid the growing coronavirus pandemic,walking the dog has become an enviable get-out-of-jail card to some wily punters even offering their hounds for hire and pretending to be a dog walker by using a toy on a leash.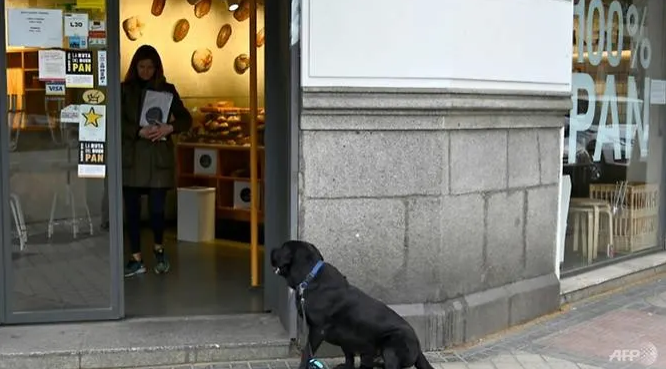 Walking the dog used to be a twice-daily chore for owners - but under the coronavirus lockdown it has become a get out of jail card, allowing this owner to nip to the baker's in Madrid. (Photo: AFP/Gabriel Bouys)
Under the Spanish government's strict lockdown to combat the COVID-19 virus spread, citizens are only allowed to leave their homes to shop for groceries, go to work, or visit the hospital.
But they can go out if they have a four-legged friend - for a brief walk and only to carry out the bare necessities.
The police and army are on the streets to enforce the lockdown. Fines for ignoring the state of emergency order vary from €100 ($110) to €600,000 ($658,000) or one year in prison.
However, some have sought to get around these strict regulations in a cheeky challenge to authority.
At least one man in northern Spain thought he could get away with faking it - until police caught him dragging a stuffed toy along by a leash in a hilarious moment caught on camera by sniggering neighbours on a nearby balcony.
A video on social media showed a woman walking down a road with a tortoise attached to a string. Another man was filmed taking a toy duck for a stroll.
And it has caught on online with Facebook and Twitter flooded with similar clips, with one even showing a man getting ready to "walk" his daughter who is disguised as a dalmatian.
It's not only in Spain, with a mayor in Sardinia forced to issue a public clarification that the dogs being walked "have to be alive" while in Rome, some people have even been spotted walking pigs.
Also, some dog owners are renting out their pets so cooped up Spaniards could get out of their homes.
"One dog owner told me someone had sent him a message asking if they could rent his dog," said Luis Fe, a 49-year-old teacher walking Dara, his border collie, near a church in Madrid..
And the idea seems to be catching on.
Javier, who lives in Pamplona, in northwestern Spain, offered his dog Rambo for €25, saying "rent a dog and get out of the house without being fined for breaking the quarantine."
Not everyone thinks it's funny.
"That's a nightmare - for other people's health and for the dog itself who's going out with a person they don't know," tuts Alicia Barrientos, 39, who is out walking her Australian sheepdog.
And rival classifieds site Wallapop also pooh-pooed the idea, urging users to report any such dodgy dog offers.
But the subject had sparked a flood of humour on social media, from posts of pups punting themselves out at €15 a walk, to others collapsing in exhaustion: "But you've already taken me out 38 times today".
In Valencia, in southeastern Spain, a female dog walker was filmed dressed in a costume that is worn to celebrate the Las Fallas festival, which has been canceled.
Police confronted a group of dog owners who stopped to talk as health authorities have advised against any human contact.
José Luis Martínez Almeida, the mayor of Madrid, called on Spaniards to respect regulations.
"It is logical that you have to walk the dog but it is better that you do it for the minimum time possible," he told Telemadrid, a local television station.
'We ask for COMMON SENSE during #StateofEmergency because of #COVID19,' the police union Tweeted along with a video of the incident.
'We are facing a VERY SERIOUS situation by walking down the street trying to fool the @police ... DO NOT fool us and you will also [not] be punished. It is a matter of public health. #WeWillStopThisVirusTogether'
Health officials in Spain have documented 598 deaths related to the deadly virus, and confirmed 13,716 cases. So far, 1,081 patients have recovered.
The epidemic has killed 8,222 globally.
Residents have been told to stay at home and shops, bars, cafes, restaurants and movie theaters have been ordered to shut their doors. But pharmacies, grocery stores, supermarkets and gas stations remain open./.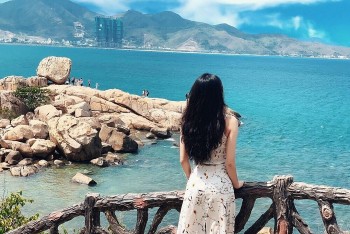 Travel
A British writer shared her experiences while visiting Hanoi, Ho Chi Minh City and Nha Trang city, the central coastal province of Khanh Hoa