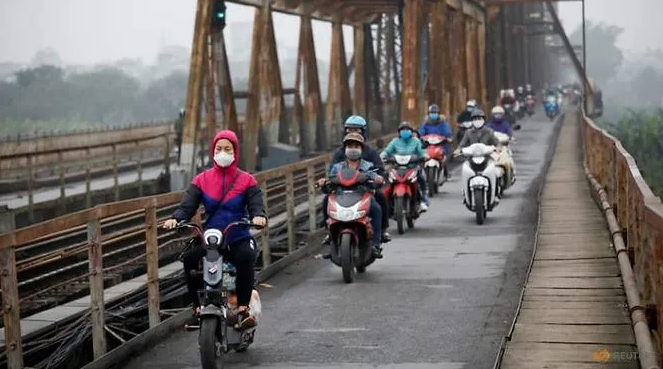 People wear protective masks to protect themselves against coronavirus while driving along Long Bien bridge in Hanoi, Vietnam March 16, 2020. REUTERS/Kham
These flights are: Flight EK 392 of Emirates Airlines from Dubai to Ho Chi Minh city on March 15, 2020; Flight VJ642 of Vietjet Air from Ho Chi Minh city to Da Nang on March 12, 2020; and Flight TK 162 of Turkish Airlines from Istanbul to Ho Chi Minh city on March 10, 2020;
All booking offices shall have responsibility for informing passengers on the aforesaid flights about this announcement, the ministry said.
Due to the increasing number of passengers infected with COVID-19 on flights that enter Vietnam recently, the Prime Minister decided to propose a suspension of visas to travelers from all countries, to limit the spread of the virus.
The decision is effective from March 18 and lasts for 30 days.
Weeks after declaring the recovery of all 16 of its coronavirus sufferers, Vietnam has confirmed 76 cases of the virus, ten of which emerged on Wednesday, after authorities announced a surge in infections from overseas.
Hanoi alone has recorded 20 cases of the virus - most of whom had travelled from Europe.
Chairman of Hanoi People's Committee Nguyen Duc Chung said that the situation of COVID-19 in the area would be complicated and unpredictable in the next 15 days. This is the time when many sources of infection, including the source of infection from the process of receiving citizens from epidemic countries.
Chung also particularly noted the risk when there are 1.4 million people aged 60 and over in the city. "From now until March 31, people try to stay at home as much as possible, restricting to the street because the source of infection is lurking in the community. In cases of background disease, try to restrict travel."
Schools citywide will remain shut until April 5. City authority has ordered the closure of cinemas, clubs and bars, massage parlours, karaoke lounges and online game centres until the end of March./.
Harvard Medical: Q&A on coronavirus

The new COVID-19 disease is spreading rapidly worldwide. Below you will find a number of answers to the questions regarding coronavirus by Harvard Medical School.
VNF/VGP