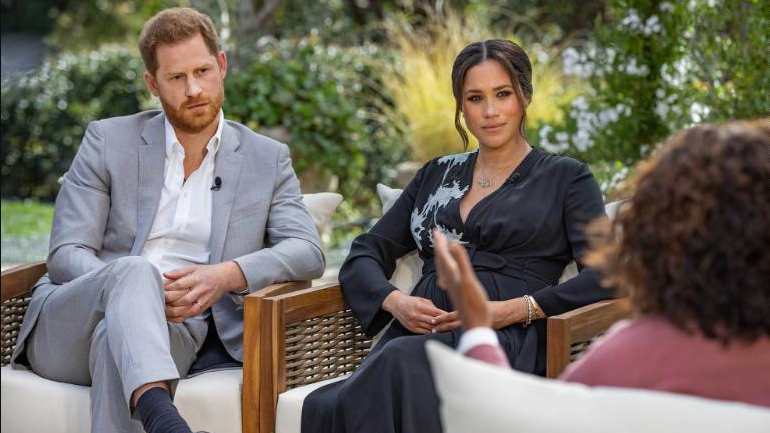 Photo: CNN
Meghan Markle and Prince Harry's tell-all interview with Oprah Winfrey has reportedly left their family members feeling sour. During their two-hour chat, the Sussexes addressed the difficulties in their relationships with their royal family members. Markle addressed a rumor that she made her sister-in-law Kate Middleton cry around the time of her wedding to Harry, explaining that it was actually the other way around. Additionally, Harry revealed that he and his brother, Prince William, have put "space" between themselves following the drama surrounding Harry's exit from his royal duties.
After more than 40 hours of silence, Buckingham Palace has finally spoken Tuesday on the tell-all interview with Prince Harry and Meghan Markle that brought out damaging allegations against the royal family.
In a rare statement from the palace that normally refrains from commenting on media reports, the royal family said it was "saddened" to learn of the full extent of how challenging the last few years have been for Harry and Meghan. It also said the issues raised by the couple, especially those involving alleged racism, are "concerning" and "are taken very seriously", said NBC.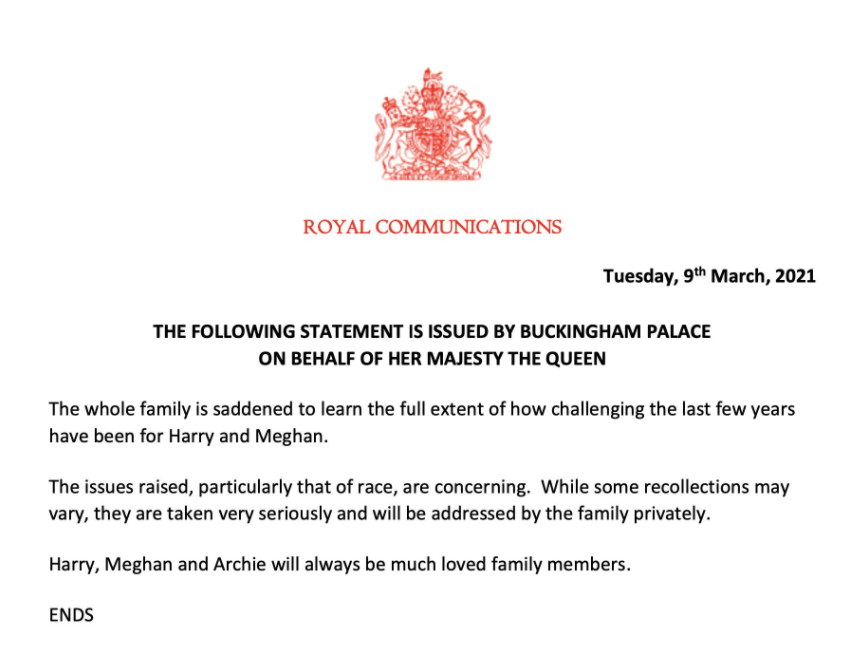 Photo: MYGC
Now, royal expert Katie Nicholl has spoken with Entertainment Tonight about the effect that the bombshell interview has had on Middleton, 39, and William, 38, who remain in the U.K. while Markle and Harry live in the U.S. "William is devastated by this interview," Nicholl claimed. "Don't forget that the Duchess of Cambridge [Middleton] is being dragged into this whole saga and William will hate that and of course, the relationship between father [Prince Charles] and son is of course at an all-time low."
Additionally, Nicholl said that Middleton will find it "upsetting" to be "dragged into" the royal drama, especially considering she's "tried really hard to be a peacemaker between William and Harry." "She has been deeply saddened by the brothers' falling out," the expert stated. "Don't forget she was incredibly close to Harry herself." Furthermore, Nicholl said it's unclear what the relationship between the couples will look like in the future, though Harry indicated in the interview that time will heal his family rifts. "Harry has said time is a healer and it is," Nicholl said. "But I think there are so many raw emotions here, that it's far too early to talk about any kind of family reunion." Fox News cited.
Harry, 36, also said that he believes William and their father, Charles, to be "trapped" within the institution -- a sentiment that Nicholl feels is unfair to the senior royals. "Harry was born in a very different role than William -- he was born the spare, William the heir," she stated. "William has always known what his duty and birthright has been." Nicholl continued: "I'm sure there are times when he's resented the establishment he's born into and there have been times he's kicked back at it. ... There are times certainly when William has struggled with his birthright, but to suggest that he's trapped in the institution, I don't think it's true and I don't think it's probably Harry's place to say in any case."
Photo: CNN
Meanwhile, Harry and Meghan's claims of racism on the part of insiders, as well as Meghan's comments about suicidal thoughts, have absorbed the nation. Nearly every national newspaper splashed the interview across the front pages and largely knocked off any other news, including the return of millions of children to school Monday. "Palace in crisis following devastating racism claim," reads the Guardian.
Harry has long been critical of the U.K. press and said in a clip of the interview released Monday that the "U.K. press is bigoted, specifically the tabloids."
The Society of Editors, an industry organization that promotes press freedom, strongly pushed back on his comments. "It is not acceptable for the duke and duchess to make such claims without providing any supporting evidence," Ian Murray, the group's executive director, said in a statement released Monday. "If it is simply the case the Sussexes feel that the press by questioning their actions and commenting on their roles when working as royals funded by the taxpayer was being racist then they are mistaken."
Valerie Mai