How to Enjoy a Fun Day Trip in Bat Trang Pottery Museum
Bat Trang Ceramic Museum is becoming one of the new attractions of Hanoians, here's how you can enjoy all of it in just one day.
Traveling to Bat Trang pottery village is an ideal destination for those who love and want to learn about the ancient cultural beauties. Here, you can visit pottery workshops, Bat Trang Ceramic Museum, hand mold pottery, visit pottery markets and ancient villages.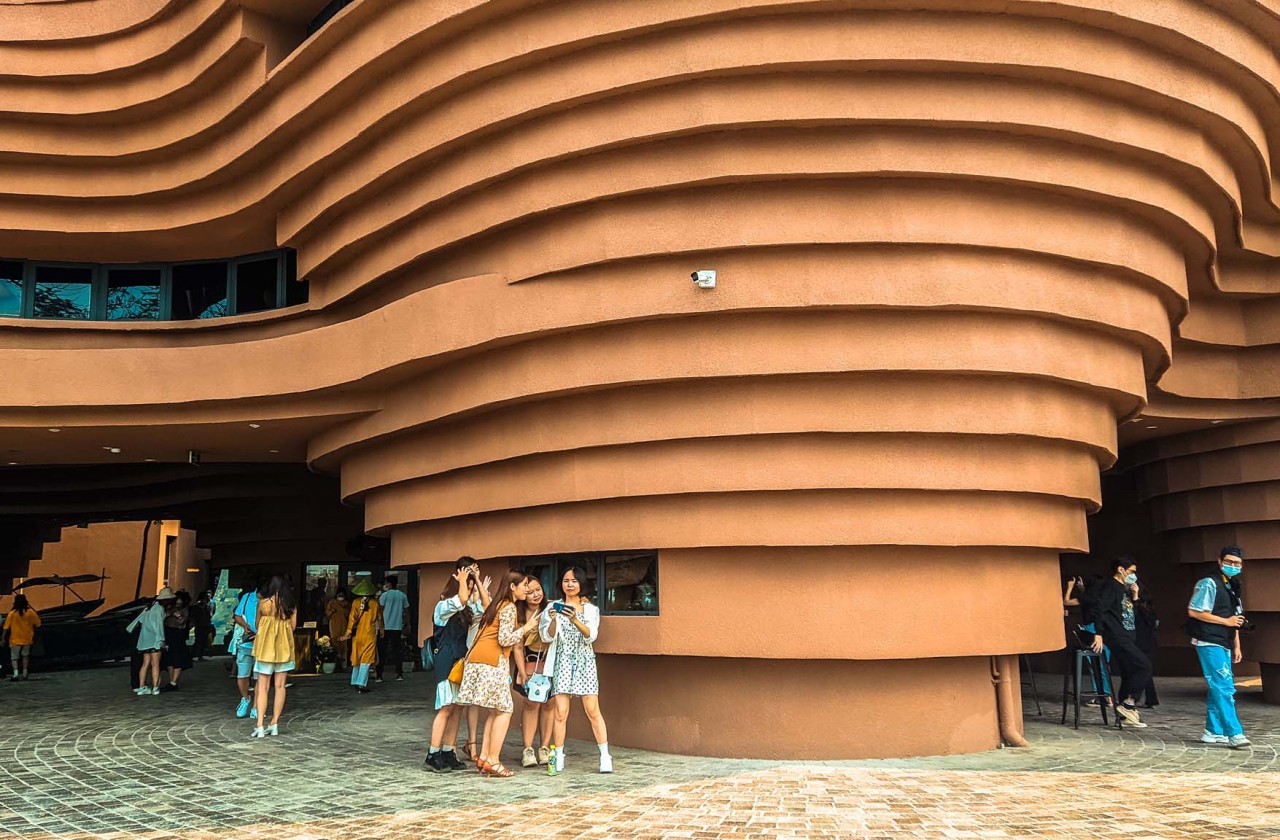 The first floor of the museum is a "Ceramic square," a place dedicated to artists to display their works, thereby connecting visitors with artisans. Photo: Vuong Loc
Bat Trang Ceramic Museum is located in Hamlet 5, Bat Trang commune, Gia Lam district, Hanoi, about 15 kilometers from the center of the capital, started construction in 2018 on an area of 3,700 square meters.
This is part of the project "Center of Vietnamese Craft Villages" of Quang Vinh Ceramics Co., Ltd. and Hanoi Craft Village Association for the purpose of developing craft villages.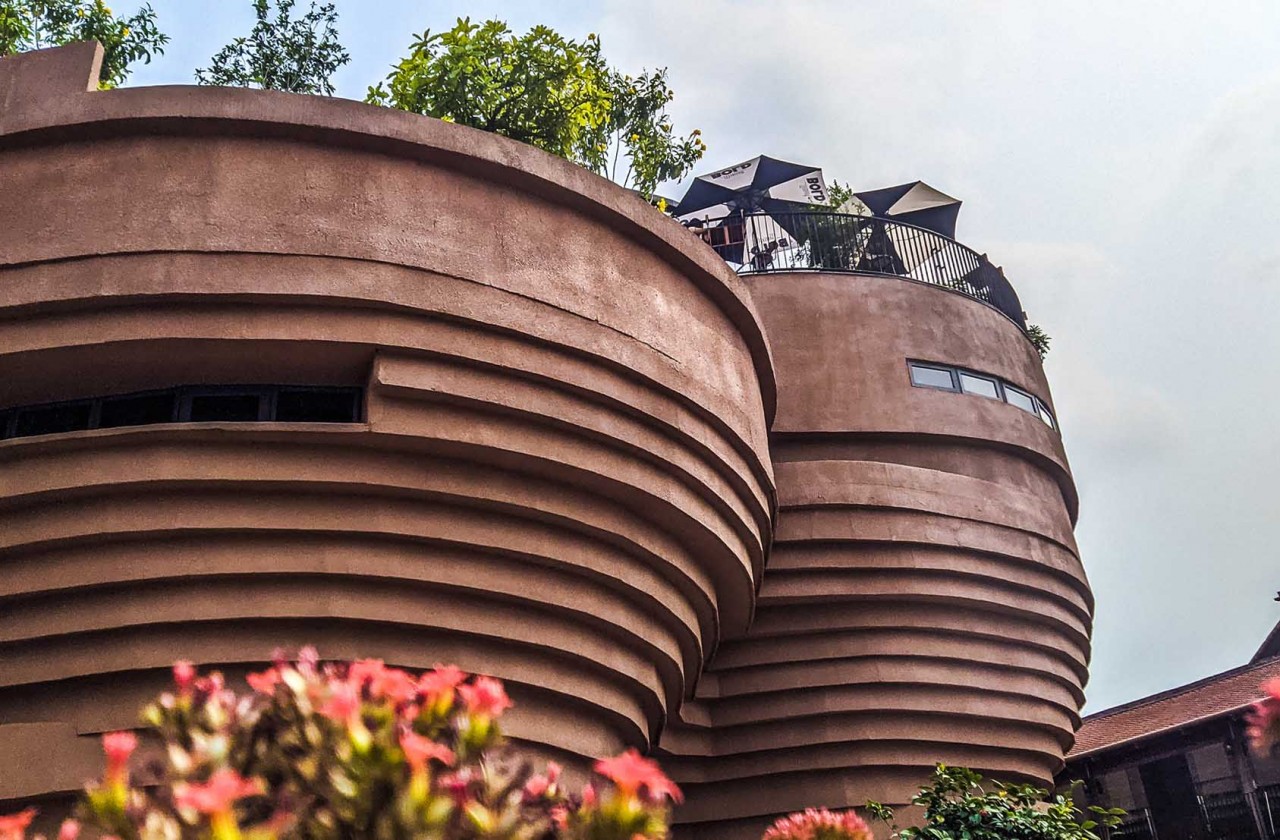 Photo: Vuong Loc
Bat Trang Ceramic Museum is designed to grow larger like spirals, extremely solid. Even those "curves" are not only meaningful in terms of images but also have very useful uses such as: making ceramic shelves and stairs to go to the upper floors.
To achieve that unique look, they are built by builders with thin linear fiber reinforced concrete that has a small load but can withstand the force very effectively. At the same time, the traditional materials of Bat Trang such as: traditional ceramic tiles, and mosaic tiles are also utilized to the fullest extent to create true colors.
Besides, because the open space here is very large, it is very suitable for programs, big events or traditional cultural festivals.
Photo: Vuong Loc
The 2nd and 3rd floors are the place to display many artistic ceramic products throughout the process of formation and development of Bat Trang ceramic village.
Products include enamels from ancient to modern, with changes in color, shape and decorative motifs on ceramics to help visitors have an overview of the village's history.
The top floor, is considered the most special area at Bat Trang ceramics museum, because it is like an outdoor cafe with a large scale.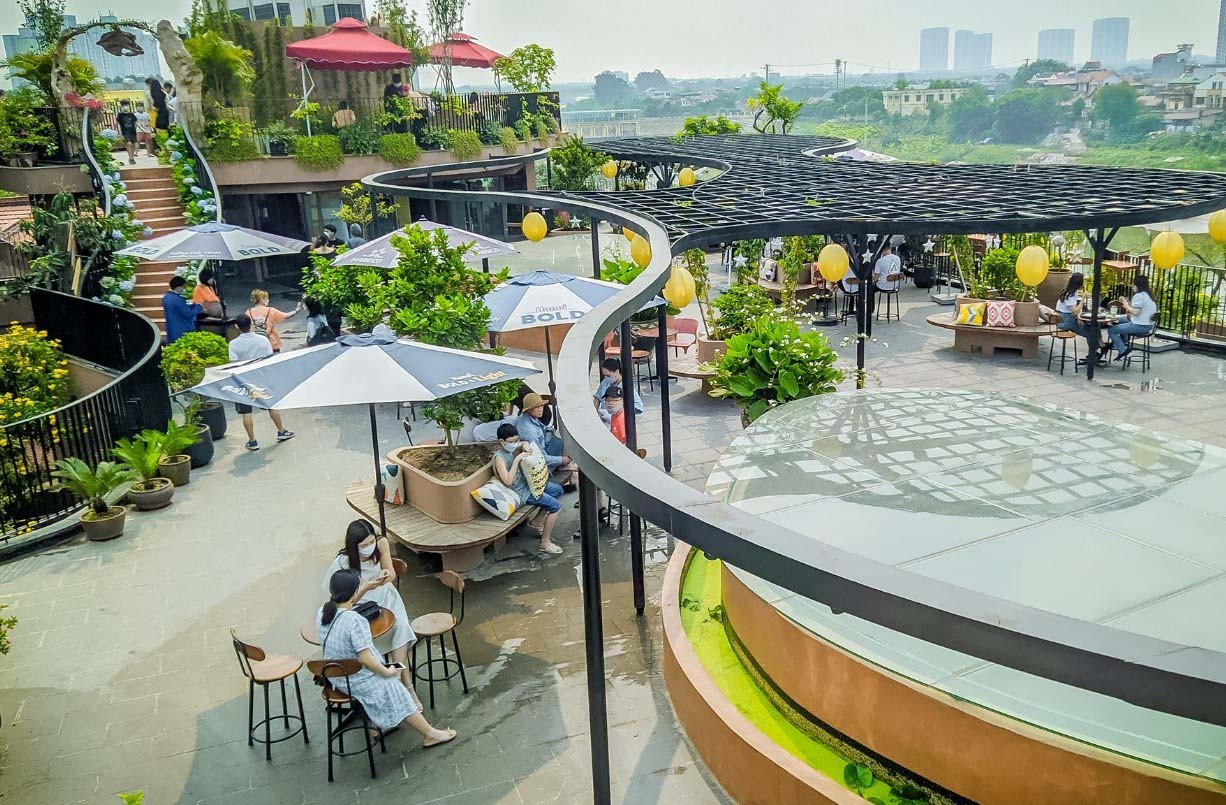 Bat Trang Ceramic Museum is becoming one of the new places to visit and check-in of Hanoi people. Photo: Vuong Loc
The top floor opens a place where people can admire the surrounding scenery and zoom in on the North Hung Hai canal opposite with beautiful shooting angles.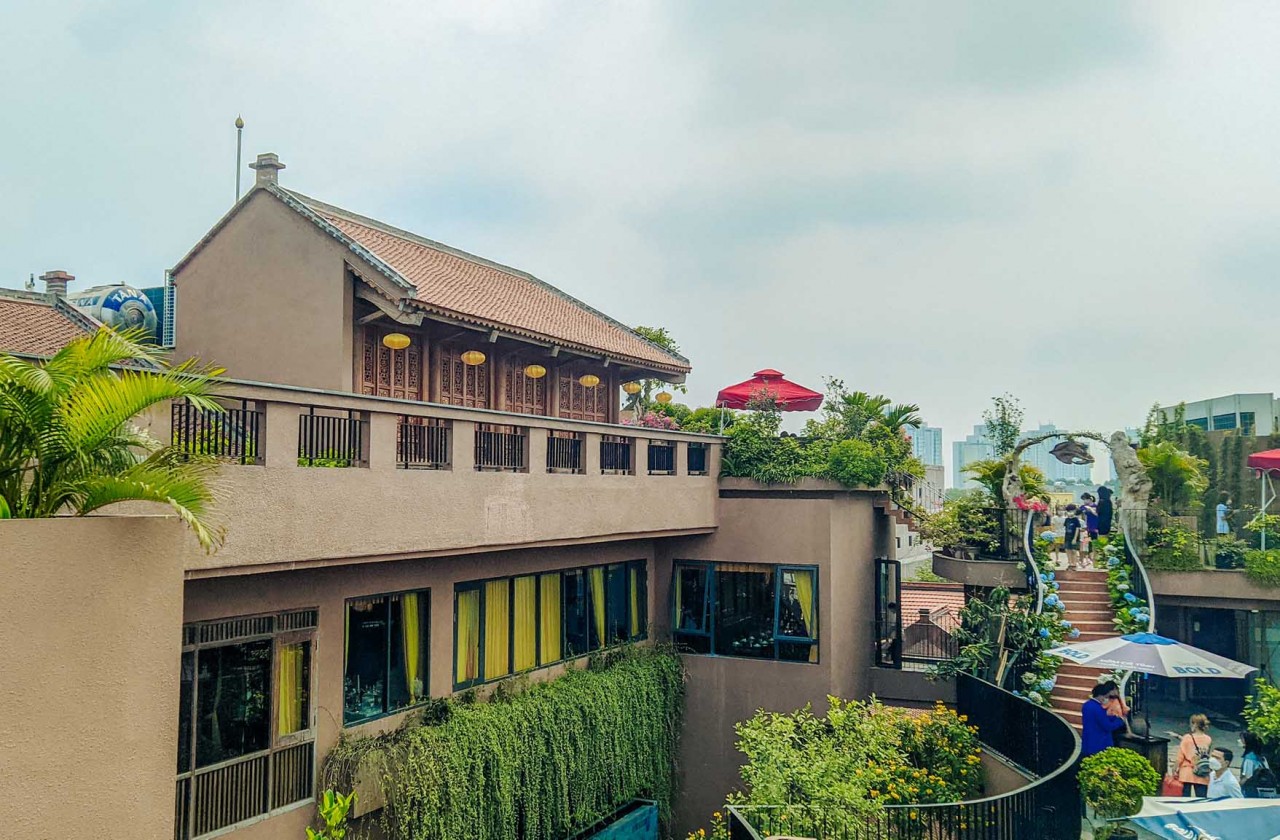 Photo: Vuong Loc
If you want to get creative, head to the basement. This floor takes you to a tour of how to make pottery, watch the artisans in their works, and ultimately, make your own pottery.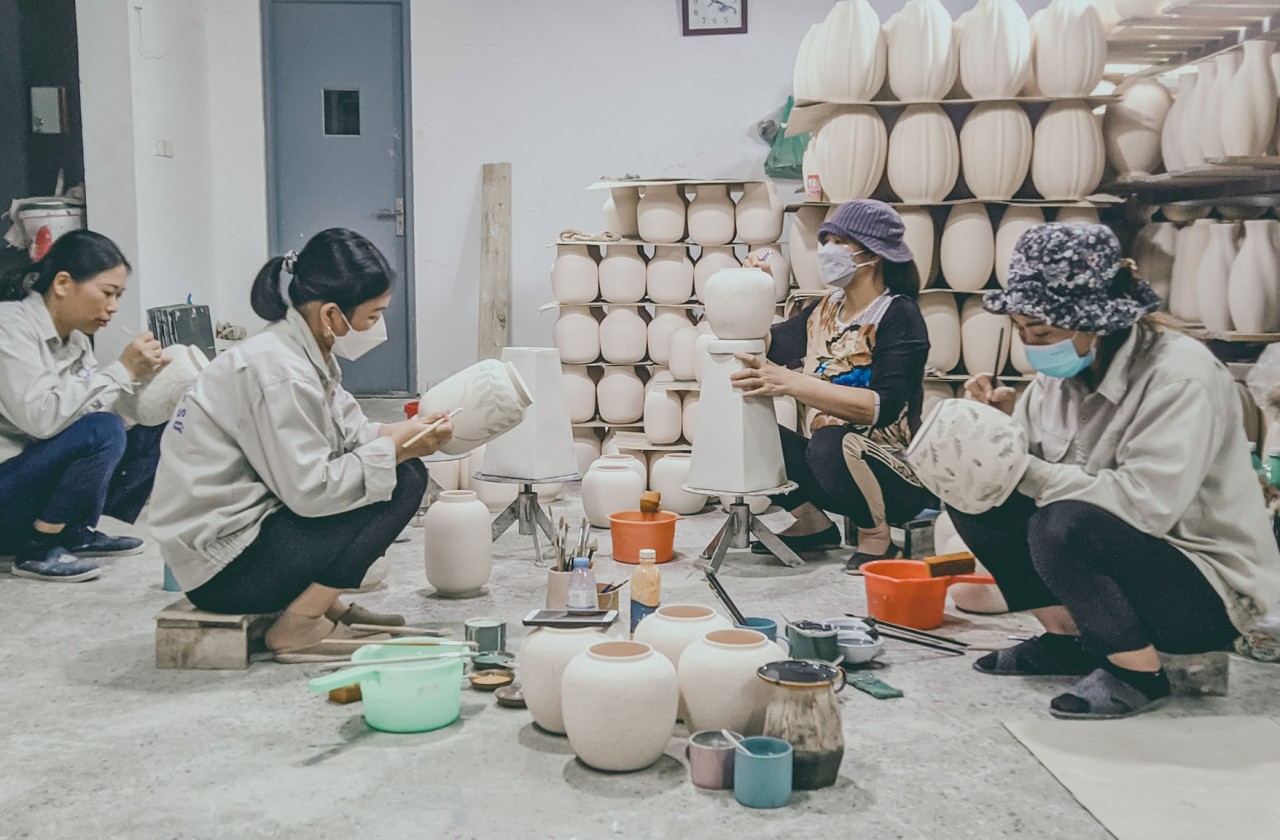 Artisans making pottery. Photo: Vuong Loc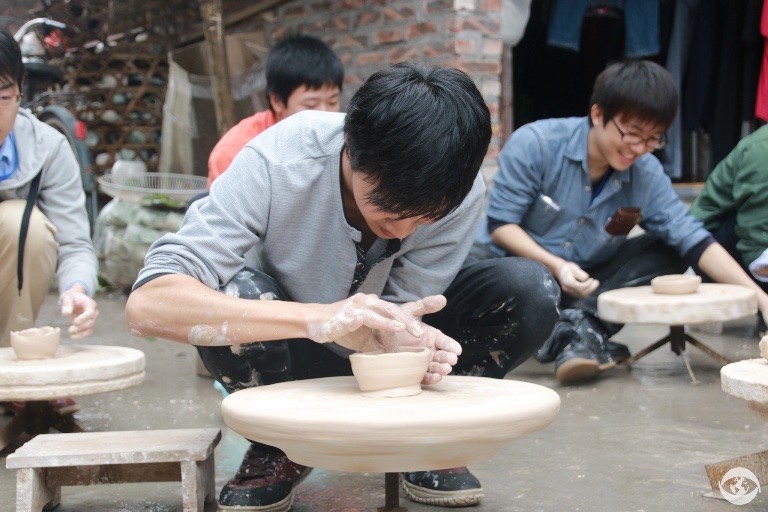 Photo: Vuong Loc
Transportation to and from Bat Trang
Bat Trang ceramic village is about 15 kilometers from the city center, in Gia Lam district, Hanoi. With such a distance not too far, you will have many choices of means of transportation to move here. Here are a few suggestions for you.
Taking the bus:
Traveling to Bat Trang ceramic village by bus is a smart and convenient choice, so many people choose this vehicle. With the price of only VND 7000 - 9000(US $0.3-0.5)/ turn, the cost of the excursion will be greatly saved. At bus points in the inner city of Hanoi, you look for buses with stops at the Long Bien bus interchange station, then get on bus route 47 and stop at the last point. To enter the ceramic village, you need to walk about 200 meters more.
Taking private vehicle:
Besides the form of traveling by bus, motorbikes are the first priority means of transport to Bat Trang. You just need to move to Vinh Tuy bridge or Chuong Duong bridge or Thanh Tri bridge. Turn right according to the signpost and go straight to the destination.
Best tips for weekend travel
Means of transportation: Should choose a vehicle such as a bus, if you ride a motorbike, you should travel in group to save on gas costs as well as parking money.
When visiting the pottery market, avoid playing around to cause a collision to break pottery.
When buying ceramic as a gift, ask for the origin of the goods to avoid buying ceramic goods from China. Remember to bargain the price too!