How To Make Quick Vietnamese Beef Noodle Pho At Home, Video
Despite Covid lockdown and no way to eat out this time, you yourself can cook Vietnamese Pho at home by learning Emma Christensen's experience to enjoy the most famous dish of Vietnam.
Vietnamese beef noodle pho is an easy soup to fall in love with. Those chewy noodles, that savory broth, the tender slices of beef — all those crunchy, spicy, herby garnishes we get to toss on top. On a cold evening, after a rough day at work, when we're sick, on a lazy weekend afternoon — a bowl of piping hot pho is pretty much always a good idea.
Beef pho (pronounced "fuh bo"!) feels like a restaurant staple, but it's actually not all that hard to make a quick version at home. This recipe for quick Vietnamese beef pho was one of our favorites from The Kitchn Cookbook; so much so that we wanted to walk you through how to make it, step by step.
INGREDIENTS

For the quick broth:

2 large yellow onions

1 (4-inch) piece fresh ginger

2 (3-inch) whole cinnamon sticks

2 whole star anise

3 whole cloves

2 teaspoons whole coriander seeds

6 cups low-sodium beef broth

1 tablespoon tamari or soy sauce

1 tablespoon fish sauce

3 medium carrots, peeled and coarsely chopped

For serving:

8 ounces sirloin steak, round eye, or London broil

8 ounces dried rice noodles (bahn pho, 1/16-, 1/8-, or 1/-4 inch wide)

3 medium scallions

1 fresh chili pepper, such as Thai bird, serrano, or jalapeño

1 to 2 medium limes

1 cup mung bean sprouts

1 cup fresh herbs, such as cilantro, basil, Thai basil, mint, or a mix

Hot sauce, Sriracha, or hoisin sauce
EQUIPMENT
Tongs

Baking sheet

2-quart (or larger) saucepan

Measuring cups and spoons

Chef's knife

Second saucepan for cooking the noodles
INSTRUCTIONS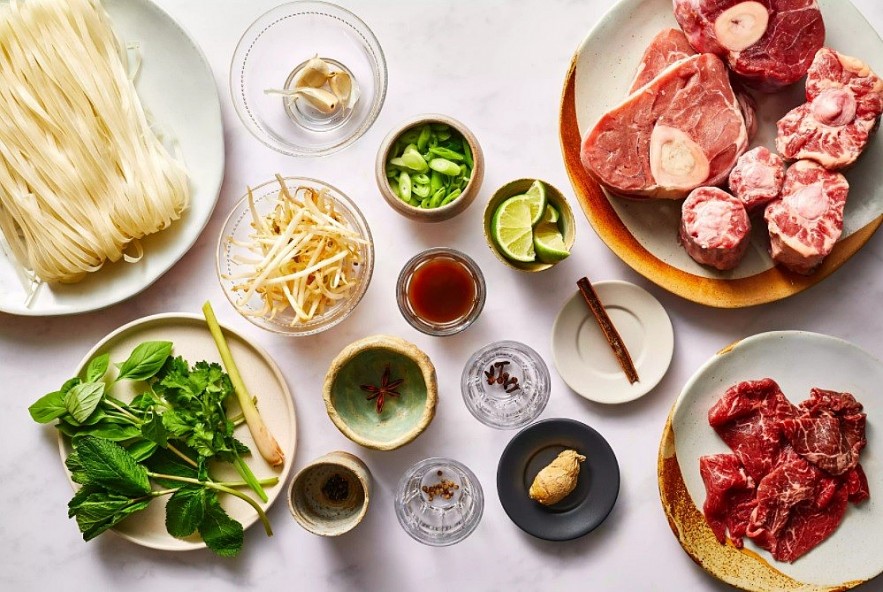 Prepare the onions and ginger. Peel the onions and cut them into quarters through the root. Peel the ginger and slice it into quarters down its length.

Char the onions and ginger. Using tongs, char the onions and ginger on all sides over high flame on a gas stove, or on a baking sheet placed directly under the broiler (about 5 minutes on each side) — until the onions and ginger pieces are charred in spots. Rinse the pieces under cool water to remove any loose, gritty, overly charred bits; set aside.

Toast the spices. Place the cinnamon, star anise, cloves, and coriander seeds in a medium saucepan and toast over medium-low heat until toasted and very fragrant, 1 to 2 minutes. Stir frequently to prevent the spices from scorching.

Combine the broth ingredients. Add the broth, tamari or soy sauce, fish sauce, carrots, and charred onions and ginger.

Cover and simmer the broth. Increase the heat to medium high and bring the broth to a boil. Reduce the heat to medium-low, cover, and simmer 30 minutes to give time for all the spices and aromatics to infuse in the broth. Meanwhile, slice the beef, cook the noodles, and prepare the toppings.

Freeze the beef for 15 minutes. Place the beef on a plate, cover with plastic wrap, and freeze for 15 minutes. The edges of the beef should feel firm to the touch, but the beef should not be frozen through. This will make it easier to slice the beef thinly.

Slice the beef into thin slices. Remove the beef from the freezer and immediately use your sharpest knife to slice the beef across the grain into very thin slices no thicker than 1/4-inch. Once sliced, keep the beef covered and refrigerated until ready to serve.

Cook the rice noodles. Bring a second saucepan of water to a boil. Add the rice noodles and cook according to package instructions (typically 1 minute for very thin noodles and up to 4 minutes for wider noodles). Drain the noodles, then run them under cool water to stop cooking. The noodles will start to stick together after cooking, so either divide them immediately between serving bowls, or toss them with a little neutral-tasting oil to prevent sticking.

Prepare the rest of the pho toppings. Thinly slice the scallions and the chili pepper. Cut the lime into wedges. Place the bean sprouts in a serving dish. Roughly chop the herbs or tear them with your hands. Arrange all the toppings on a serving dish and place it on the table.

Strain the broth. When the broth is ready, set a strainer over another bowl or saucepan, and strain the solids from the broth. Discard the solids. Place the broth back over low heat and keep it just below a simmer — you should see a fair amount of steam, but the broth should not be boiling. The broth needs to be quite hot to cook the beef.

Prepare the pho bowls. If you haven't already done so, divide the noodles between serving bowls and top with a few slices of raw beef. Arrange the beef in a single layer so that the slices will cook evenly in the broth; slices that are stacked or clumped may not cook all the way through.

Ladle the hot broth on top. Ladle the steaming broth into each bowl, pouring it evenly over the beef in order to cook it. The beef should immediately start to turn opaque. Fill each bowl with as much broth as desired.

Serve the pho with toppings. Serve the pho at the table and let each person top their bowl as they like.
RECIPE NOTES
Vegetarian pho: Use vegetable stock or broth and skip the fish sauce. Instead of slices of beef, top the pho with tofu, seitan, mushrooms, bok choy, broccoli, or other vegetables.
Make-ahead: The broth can be prepared, cooled, and refrigerated for 5 days or frozen for up to 3 months. The beef can be sliced and kept refrigerated for several hours (no longer than 24 hours). The noodles can be prepared, tossed with a bit of neutral-tasting oil, and kept refrigerated for up to 1 day before serving. The toppings can also be prepped up to 1 day ahead and kept refrigerated until serving.
Storing leftovers: Leftover noodles stored in broth will ultimately absorb all the broth and become gummy. If you have leftovers, store the noodles, broth, beef, and toppings in separate containers. When reheating, assemble the noodles, beef, and broth in a bowl and microwave; top with garnishes before serving.
Real Pho vs. "Quick" Pho
As much as we love those chewy rice noodles and tender bites of meat, Vietnamese pho is really all about the broth. True pho broth is a long-simmered affair, combining chicken or beef bones (or both!) with aromatics like onions and ginger to make a deeply rich, deeply savory broth. Making a great broth is a process that takes hours — sometimes days.
While this kind of slow-cooked pho is absolutely peerless, we can make a much quicker version using store-bought beef stock. This "quick" pho doesn't have quite the same depth or home-cooked flavor, but when a pho craving hits on a random weeknight and we just need a bowl of tasty noodles, it gets the job done.
We can also get close to the flavors of real pho broth by taking just a little time to infuse the broth with some aromatics. Simmered for 30 minutes with some onions, ginger, whole spices, soy sauce, and a dash of fish sauce — we can make a simple pho broth that tastes pretty darn good. I also like to add carrots to my broth — it's not traditional, but I like the sweetness and body they add.
The Best Beef for Pho
Top choices for beef pho are sirloin steak, round eye, or London broil. All of these are quick-cooking pieces of beef that won't leave you chewing for hours. My favorite of the bunch is round eye, which is what I've used today — this cut is leaner than sirloin and I like its beefy flavor, especially in this pho.
Constructing the Best Bowl of Pho
A bowl of pho is more than the sum of its parts. Each bowl gets constructed individually. Tender rice noodles are on the bottom with a layer of thinly sliced raw beef on top. Then the piping-hot broth gets ladled over the top, cooking the beef. To ensure the beef gets cooked through, slice it as thinly as possible (sticking it in the freezer for 15 minutes before slicing helps with this). Also, arrange it in just a single layer over the noodles when it's time to build the bowl. Slices that are clumped together or stacked up won't cook through all the way to the middl.
And don't fret about serving "raw" meat at the table — as long your broth is steaming-hot, it will cook the beef. You'll see the meat turn opaque and brown as you pour on the broth; however, like steak, it's okay if you still see a bit of pink.
But we're not done yet! In the middle of the table should be a plate of fresh herbs, bean sprouts, sliced scallions and chili peppers, wedges of lime, and any other fresh garnishes the cook feels like providing. Each diner gets their own bowl of pho and can garnish it however they like. Personally, I love lots of lime, crunchy bean sprouts, torn bits of basil, and a good squeeze of Sriracha to finish it off.
Do you love pho? What's your favorite way to make it?