How to Make Sugar Honeycomb Like in Squid Game
Make your authentic Korean honeycomb candy to snack or just to add to your coffee at home.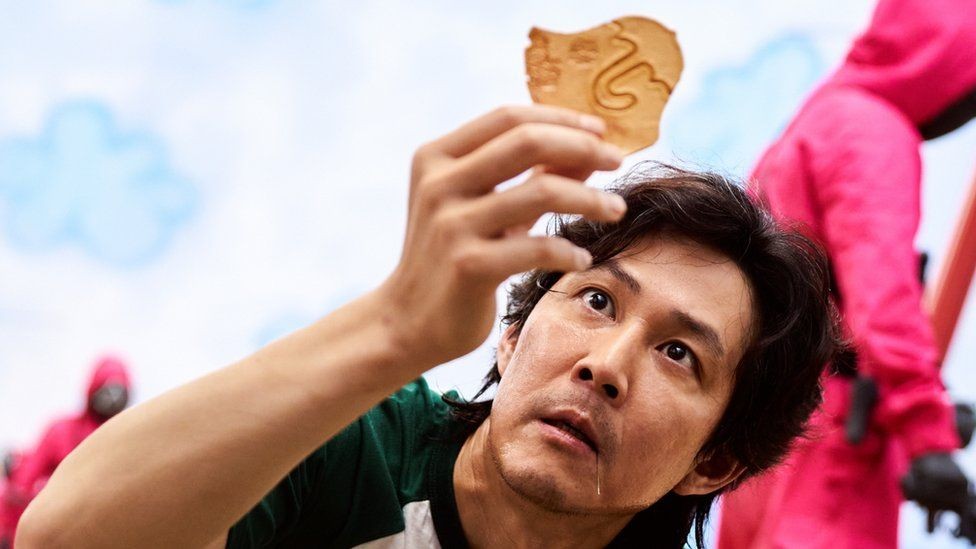 In the Netflix hit TV series Squid Game, players have to carve out shapes from a Korean honeycomb cookie that is called Dalgona candy. Screen grab: Squid Game
A Korean sweet featured as one of the lethal challenges in the Netflix hit TV series Squid Game has become a global craze.
Dalgona or ppopgi is a nostalgic Korean honeycomb sugar candy that's simply made with sugar and baking soda.
On the show, the downtrodden contestants vie for a prize of 45.6 billion won (US$38.40 million) by competing in games that recall a more idyllic pre-digital time. One of the challenges has the cash-strapped contestants on the show carving out the symbol etched into a sugar candy called dalgona without cracking the whole piece or risk being shot by masked enforcers.
Owing to its relatively simple recipe and quick preparation time, in some regions it is often made at home, and is a popular recipe for children. It is also made commercially and sold in small blocks, or covered in chocolate, a popular example being the Crunchie bar of Britain or the Violet Crumble of Australia. So if you are interested to ride this trend, let's learn how to make Dalgona just like in Squid Game.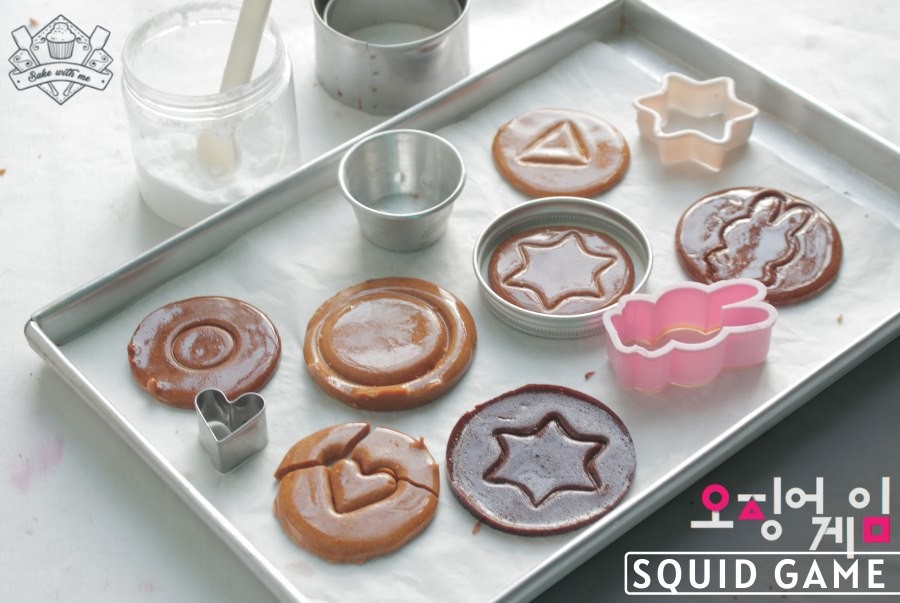 Source: Thinh Nguyen
Ingredients
200g sugar
60ml of filtered water
1/4 tsp baking soda
Tool:
Ladle
Ring mold 6-8cm
Cookie cutters
Sillicon mat or foil/baking paper
Toothpick or needle
Instruction
-Put sugar in a pan and turn on the stove. You just need to wait for 1 minute paying attention to the edges. As they melt first.
-After waiting for 1 minute, make lines towards the center until it starts to melt.
-When it is finally melting, stir in circles. If it is not fully melted yet, you can poke the little sugar mountains to disintegrate them.
-Add just a little bit of baking soda. Be careful with this! You cannot put a lot. Because if you do so, the taste will not be good. Then stir. You will know if you put the right amount of baking soda if it takes the color of caramel.
When a pinch of baking soda is mixed into melted sugar, the thermal decomposition of the baking soda releases carbon dioxide, which makes the liquidized sugar puff up, and it becomes a light and crunchy candy once cooled and hardened. Typically, the creamy beige liquid is poured on a flat surface, pressed flat, and stamped with a patterned mold. Eaters try to trim their way around the outline or picture on the snack without breaking the picture.
-Once it took the color of caramel, you need to slowly follow the shape of the circle 3-4 times. Before stirring fast at the middle. And gradually stir faster.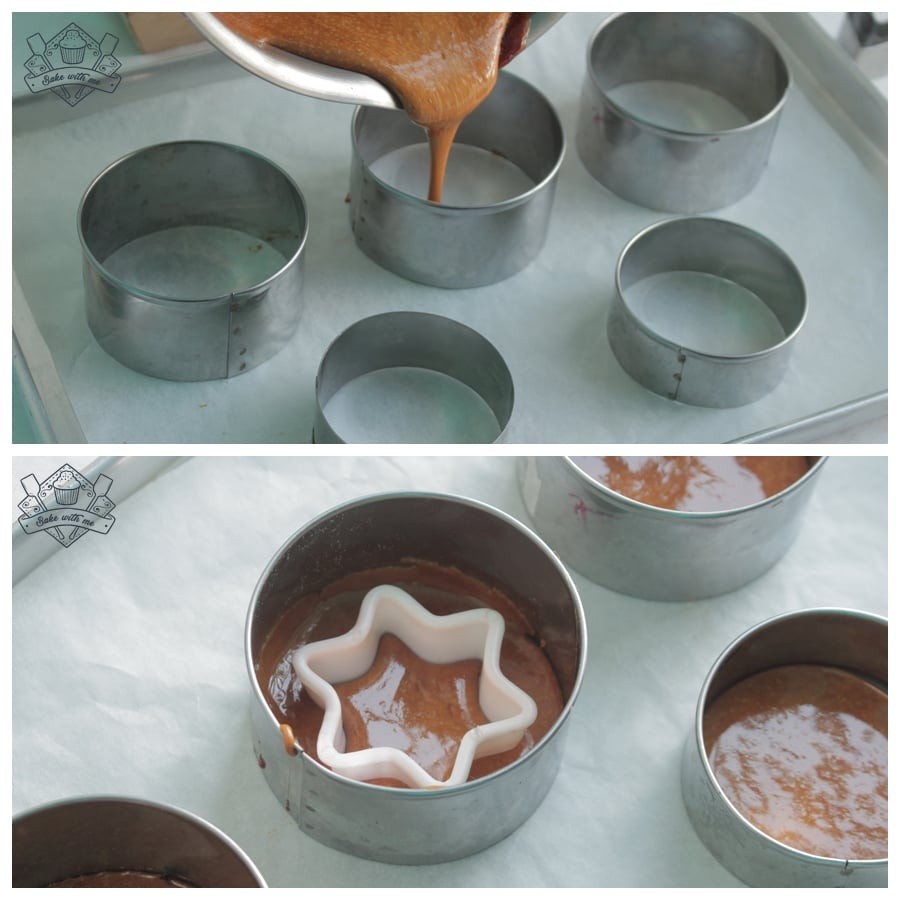 Use a cookie cutter and gently press a shape into the centre of the dalgona candy. Source: Thinh Nguyen
- Pour the mix into molds on a silicone mat or parchment paper. Stamp your favorite shape using cookie cutters.
If you're making a large amount of this, make sure to run the ladle under hot water after each time. This will help to remove the sugar residue.
- Leave it to cool and remove it from the foil. Wet your toothpick or needle, then poke around the outline.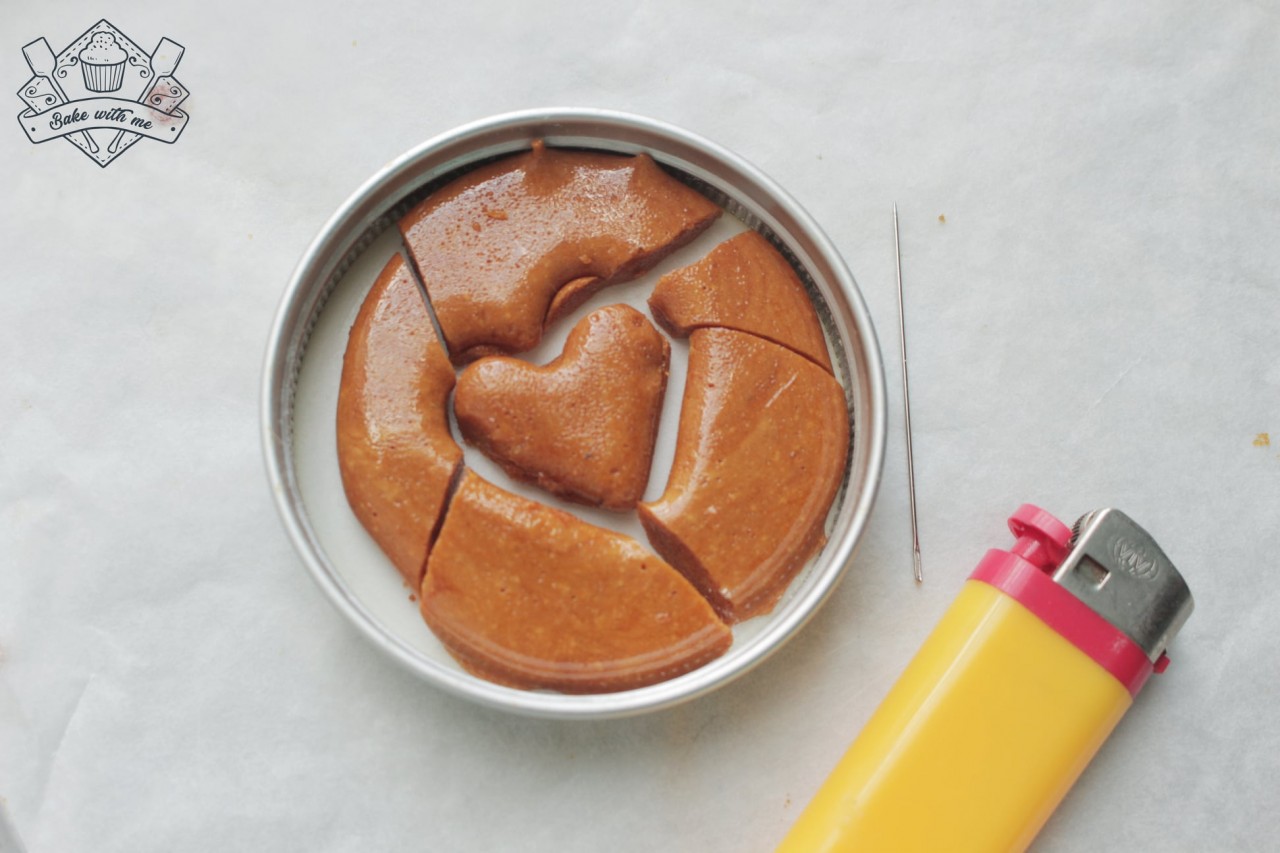 Heating your needle can get you a precise pick but a lot of people will think this is cheating. Source: Thinh Nguyen
International Fame
The horror series has shot to popularity since premiering on Sep. 17, becoming the first Korean drama to snatch the top spot on Netflix in the United States. It could become its most popular show yet globally, the company's Co-Chief Executive Ted Sarandos said on Sep. 27.
The show has become a viral hit by depicting childhood games with deadly consequences, boosting business for the candy seller who provided the confection for the show, reported CNA Friday.
An Yong-hui, 37, has been making dalgona for the past eight years in a university district in the capital Seoul.
Dalgona is typically sold with a variety of shapes but Squid Game featured four, a triangle, circle, star, and an umbrella. One piece is about 2,000 won (US$1.68) but you can get a buy-one-get-one-free deal if you don't crack the first one.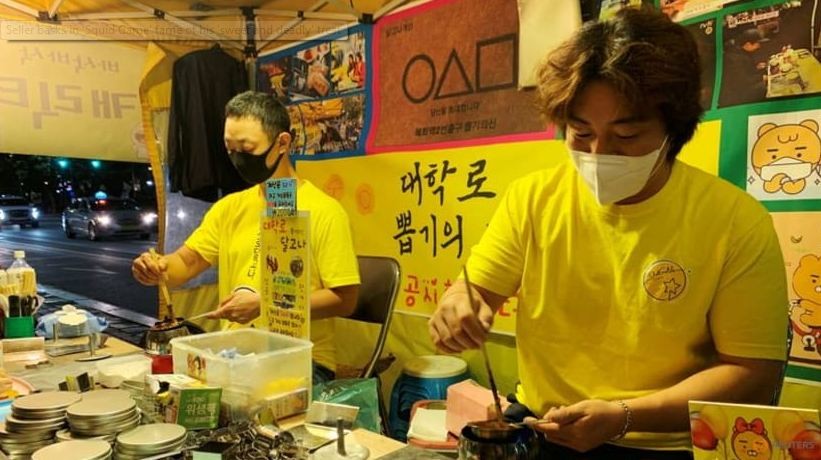 An Yong-hui, Dalgona shop owner, makes a Dalgona candy in Seoul, South Korea, September 30, 2021. REUTERS/Minwoo Park
An and his coworkers used 15kg of sugar to make 700 candies for the filming in June 2020 of the show's third episode, which is described by Netflix as equal parts "sweet and deadly".
As the show's popularity has surged since its premiere last month, An hasn't been able to go home for a week in order to meet the demand from eager Squid Game fans that start queuing up outside his 2 sq m street kitchen at 11am.
He now sells over 500 dalgonas a day from less than 200 before the show's premiere.
Netflix said in an article on the show's creation that director Hwang Dong-hyuk's selection of childhood games was deliberate to make the show more relatable to the audience.
For Koreans, dalgona sellers were a fixture in front of schools until the early 2000s but the trend has died down since then and according to An the candy is even older.
In line with the show's viral explosion, international viewers are posting their efforts at making dalgona and passing the challenge on video-sharing platform TikTok and other social media.
Even e-commerce marketplaces like Amazon, eBay and Coupang are selling dalgona cooking kits and tools for as much as US$29.99.
Bonus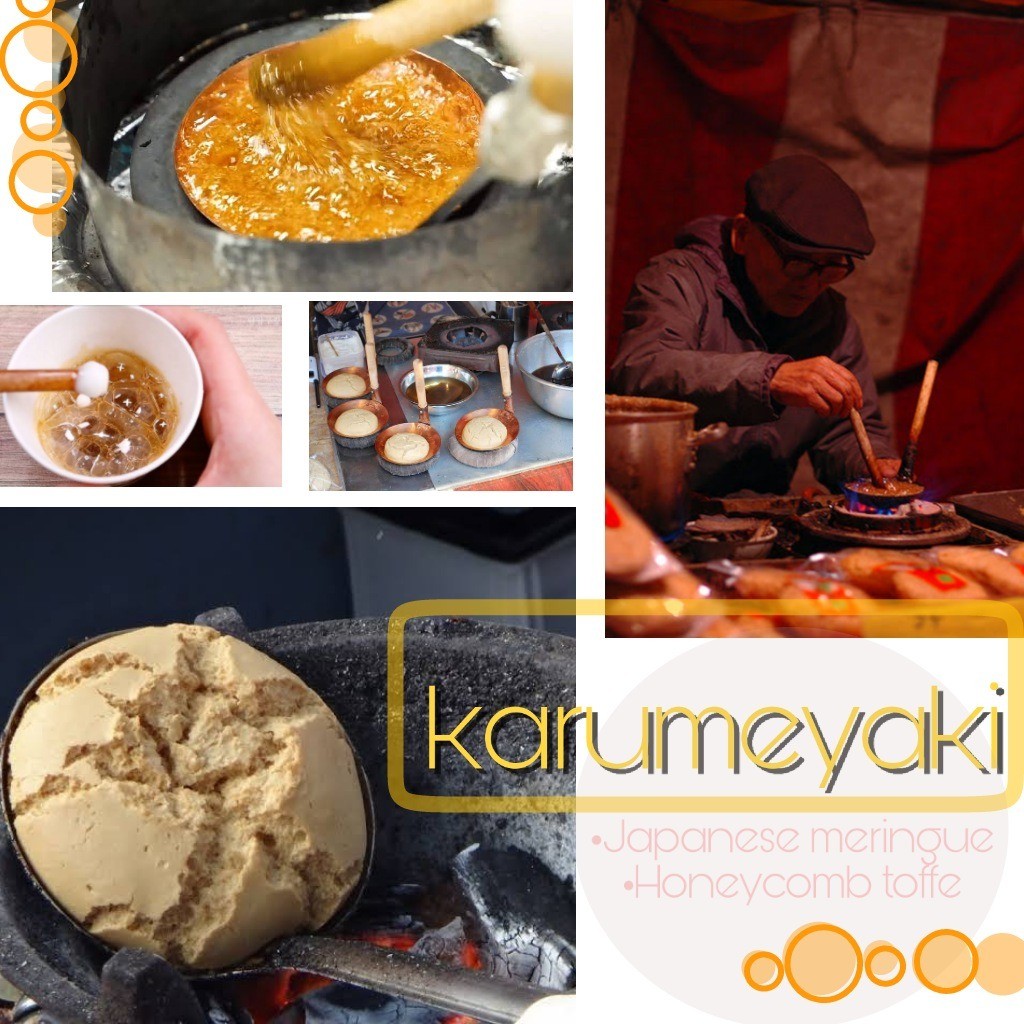 Karumeyaki, known in Western countries as honeycomb toffee or sponge toffee, is a sugary toffee with a fluffy, sponge-like texture. It is made by heating a mixture of brown sugar, sweet syrup and water, and then adding in baking soda to cause the toffee to rise and set.
The same confection is a traditional sweet in Japan known as karumeyaki, roughly translates from Japanese into English as "grilled caramel." However, Karumeyaki is most commonly made inside a ladle, making it look like a poofy cookie that rises in the bowl of a spoon.
More similar to Korean ppopgi (in look, at least) is Japan's Katanuki (Cut-Out Candy). According to Japan Today, the game is played with small, fragile candy boards that have a picture carved into them, like flowers, daily objects or animals. The designs come in different levels of difficulty, and participants have to try to carefully cut out the picture with a small needle or pin without breaking it. If they succeed, they win a prize, and the higher the difficulty, the better the prize.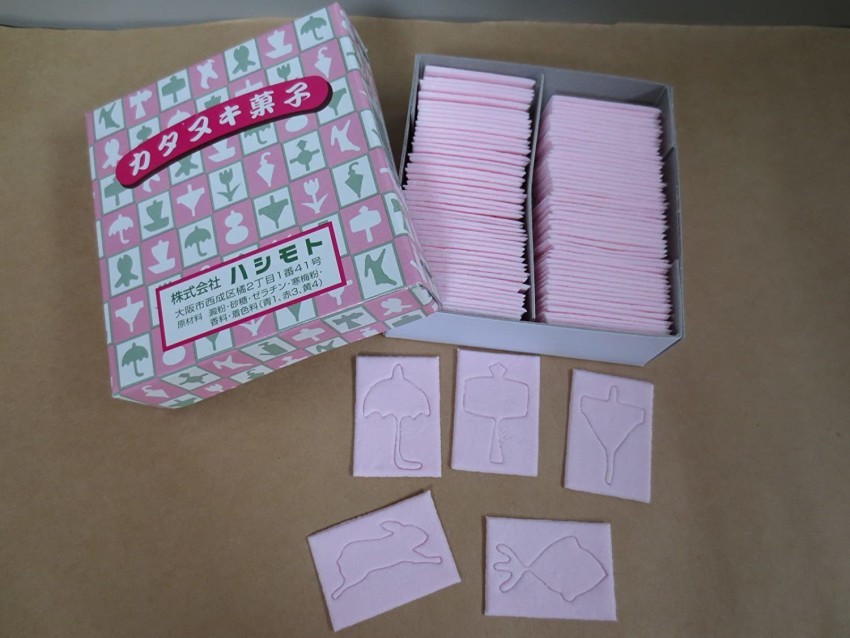 Katanuki is an activity common at Japanese festivals in which a colored mold of candy made of wheat flour, starch, or sugar, is carved using a needle or toothpick in the shape of an animal, star, a cherry blossom etc. Photo: Amazon/ブランド: ハシモト Hashimoto
These candies, which are made with rice or potato flour, sugar, and food coloring, are mostly supplied by one small, family-owned company known as Hashimoto. They have been making katanuki candies since the 1960s, when they began selling them at kamishibai street theater performances.
Though the advent of television meant the decline of kamishibai, Hashimoto weathered the change of times when other katanuki candy makers closed their businesses by selling their candies at street stalls, which soon led to a huge boost in popularity. Eventually, katanuki became popular across the country as a festival game.