Vietnamese Banh Giay Gio Recipe – 2 Ways of Making Steamed Rice Cakes and Pork Rolls
Easy recipe for Steamed Rice Cakes and Pork Roll (Banh Day/Giay) - a Vietnamese sandwich of thick-sliced pork roll between two steamed glutinous rice cakes.
How about making some Banh Giay (Steamed Rice Cakes) for a comfy dish ready in under 40 minutes with leftover rice and rice flour? You can't go wrong with this recipe.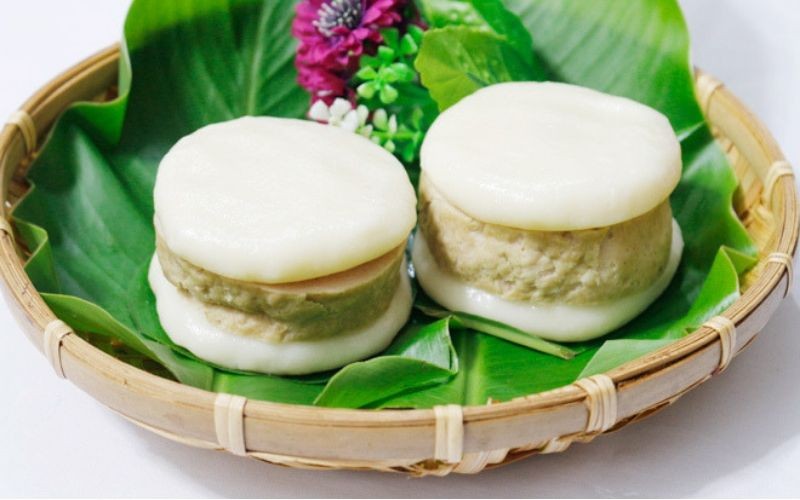 In the opinion of Vietnamese people, Banh Giay is not only food but also the symbol of pious, fullness and the Sky because it is round shaped.
One of the most important ingredients of Vietnam cuisine is rice, especially the glutinous variant, also the most basic and integral national food. Obviously, apart from simple steamed rice, a variety of rice dishes/cakes are made in Vietnamese cuisine such as sticky rice (xôi) and various types of glutinous rice cakes (Bánh Chưng, Bánh Tét, Bánh Nếp, etc). They come in countless shapes from round, square, cone, to cylinder, with fillings and flavours from sweet to savoury, and cooked with different cooking methods from steaming, boiling, (deep-)frying, and baking.
Banh Giay (sometimes be misspelled by Banh Day) is a traditional Vietnamese cake to express the gratitude of their descendants to ancestors and the land of the country. The cake is usually made of finely pounded sticky rice. The cake is usually made on Lunar New Year and the 10th day of the third lunar month (on the anniversary of Hung Vuong's death).
Banh giay is more native to northern Vietnam, especially in rural villages and amongst the ethnic populations. It is related to the Lang Lieu legend, which happened in the 6th Hung King period. Accordingly, a prince named Lang Lieu had a dream about a round rice cake which symbolizes the sky, and a square one which symbolizes the land. These two are used to present to his father in the first day of spring. In addition to explaining the origins of Banh Chung and Banh Giay, this legend reminds descendants of the nation's traditions and the importance of rice and nature in wet rice civilization.
In the opinion of Vietnamese people, Banh Giay is not only food but also the symbol of pious, fullness and the Sky because it is round shaped.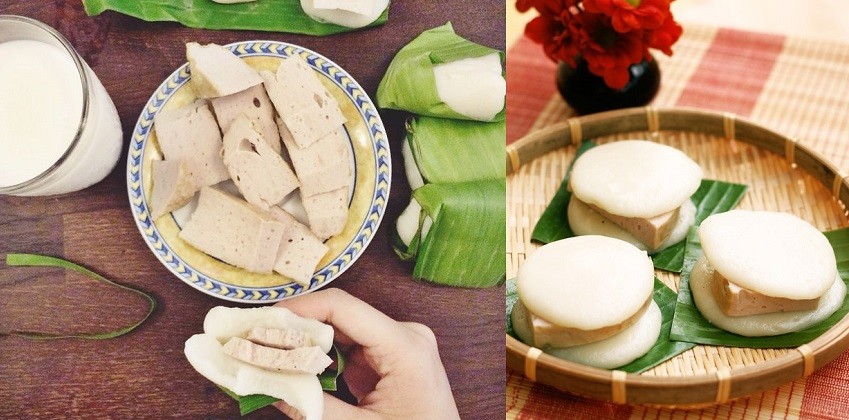 The white, "chubby" cakes, which are packed neatly in either green dong (Phrynium placentarium) leaves or banana leaves, are often served on special occasions, including the Lunar New Year.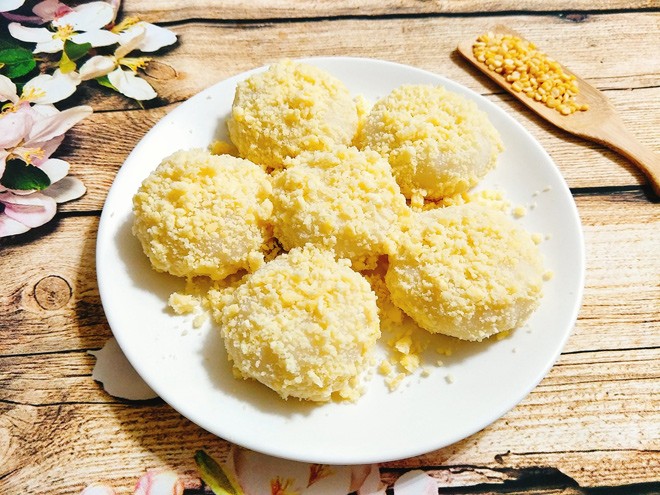 Banh Giay with mung beans,
The rice is carefully selected from the best harvest and steamed twice before being processed. It is traditionally pounded in a giant mortal until reaching a smooth sticky paste. However, with time and technology, such method is not widely used nowadays. Modern recipes replace whole rice with rice flour for convenience and availability.
There are three types of Banh Giay – a sweet one with sugar, mung beans and dried coconut inside; a salted one with salted mung beans, pork fat and pepper inside; and one without filling. The last is often served with Vietnamese pork sausage.
They will be ready in less than an hour, already including 30-minute dough resting and 15-min hands-free steaming time. These smooth rice "pillows" have distinctive ricey taste, and a chewy yet not overly sticky texture. They are best served with steamed pork roll (Giò lụa) or the fried version Chả. If you can't find good ones at local stores, pair them with your favourite Asian-style chicken, pork, or vegan dish.
Ingredients
½ pack 225-230gr of glutinous rice flour
1-2 tbsp ~15gr regular rice flour
1 tbsp 15ml vegetable or mild olive oil
Another ½ – 1 tsp 5-8ml oil to grease the leaf and hand (gloves)
½ tsp salt
200-220 ml hot water 80-90C, adding 1/3 at a time for better control
A steamer or a steamer basket
Banana leaf/baking paper for lining
Instruction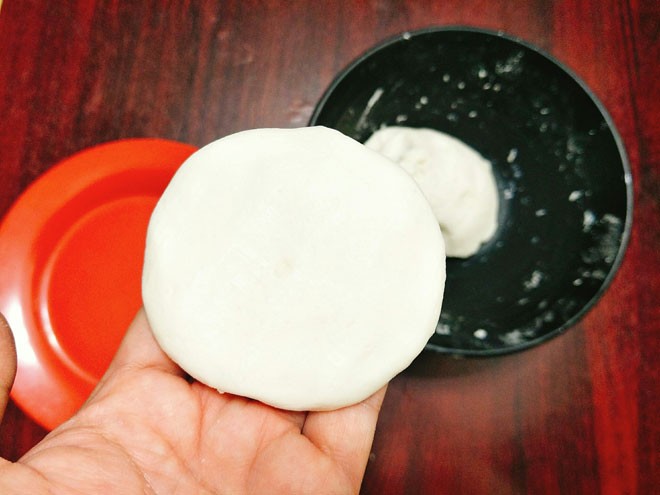 Divide the dough evenly into 8 pieces, roll each piece, then use your palms to press each dough evenly.
In a bowl, mix the flour and salt together (if using stand mixer, use whisk attachment at low speed).
Add 1tbsp oil while the mixer is running. Mix for 20-30 second.
Change into a dough hook, add water, one-third at a time, and mix at medium low speed.
If using hand, use a spoon or spatula to mix until it's no longer too hot.
Once the flour starts forming into dough, at another 1/3 of water then increase in tablespoon unit.
Mix for 2-3 minutes until the dough is smooth, elastic and no longer sticks to the side of the bowl.
Note: You should be able to pull out part of the dough without having it sticking to your hand. If too wet, add some more glutinous rice flour – 1 tbsp at a time. If too dry, add water in teaspoon unit at a time
Cover the mixing bowl with plastic wrap and let the dough rest on kitchen counter for about 30 minutes
In the meantime, wash, pat dry, and cut banana leaves/baking papers into 8 round circles. Easiest to use a large cookie cutter or pancake ring, or even just the top of a glass. Grease them with some oil or on your kitchen gloves
Once resting time is up, divide the dough into 8 even portion. Shape into flat, round patties and place them on the banana leaves
Set the steamer to 15 minutes and steam away until the cakes reach a glossy cloudy white colour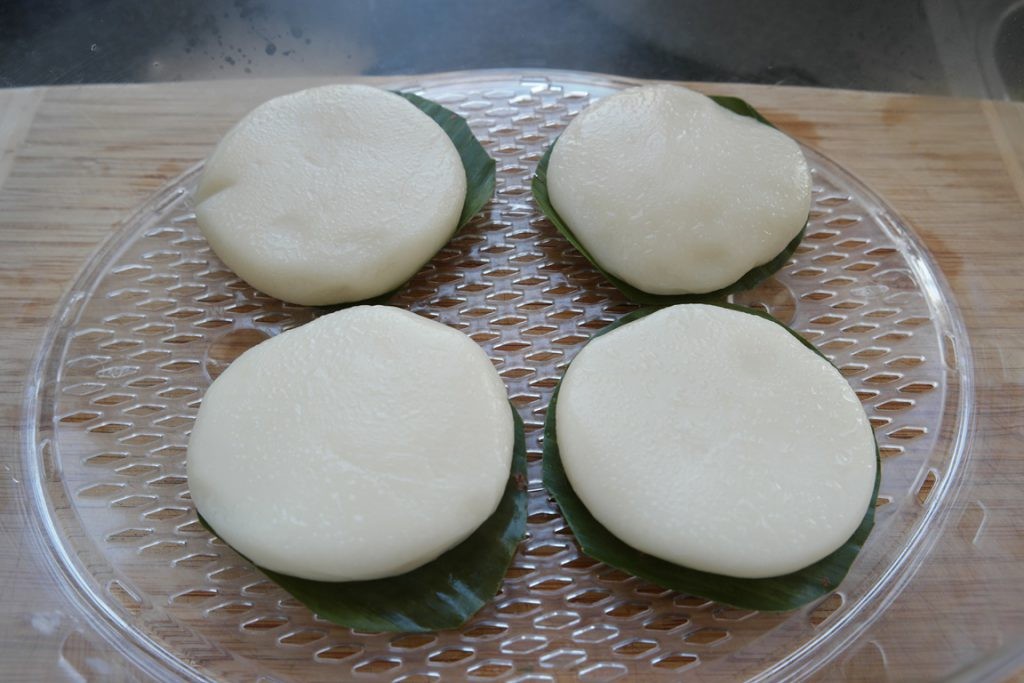 After steaming.
Making Banh Giay from leftover rice
If you've got any leftover rice after a meal, don't throw it out! Instead, make the most of it by making Banh Giay.
Ingredients
1/2 bowl of cold leftover rice
200 grams glutinous rice flour
1 tbsp cooking oil
1/2 tsp salt
180 - 200 ml hot water (or heated plain milk)
Instruction
Rice flour simply makes the dough less sticky and more workable. However, be cautious as not to use more than 10% of the glutinous flour. This will result in a dry dough with a less distinct glutinous taste.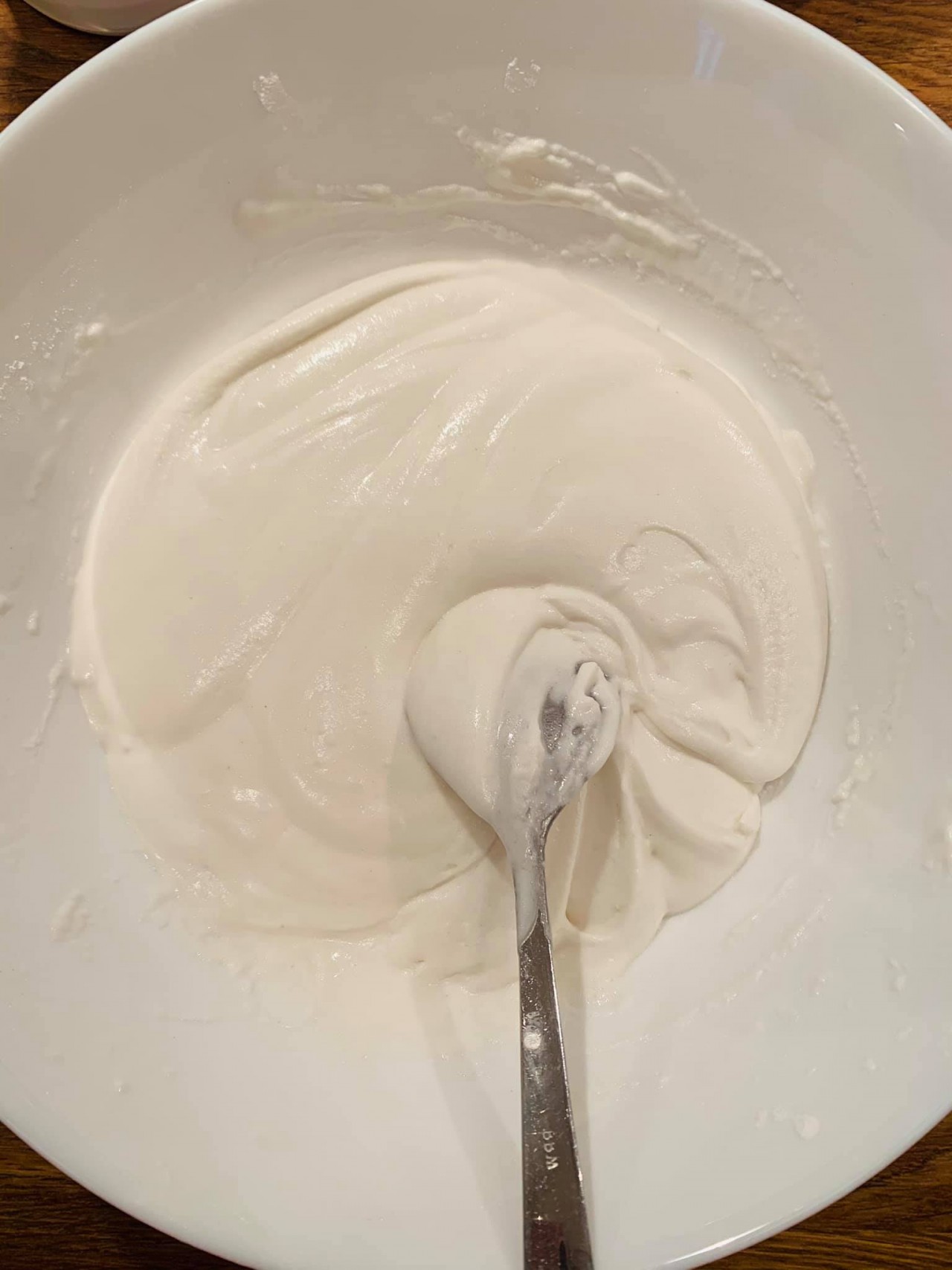 If the mixture is still not smooth, continue to add the remaining water to puree, filtering to get a fine mixture.
Put the leftover rice and 180 ml hot water into a blender and puree, filter through a sieve.
Add glutinous rice flour, oil, salt, mix well. Depending on the new or old glutinous rice flour with different levels of water absorption, you can adjust accordingly.
Wear gloves and knead the dough until it becomes a smooth, non-sticky dough. Cover bowl and rest the dough for 15-20 minutes. This will allow the flour to absorb moist from the hot water, leaven the dough and remove the starchy smell. However, do not let it rest for too long or you'll end up with a dry dough.
After 20 minutes, you divide the dough evenly into 8 pieces, roll each piece, then use your palms to press each dough evenly.
Steam in the pot for 15-20 minutes, then ladle it out and cool the cake.
Cut banana leaves into a circle that is as big as a cake, next you cut pork rolls into slightly thick slices, put a piece of cake on the banana leaf, then put a pork roll into the middle, put a further cake and put a piece of banana leaf on top, and you have a delicious and beautiful pair of Banh Giay with pork rolls.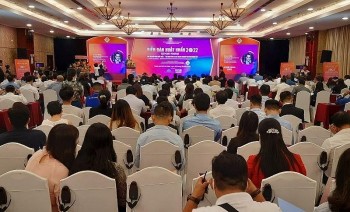 Focus
Vietnam News Today (Dec. 9): Vietnam - Singapore innovation centre helps firms transform production; HCM City among most searched destinations by travelers; Vietnamese digital technology industry's revenue estimated at 148 billion USD in 2022; Two Vietnamese films up for consideration at Oscars.