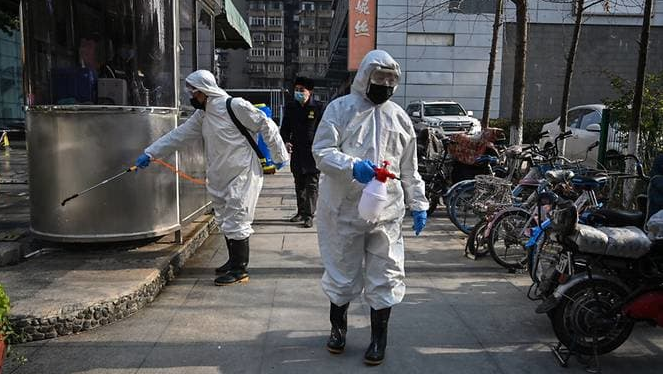 People dressed in protective clothes disinfect an area in Wuhan, in Hubei province on Jan 30, 2020. (Photo: AFP/Hector Retamal)
At least 1,355 people have now died nationwide and nearly 60,000 have been infected after Hubei's health commission reported the new numbers - just hours after President Xi Jinping touted "positive results" from the government's drastic measures to contain the virus and a top Chinese expert predicted the epidemic would peak this month.
In its daily update, Hubei's health commission confirmed reported 242 deaths in just one day and 14,840 new patients - by far its biggest one-day tally since the crisis erupted last month.
The huge jump came as local officials said they were changing the way they diagnose COVID-19 cases.
In a statement, the Hubei health commission said it would now include cases that were "clinically diagnosed" in its official toll.
This means lung imaging on suspected cases can be considered sufficient to diagnose the virus, rather than the standard nucleic acid tests.
Of the dramatic jump in figures Thursday, it said the new classification accounted for 13,332 of the cases and just over half the new death toll.
Hubei health commission said the change would mean patients could get treatment "as early as possible" and be "consistent" with the classification used in other provinces.
It said it had made the change "as our understanding of pneumonia caused by the new coronavirus deepens, and as we accumulate experience in diagnosis and treatment".
China has placed around 56 million people in virtual quarantine in Hubei and its capital, Wuhan, since late last month and restricted movements of millions more in cities far from the epicentre in an unprecedented effort to contain the virus.
Xi chaired a meeting of the ruling Politburo Standing Committee on Wednesday after figures showed that the number of new cases had dropped for a second straight day.
China has been praised by the World Health Organization (WHO) for its transparent handling of the outbreak, in contrast to how the country was criticised for concealing the extent of the SARS virus.
"TOO EARLY TO PREDICT"
Zhong Nanshan, a renowned scientist at China's National Health Commission, said on Tuesday he thought the outbreak would peak in mid- to late-February.
But in Geneva, World Health Organization officials warned Wednesday against reaching premature conclusions on the Chinese data.
"I think it's way too early to try to predict the beginning, the middle or the end of this epidemic right now," said Michael Ryan, head of WHO's health emergencies programme.
The epidemic has threatened to harm the Chinese economy, the world's second-largest, with ANZ bank warning that China's first-quarter GDP growth would slow to 3.2-4 per cent, down from a previous projection of 5 per cent.
According to Vietnam News Agency, among the 15 confirmed cases in Vietnam, seven have recovered. The latest case, who is also the youngest recorded so far, is a three-month-old baby from Vinh Phuc's Binh Xuyen district.
Chinese patient Li Ding, 66, one of the two first COVID-19 patients in Vietnam, was discharged from Cho Ray hospital in Ho Chi Minh City on February 12 after three weeks of treatment./.
VNF/AFP/VNA