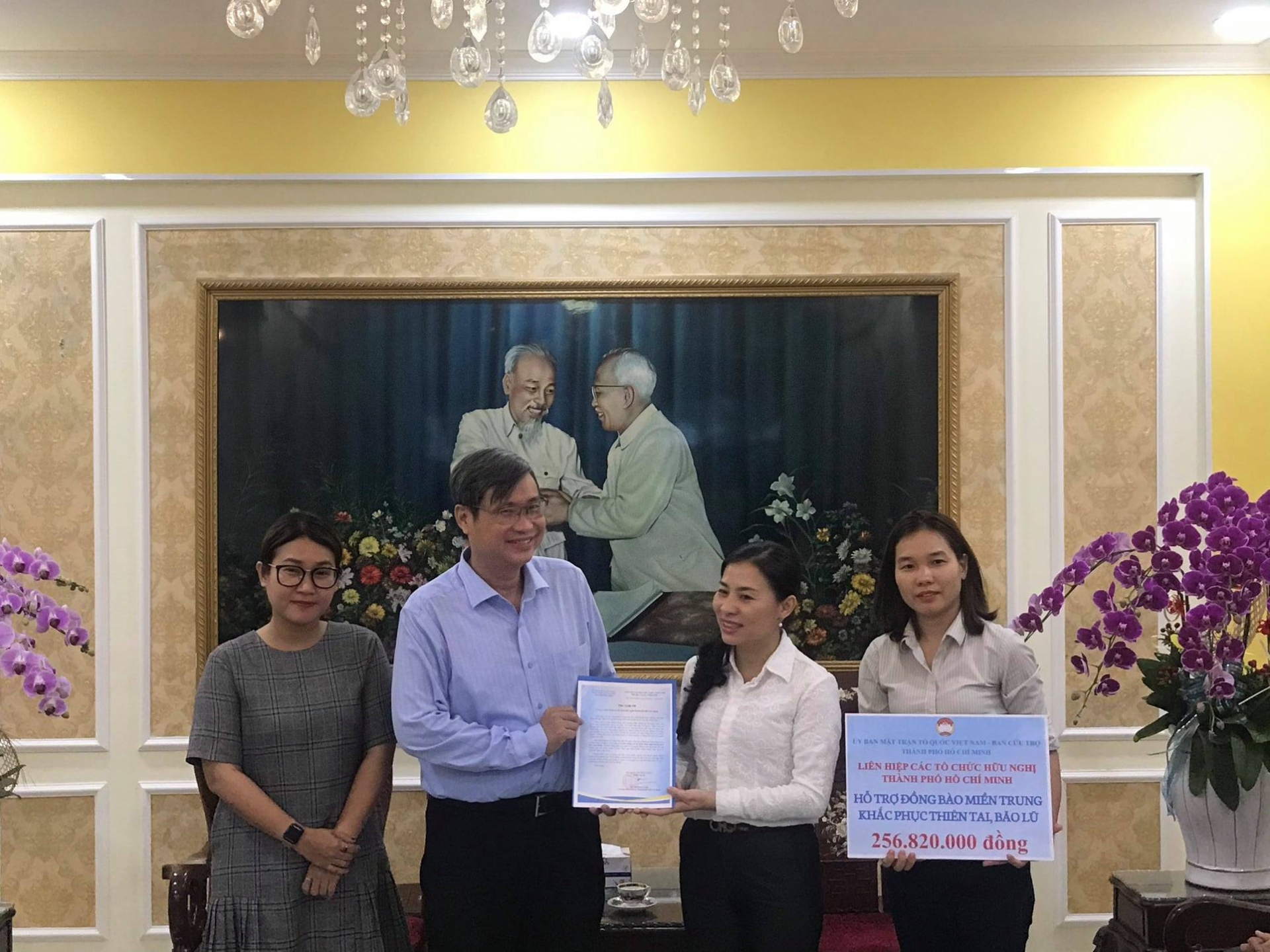 The Ho Chi Minh City Union of Friendship Organizations presents donations to support people in flood-hit central localities. Source: HUFO
On November 23, the leaders of the Union of Friendship Organizations of Ho Chi Minh City (HUFO) visited the Vietnam Fatherland Front Committee of Ho Chi Minh City to hand over the mobilized donations to the program "Join hands to support Central Region".
Welcoming HUFO delegation was Phan Kieu Thanh Huong, Vice Chairman of Vietnam Fatherland Front Committee Ho Chi Minh City. At the meeting, two sides shared plans as well as together gave suggestions on strategies to gradually help people in the most effective way, minimizing difficulties that people are experiencing.
At the ceremony, representatives of the HUFO handed over the relief aid amount of over VND 256 million (USD 11,100) to the city's Fatherland Front Committee. Through practical activities, the HUFO wishes to join hands with the people in the Central region to overcome difficulties caused by natural disasters and floods.
The country's central coastal region has suffered unprecedented flooding from prolonged downpours and successive typhoons since early October, resulting in more than 200 deaths so far, and displacing thousands of people. At least 5.5 million people in the region have been affected, including an estimated 1.3 million women of reproductive age with more than 92,000 of them pregnant.
With the negative impacts of the COVID-19 epidemic on global and domestic economy, natural disasters and epidemics happened consecutively recently, many poor families are now facing even more difficulties. The movement "The whole country joins hands for the poor - Let no one be left behind" proposed by the Prime Minister this year was very meaningful as it continues to focus on social security activities, people's spiritual and material life, especially families under preferential treatment policies, poor households, people in remote areas and regions damaged by natural disasters and climate change.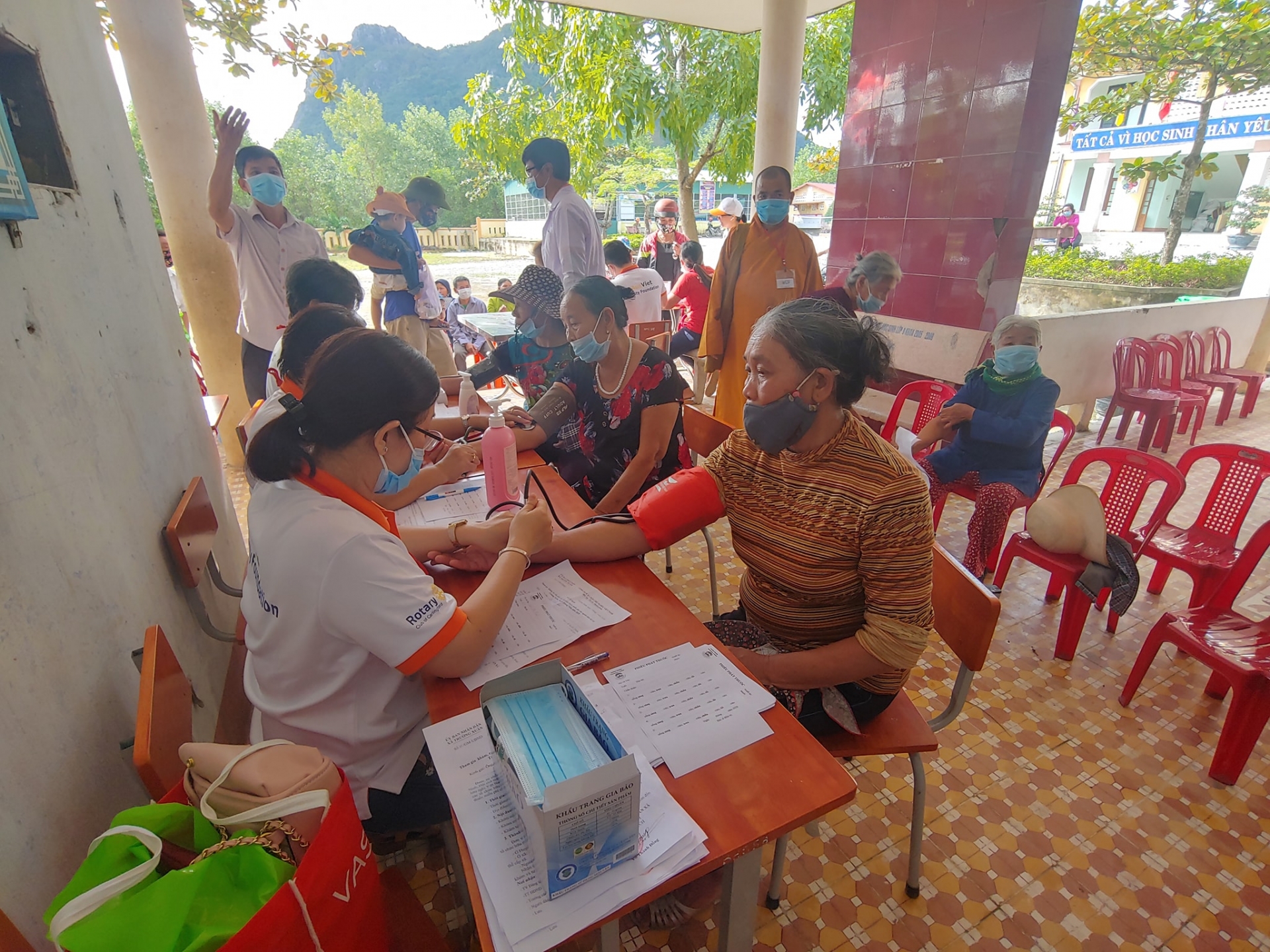 Free medicines and health check-ups for people in Quang Binh province. Source: Quang Binh Union of Friendship Organizations
On November 21, the Union of Friendship Organizations of Quang Binh Province also supported AusViet Charity Foundation (AVCF) to implement several activities in the province, including conducting free medical examination with the participation of more than 30 doctors, pharmacists and volunteers; presenting 200 gift packages to poor households, each gift includes essential supplies for people to recover after the disaster such as rice, milk, soap,toothpaste, toothbrushes, water bucket.
They also distributed 200 seedlings to farmers affected by floods, as well as gifts (including backpack, notebooks, pens) for students.
The total value of the aid package is AUD 25,550 (more than VND 430 million)
In addition, AVCF currently is mobilizing donations to support the construction and repair of about 10-20 houses for poor households.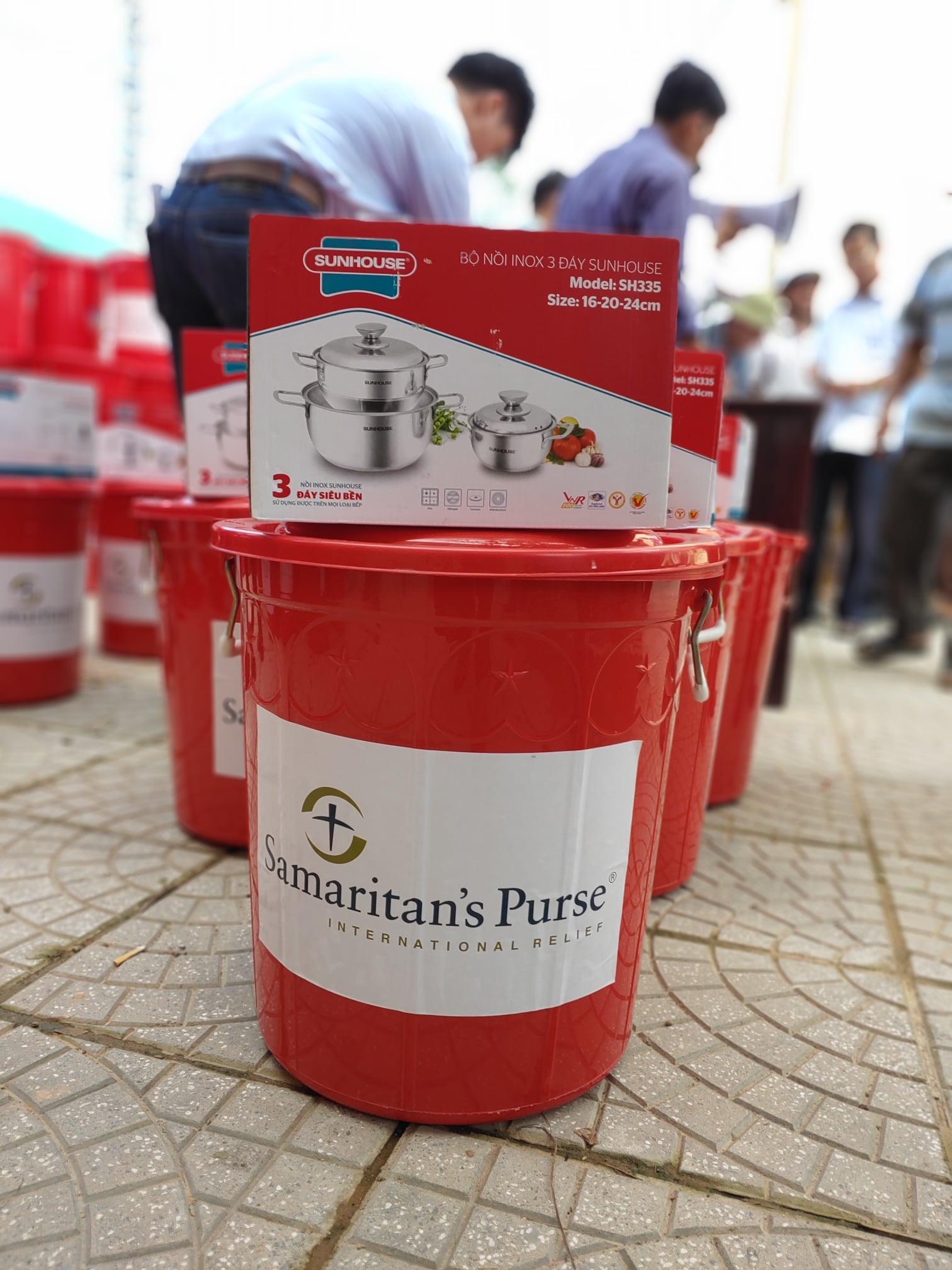 This gift set from Samaritan's Purse focuses on providing essential supplies for people to recover after the disaster, including kitchen utensils such as pots, blankets, pads and other sanitary wares.
Earlier, on November 19, the provincial Union of Friendship Organizations also cooperated with the Samaritan's Purse International Relief (USA) deliveried 1.050 aid packages o flood-affected people in the communes Duy Ninh, Ham Ninh and Van Ninh belong to Quang Ninh district.
Each package, worth over VND 1.2 million (USD 53,16), included kitchen utensils such as pots, pans, mosquito nets, blankets, water tanks, towels, dish soap, detergent, soap, toothbrush, toothpaste and sanitary pads. The total value of the package is over VND 1.28 billion (USD 55,817)./.
Hannah Nguyen