Huyndai Motor's May sale witnessing fall sharply amid Covid-19 pandemic
Hyundai Motor Co of South Korea announced on June 1 that its provisional May sales fell sharply due to impacts of corona virus outbreak.
Huyndai Motor's sales fell sharply in May
According to Reuters, South Korea's Hyundai Motor Co said on Monday its provisional May sales fell 39% year-on-year to 217,510 vehicles globally, as the coronavirus outbreak continued to hit demand in key markets.
Sales were, however, up about 30% from 167,693 vehicles in April. Its domestic sales rose 5% year-on-year, led by popular models such as the Grandeur sedan and new models such as all-new Elantra and premium brand Genesis' G80 sedan.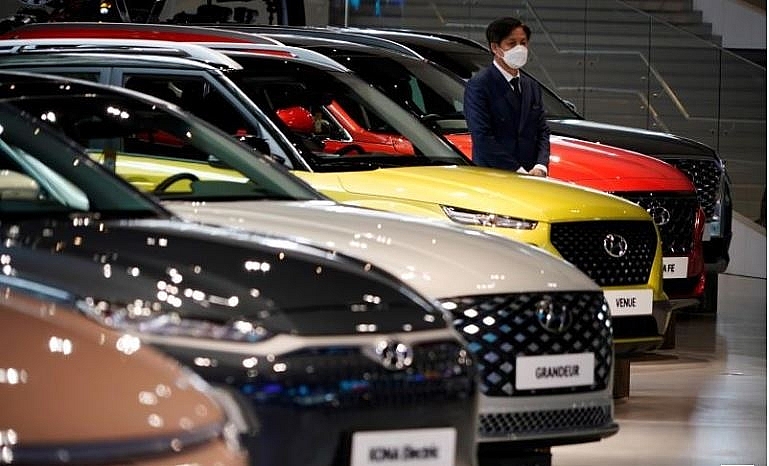 An employee wearing a mask to prevent contracting the coronavirus disease (COVID-19) waits for custormers next to a Hyundai Motor's vehicle at Hyundai Motor Studio in Goyang, South Korea, April 21, 2020. Photo: REUTERS/Kim Hong-Ji.
However, overseas sales fell 50% on year due to weak auto demand from slowing economic activities stemming from COVID-19, the automaker said in a statement.
South Korea's May auto exports fell 54% on year despite the sequential resumption of sales at dealerships in major countries, due to increased inventory from low sales in the previous month and decreased demand in major markets such as the U.S. and Europe, the trade ministry said in a separate statement on Monday.
Hyundai Motor's sister company Kia Motors announced provisional May sales of 160,913 vehicles, down 33% from a year ago, while its domestic sales rose 19% on year, overseas sales fell 44%. Together, they are the world's fifth-largest automaker.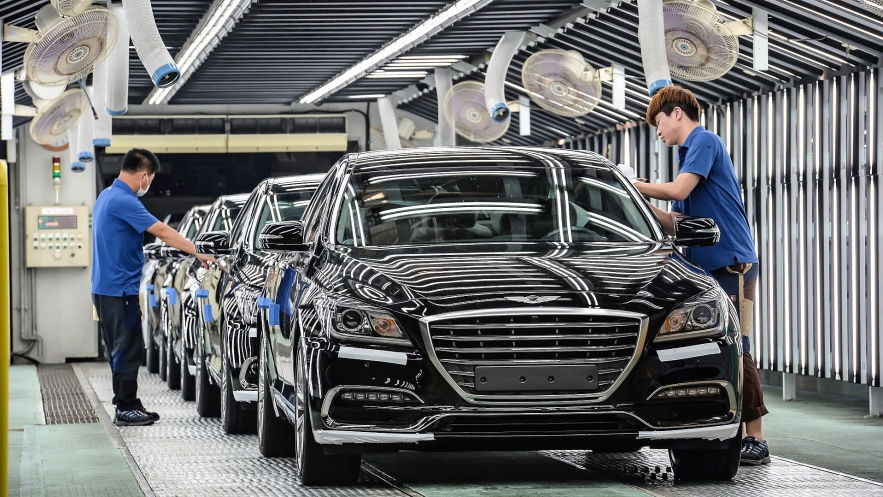 South Korean car production is shrinking as sales slide in the country's major export markets, squeezing profitability for auto parts suppliers. Photo: Hyundai Motor.
Covid-19 impacts on global automotive industry
Coronavirus (COVID-19) Pandemic emerged around the end of December 2019 at Wuhan, Hubei province, China. The pandemic is having a major impact on all aspects of industries, including automotive sector, with major manufacturers either totally shut down following the directives issued by local governments or are running with minimal staff at production units to keep their personnel safe, Globenewswire reported.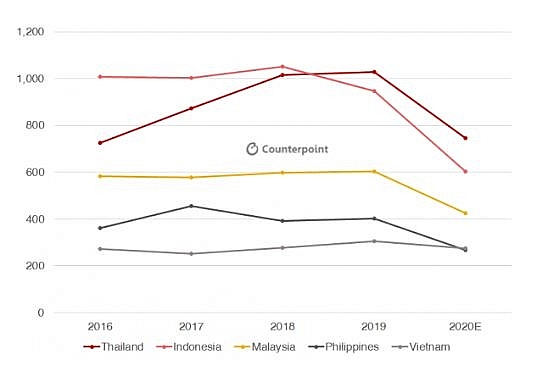 ASEAN5 Vehicle Sales, 2016-2020E, '000 Units. Photo: counterpointresearch.com
Manufacturing units around the world have been shut down, footfall in showrooms have fallen sharply, and vehicle sales have taken a huge hit. For the already struggling automotive industry, the global economic trade impact of Covid-19 pandemic on the automotive industry is estimated to be around $ 5.7 billion with European Union the worst-hit region at a US$2.5 billion decline in the automotive industry due to disruption in automotive supply chain amid a reduction in supplies from China.
Major automotive events across the globe are either being canceled or postponed, notably the 2020 Geneva motor show, Qatar Grand Prix, New York International Auto Show, and Australian Grand Prix. Major automotive players such as Fiat Chrysler Automobiles, Ford, PSA Group, Volkswagen Group factories in Europe, Ducati, Tesla factory in California, BMW group European factories, Rolls-Royce, General Motors are among the global automotive manufacturers who have suspended their production due to coronavirus.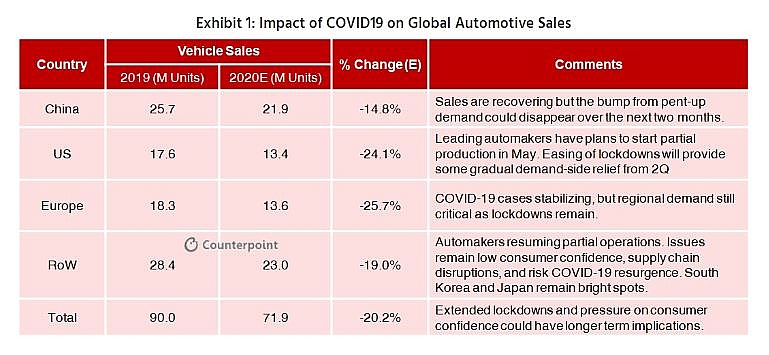 Photo: counterpointresearch.com
Will supply chains be adjusted due to Covid-19?
Supply chains in the automotive industry are clustered in regional hubs, with the lion's share of value-added (ie, the production of vehicles from component parts) happening close to the market. Even though inter-regional linkages contribute a smaller amount of value-added than those within regions, their disruption has been enough to cause major issues across the industry. The outages in Hubei province forced some factories elsewhere in the world to stop work weeks before those in other countries as China began lockdown measures to stop the community spread of the virus, think.ing reported.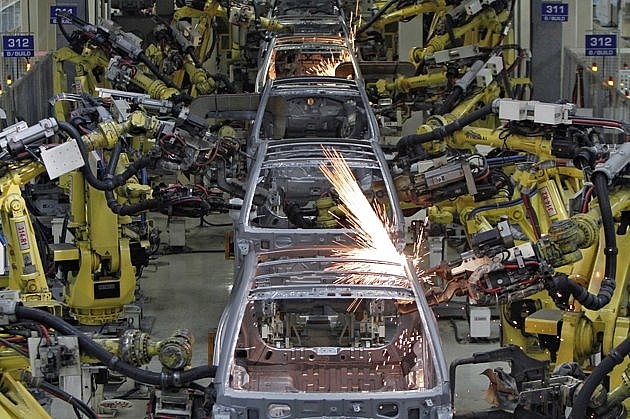 Inside Huyndai Production's line. Photo: onlineautoexpo
The complexity of automotive supply chains makes it difficult as well as costly to make them more resilient to shocks. It is difficult to define how to mitigate the risks posed by future shocks that could happen within a country, region or, as with Covid-19, globally. With upwards of 10,000 suppliers in a vehicle's value chain, organised across several tiers, there are further challenges in incentivising and enforcing de-risking comprehensively enough to cover all components.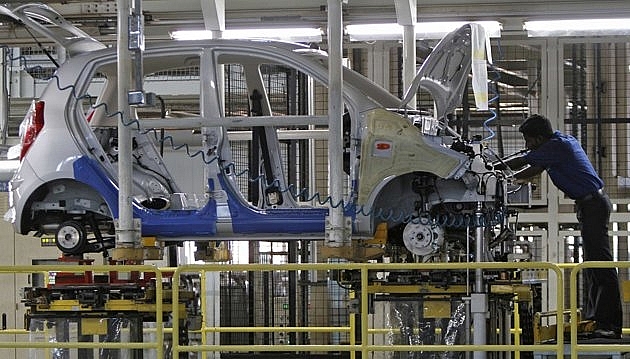 Workers assemble a Hyundai i10 car at a plant of Hyundai Motor India Ltd. Photo: onlineautoexpo
Suppliers' margins were being squeezed during the downturn in global economic activity before Covid-19, making the higher costs of increasing resilience unaffordable without raising prices. There is considerable work and expense involved in finding and retaining suppliers, that need to be able to produce to detailed specifications and meet quality and safety standards. Holding larger inventories is another way of increasing resilience by helping production to continue amid disruptions upstream in the supply chain, but involves higher storage and working capital costs.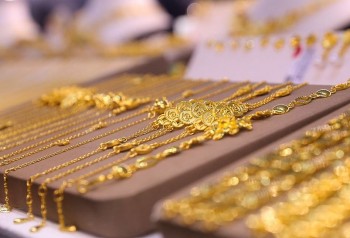 Economy
Vietnam Business & Weather Briefing (May 17): Reference exchange rate kept unchanged, gold price remained, Vietnamese e-commerce likely to reach US$39 billion by 2025.