US News today: White House on lockdown, a police car be on fire over George Floyd death
The White House has been put on lockdown and a police car has been set on fire, a new video show George Floyed was on the ground with three officers, partygoers at Missouri's Lake of Ozarks positive for COVID-19, Chicago mayor's message to President Donald Trump and CNN's headquater in Atlanta damaged by protests are remarkable news in the US on May 30.
White House has been put on lockdown and a police car has been torced
According to TMZ, the White House has been put on lockdown and a police car has been set on fire as protests numbers grow in cities across the United States. Thousands of people have hit streets in Washington D.C., Atlanta, San Jose, Minneapolis and other cities Friday to protest the killing of George Floyd. Many expressed anger that the other 3 officers involved in the incident hadn't yet been arrested or charged for his death.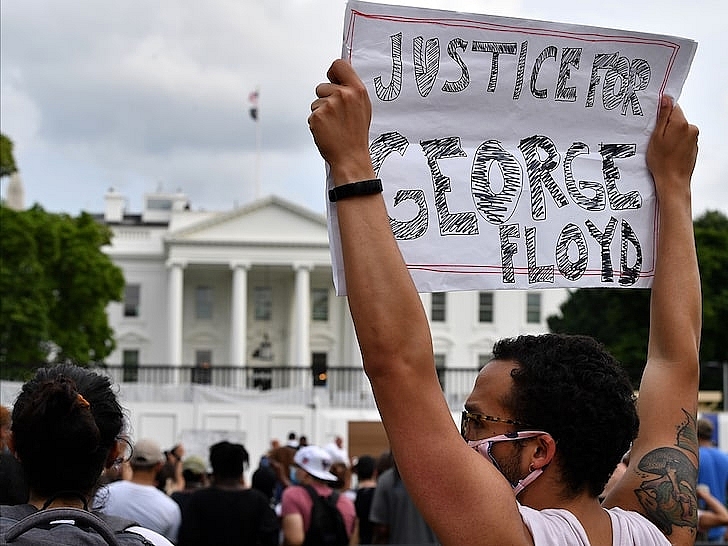 Photo: the hill.
In Atlanta, a police car was set on fire and major roadways were blocked. In San Jose, riot police started walking crowds back and Secret Service put the White House on lockdown as protests neared the residence. In a video from just outside the White House, shows protesters knocking barriers over and law enforcement officials setting them back up ... only to be knocked over again.
The incident came after the case of Floyd deadth anf officer Derek Chauvin - who placed his knee on Floyd's neck for nearly 9 minutes while he died - has been charged with 3rd-degree murder and 2nd-degree manslaughter. The criminal complaint said he created, "an unreasonable risk and taking a chance of causing death or great bodily harm to George Floyd", CNN reported.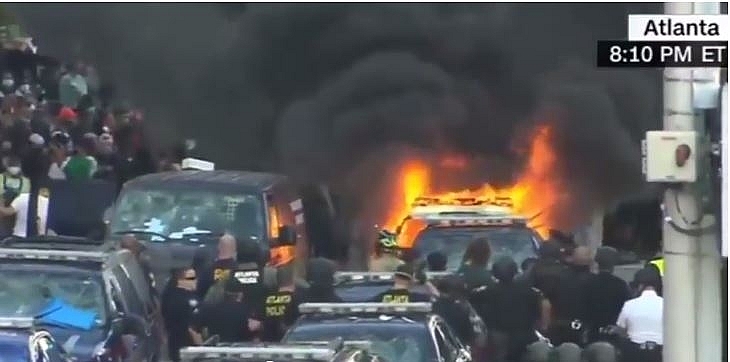 Photo: TMZ.
A new video show George Floyed was on the ground with three officers
A new video capturing the moment George Floyd was detained by members of the Minneapolis Police Department appears to show multiple officers on the ground with him. The angle of the video, which is circulating on social media, has not been seen previously.
The footage was filmed from the opposite side of the street from where a white officer pressed his knee onto Floyd's neck in the Memorial Day incident. The new video appears to have been recorded just prior to the initial video, NBC News reported.
Using previously reported footage of the moment Floyd was arrested, Google Street View imagery and statements from police, NBC News' Social Newsgathering team verified the new video, which appears to show Floyd in the custody of three police officers.
At the beginning of the new video, three officers wearing uniforms that match the ones shown in the initial video can be seen on the ground with Floyd, while a fourth officer stands nearby.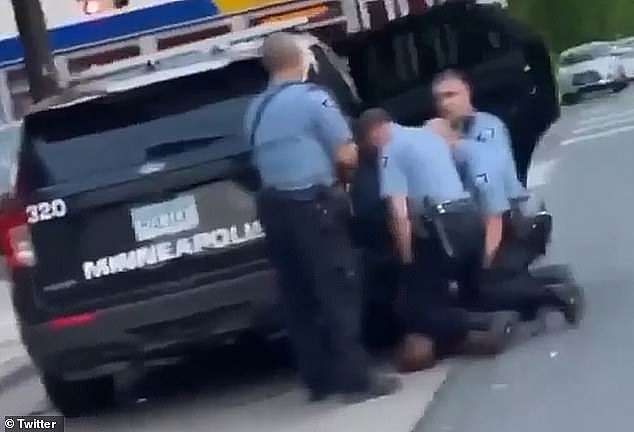 A scene in leaked video shơ that 3 police officers was on George Floyd. Photo: Daily Mail
Daily Mail also reported, the angle of the brief clips shows three officers on George Floyd's back.
"Please, I can't breathe,' he continues in the clip. 'My stomach hurts. My neck hurts. Please, please. I can't breathe".
An officer believed to be Derek Chauvin then tells the person filming that they need to move to the other side of the street, as Floyd cries out. An autopsy report has not been released in Floyd's death, but the fire department reported that Floyd had no pulse in the ambulance and was unresponsive. Paramedics checked Floyd's pulse several times and attempted to resuscitate him, according to the incident report.
Partygoers at Missouri's Lake of Ozarks positive for COVID-19
Health officials said Friday that they were seeking to "inform mass numbers of unknown people" after a person who attended crowded pool parties over Memorial Day weekend at Missouri's Lake of the Ozarks tested positive for COVID-19, ABC News cited.
Camden County Health Department said in a release that the resident of Boone County in mid-Missouri tested positive on Sunday after arriving at the lake area a day earlier. Officials said there have been no reported cases of the virus linked to coronavirus in residents of Camden County, where the parties seen in videos and photos posted on social media took place.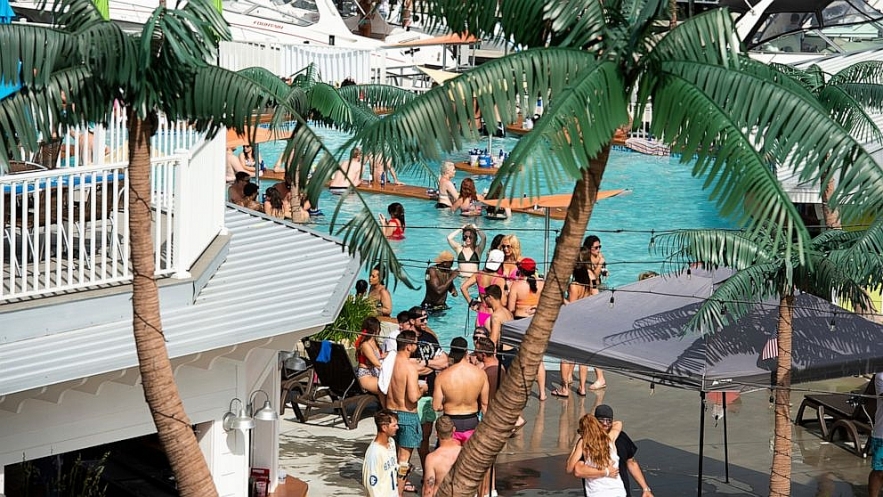 Crowds of people gather at Coconuts Caribbean Beach Bar & Grill in Gravois Mills, Missouri, Sunday, May 24, 2020. Photo: ABC News
Because "mass numbers of unknown people" need to be notified, the officials released a brief timeline of the person's whereabouts last weekend, including stops at a bar called Backwater Jacks, a bar and restaurant that has a pool, as well as a dining and pool venue called Shady Gators and Lazy Gators.
Backwater Jacks owner Gary Prewitt said previously in a statement that no laws were broken, though the images appeared to show people violating Republican Gov. Mike Parson's state order requiring social distancing.
Parson allowed businesses and attractions to reopen May 4, but the state order requires 6-foot (2-meter) social distancing through at least the end of May.
What Chicago mayor wants to say to President Donald Trump: "It starts with 'F' and ends with 'U'
Chicago Mayor Lori Lightfoot spelled out what she wants to say to President Trump, whom she accused of "throwing red meat to his base" with Thursday night's Minneapolis protest tweets, People reported.
Chicago Mayor Lori Lightfoot spelled out what she wants to say to President Donald Trump on Friday: "It starts with 'F' and ends with 'U.' "
Lightfoot's thinly veiled message to the president came the morning after Trump threatened to send the U.S. military to Minneapolis to shoot protesters demonstrating this week after George Floyd was killed by a police officer while he was being detained on Monday.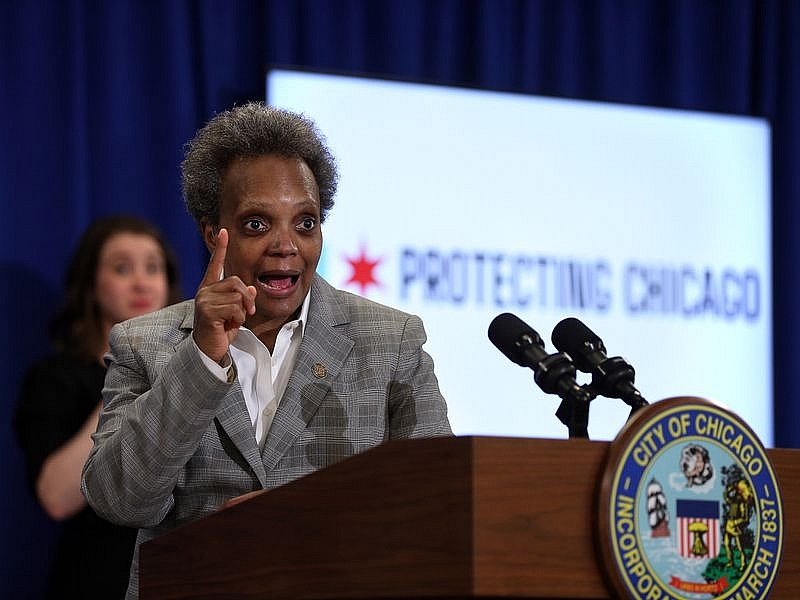 Chicago Mayor Lori Lightfoot. Photo: Chicago Tribune.
Asked later whether she should have used that language toward Trump, in light of former first lady Michelle Obama's "when they go low, we go high" mantra, Lightfoot didn't back down, as reported by Chicago Tribune.
"I don't take the bait every time, but this time, when we are suffering pain and trauma at the killing of a black man in the street, to try to, for political gain, and blow the dog whistle to his base, I'm a black woman, and a leader, and I feel an obligation to speak out when something as offensive as that is said by anyone, but particularly the president," she said. "And I make no apologies whatsoever for my word choice, and the way in which I'm calling him out for what he said."
CNN's headquater in Atlanta damaged due to protests
As reported by CNN, the front of CNN Center in Atlanta was the scene of violent protests on Friday evening that resulted in damage to the front of the building and inside.
The protests had started as peaceful earlier in the afternoon when crowds gathered in the city's famed Centennial Park. The protests were in response to the death of George Floyd, who was killed on May 25 in Minneapolis.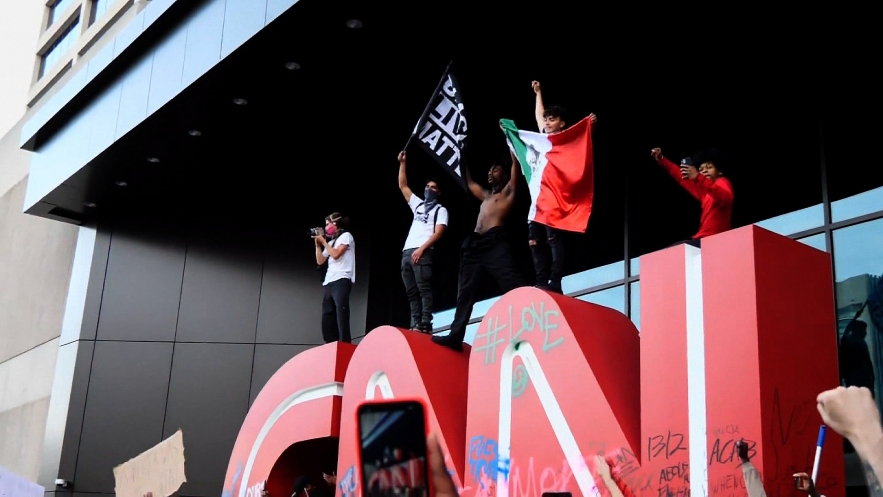 Protesters in Atlanta mount the CNN sign in front of the network headquarters in Atlanta. Photo: CNN.
At around 6 p.m. ET, protesters began moving toward the front of the CNN Center, where police had gathered. Over the next few hours, the crowd swelled as SWAT was called in to help with crowd control.
By about 7 p.m. ET, protesters could be seen damaging CNN Center in downtown Atlanta, which is sandwiched between Philips Arena and Centennial Park. Protesters were seen vandalizing CNN's logo outside its offices, breaking the building's glass and entering the center. Protesters were also heard chanting anti-media rhetoric.
Around 7:40 p.m., protesters could be seen destroying Atlanta Police Department vehicles parked in front of CNN. Protesters entered the CNN Center and destroyed the interior of the building at about 9 p.m. ET. One man was seen breaking glass inside the center with a skateboard.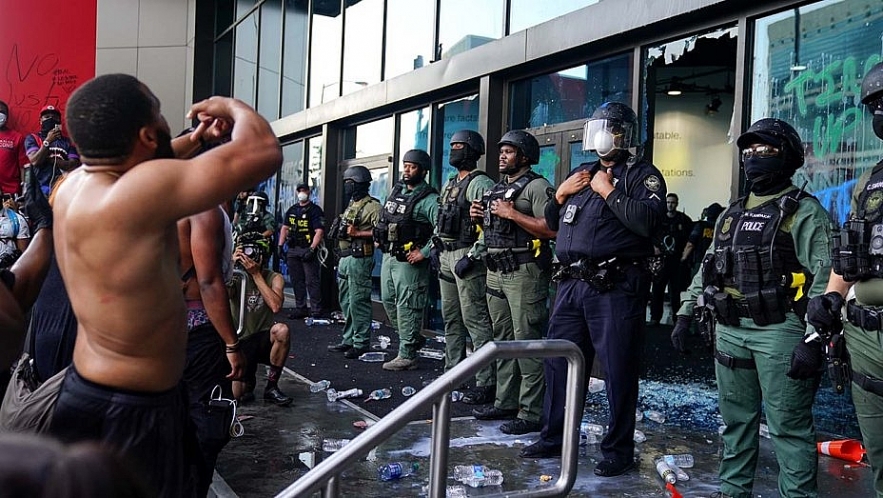 Photo: CNN.
Atlanta Mayor Keisha Lance Bottoms, during a news conference Friday night, spoke directly to the protesters: "You have defaced the CNN building. Ted Turner started CNN in Atlanta, 40 years ago because he believed in who we are as a city."
The protests in Atlanta capped off a complicated day for the network. A CNN crew was arrested while giving a live report Friday morning in Minneapolis as they covered ongoing protests. The journalists were released roughly an hour later.
Overseas Vietnamese
Vice President Vo Thi Anh Xuan had meetings with several Thai leaders and high-ranking officials within the framework of her visit to Thailand to attend the Global Summit of Women (GSW) 2022.