In Photos: Hanoi conducts Covid-19 testing for people returning from Da Nang
Hoan Kiem District Medical Center on May 15 took samples from nearly 400 people returning from Da Dang City for Covid-19 testing.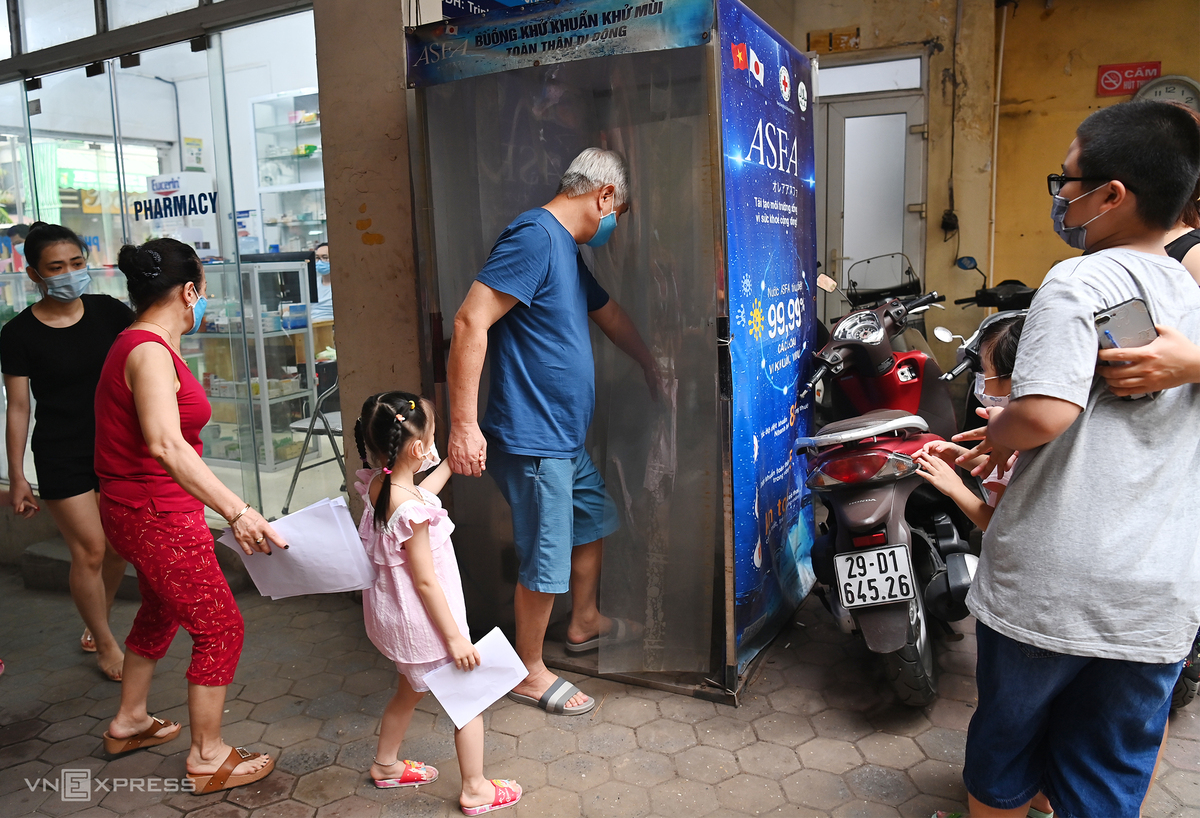 Photo: VnExpress
People have their whole body disinfected before being taken samples for Covid-19 testing at Hoan Kiem District Medical Center.
Hanoi Department of Health has required districts and towns to conduct Covid-19 testing for all people returning from Da Nang City from May 1 to 14, VnExpress reported.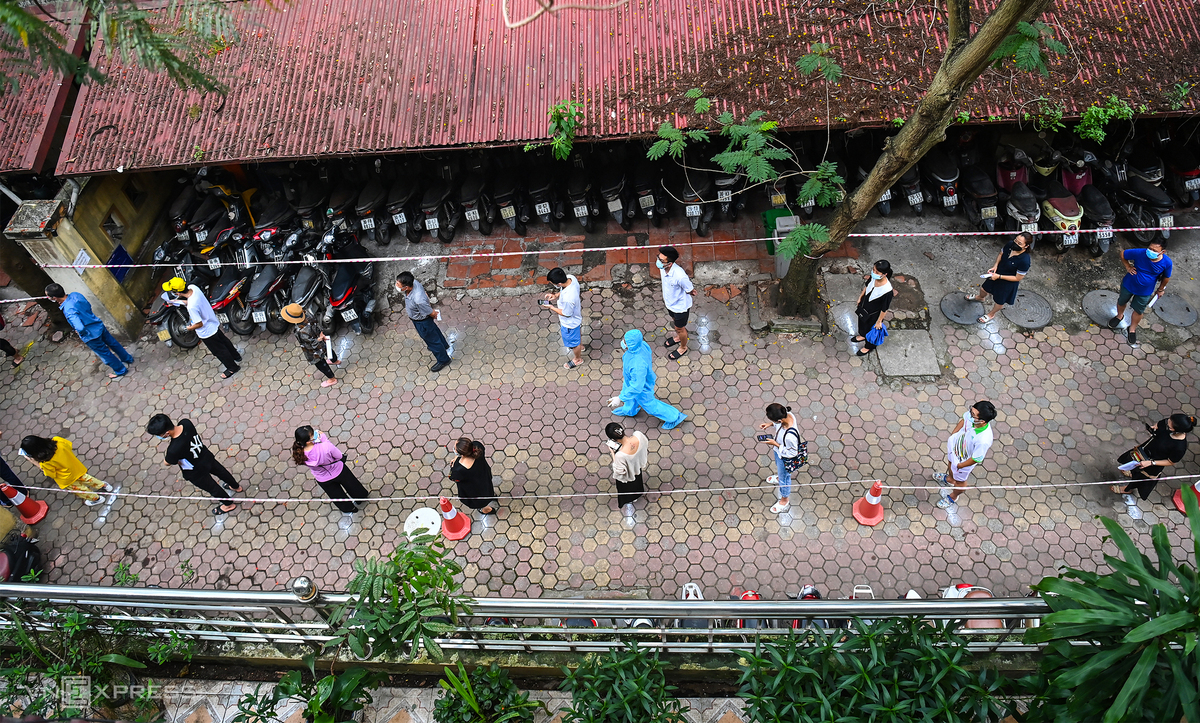 Photo: VnExpress
Residents maintain a safe distance from each other to prevent the spread of the novel coronavirus.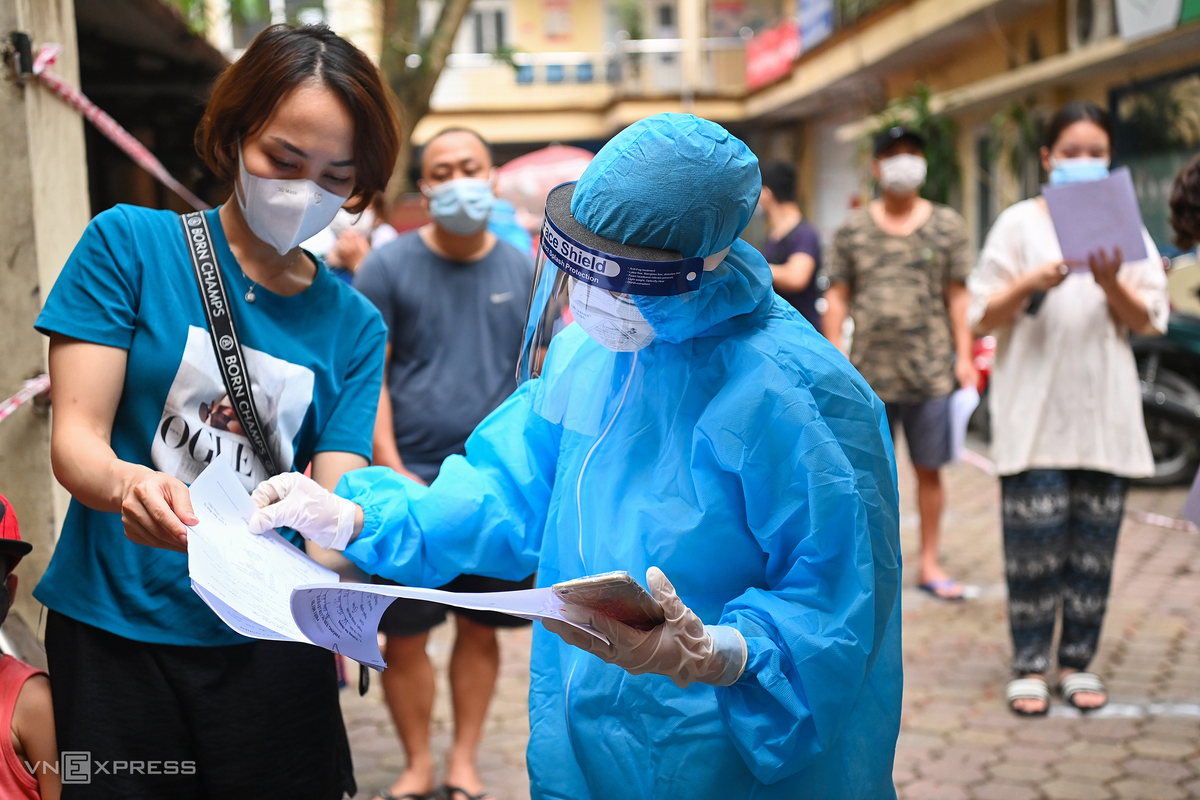 Photo: VnExpress
A health worker instructs people to make health declarations.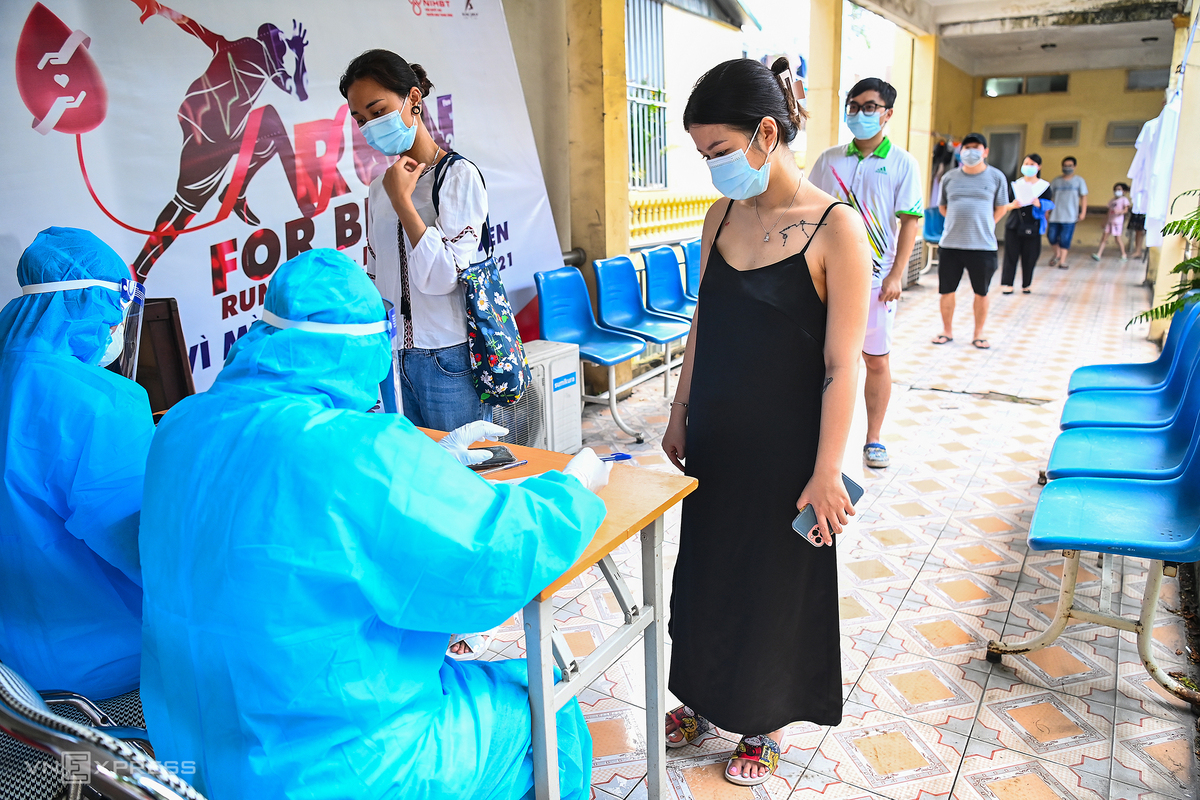 Photo: VnExpress
Medical workers check citizens' health declaration forms.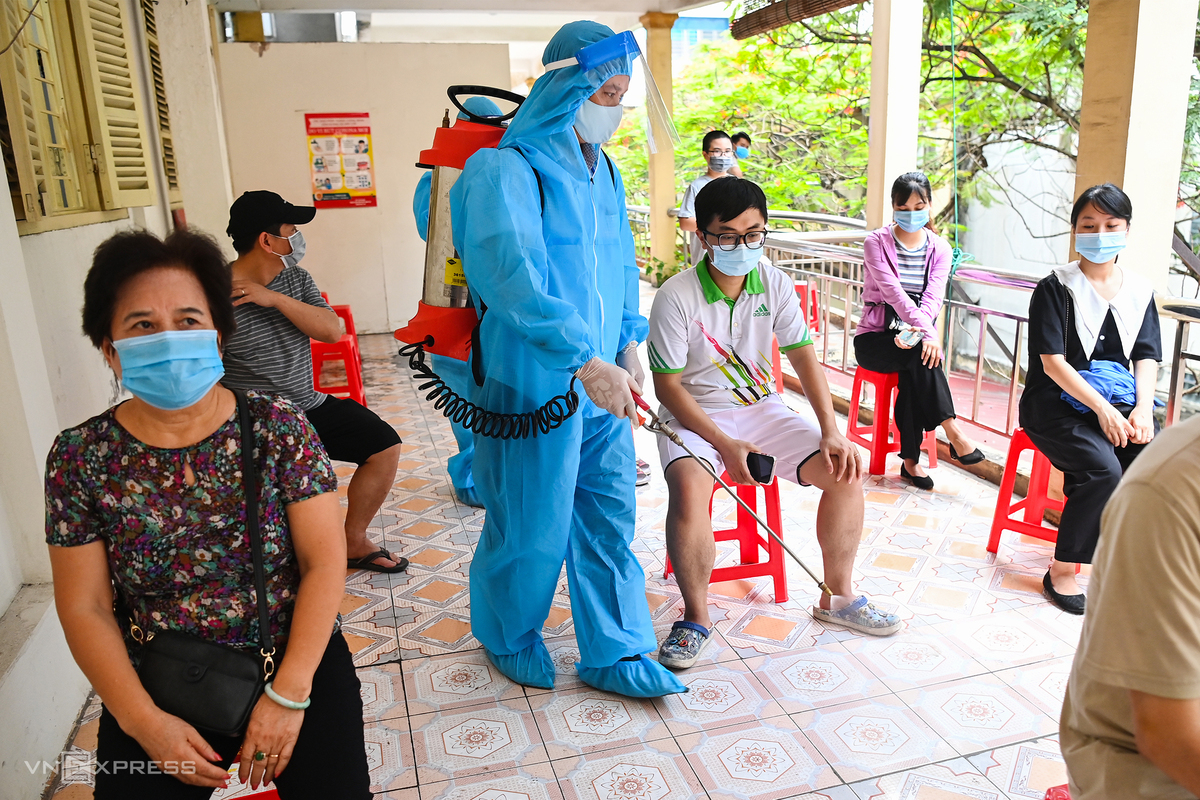 Photo: VnExpress
The entire testing site is sterilized.
Doan Van Viet, Director of Hoan Kiem District Health Center, said once receiving the city's order, the district has directed wards to review those returning from Da Nang. "Since 2 p.m May 15, 18 wards sent at least one officer each to take samples," he said.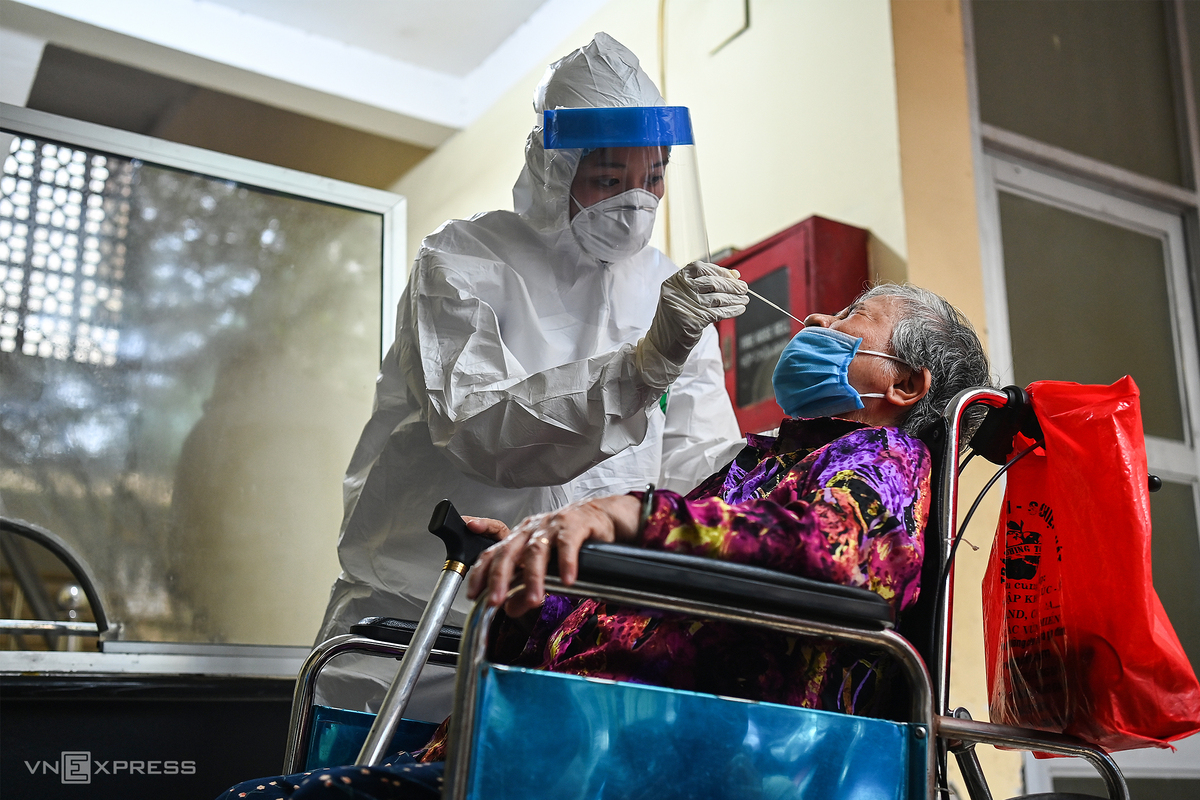 Photo: VnExpress
An old woman has her sample taken for Covid-19 testing.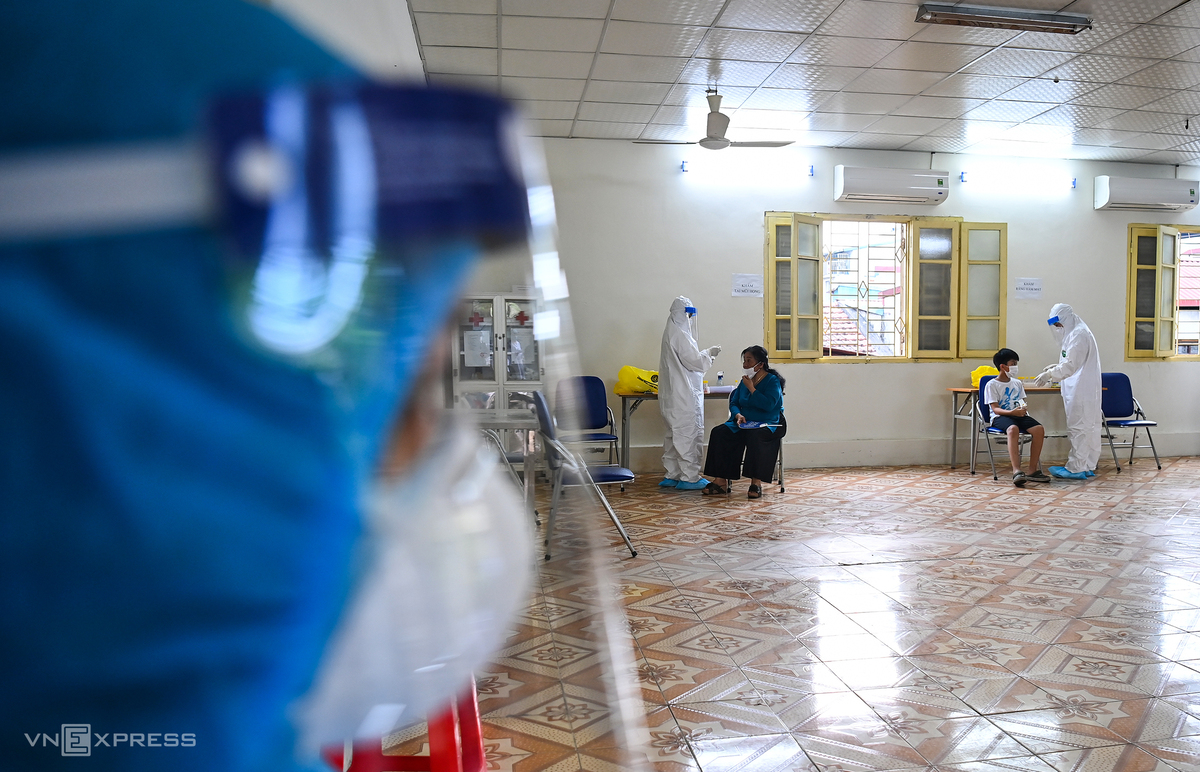 Photo: VnExpress
Each table serving testing is placed 1.5 meters apart.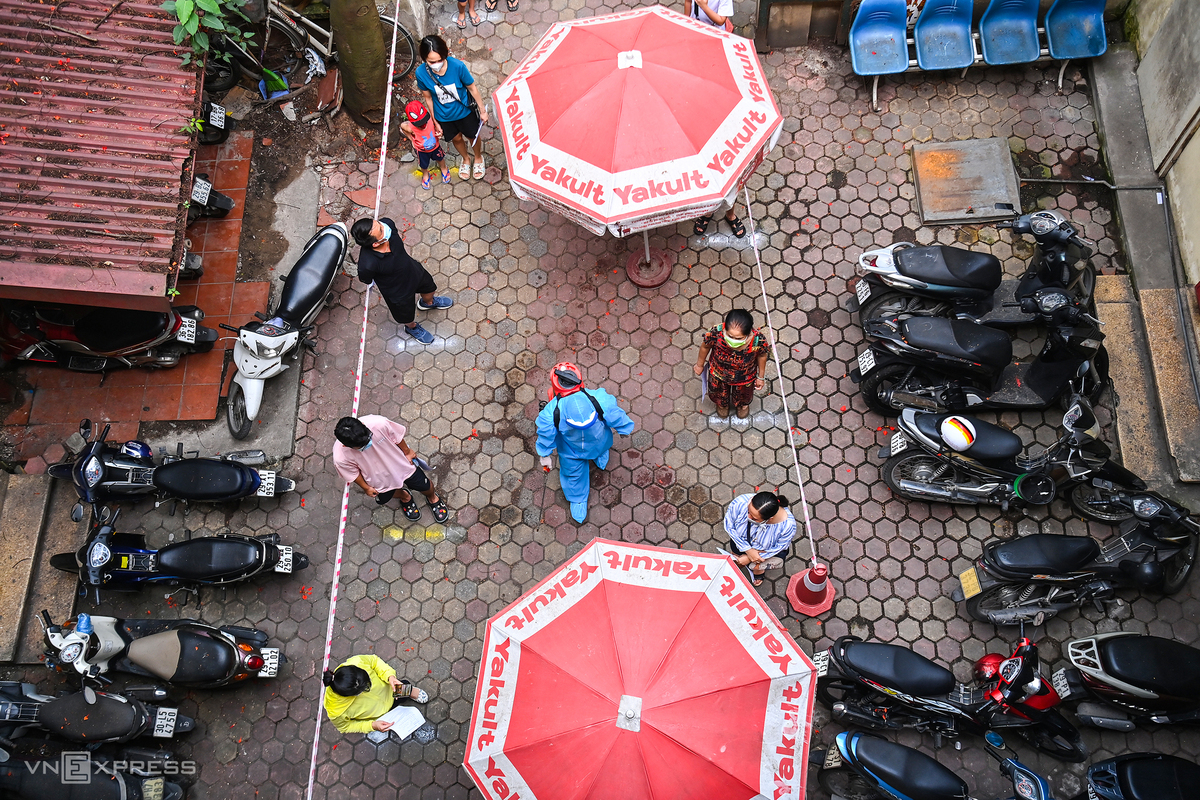 Photo: VnExpress
At 4:30 p.m, medical staff complete sample taking for nearly 400 people. These samples are transferred to Hanoi Center for Disease Control. Testing results are expected to be informed one day later.
The number of people returning to Hanoi from Da Nang after the national holiday (April 30- May 1) is nearly 20.000, 5.600 of which have come back from May 1 up to now.
Hanoi Department of Health has requested those who have been to Da Nang between May 1, 2021, and May 14, 2021, and have made a medical declaration will be tested for Covid-19 and have to self-isolate at their residence for 21 days from the day they return to Hanoi.
Those who have been to Da Nang between May 1, 2021, and have not yet made medical declarations needed to be reviewed and listed for monitoring. They also have to apply for self-quarantine for 21 days from the last day of their trip to Da Nang city.
All who have been to Da Nang city for less than 28 days and have symptoms of cough, fever, breath shortness or other symptoms of suspected Covid-19 infection must be immediately transferred to medical facilities for prompt treatment and isolation.
The Health Ministry confirmed 127 domestic infections Sunday morning, raising the infection tally in Vietnam's fourth coronavirus wave to 1,080.

The new patients were recorded in four northern provinces of Bac Giang, Bac Ninh, Dien Bien and Hoa Binh, all related to previously confirmed patients and outbreaks in areas that have been already isolated.

Bac Giang recorded 98 new cases, all linked to outbreaks at Japanese electronics company Hosiden and Quang Chau industrial park in Viet Yen District, which are now under lockdown.

Bac Ninh recorded 23 new patients and Dien Bien five, all already quarantined following contact tracing.

The new case in Hoa Binh is a 42-year-old woman related to a previous outbreak.

Since the new wave broke out on April 27, Vietnam has reported 1,080 new local cases of Covid-19 in 26 cities and provinces.

Of them, 314 are in Bac Giang, 217 in Bac Ninh and 213 in Hanoi with 110 in two hospitals under lockdown, and 123 in Da Nang City.

Saturday saw 165 community transmissions confirmed in the country, marking the highest number of Covid-19 cases in a single day since the pandemic broke out in Vietnam in January last year.

The country has recorded 4,112 infections since the start of the pandemic, including 2,668 recoveries and 36 deaths. The latest fatal case was an 89-year-old woman recorded Saturday.

Over 977,000 people, or about 1 percent of the country's population, have been vaccinated against Covid-19, mainly frontline workers of the Covid-19 fight and medics at local hospitals.