In photos: Tourists brace drizzle, flock to Hung King's Temple
A large number of visitors from across Vietnam fled to Hung King's Temple on the first day of the festival in spite of the drizzling rain.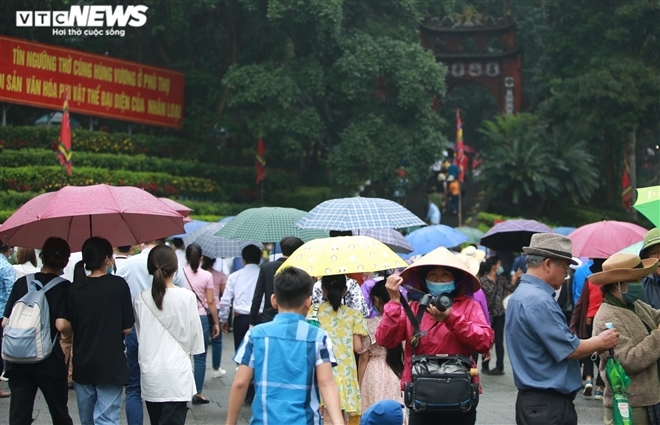 (Photo: VTC News)
This year Hung King Festival takes place on April 17-21 (March 6-10 in Lunar Calendar). Given the impact of the Covid-19 pandemic, only the ceremony part is held while all festive activities are stopped.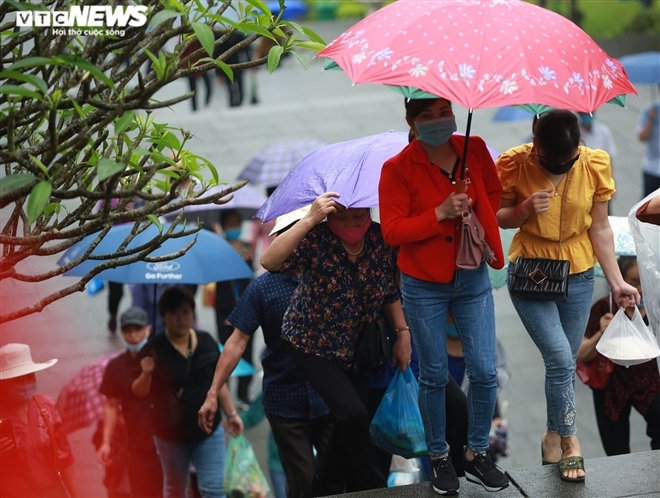 (Photo: VTC News)
From as early as 6 am, lines of people are heading to Hung King's Temple to pay their respect and gratitude to ancestors of the Vietnamese people.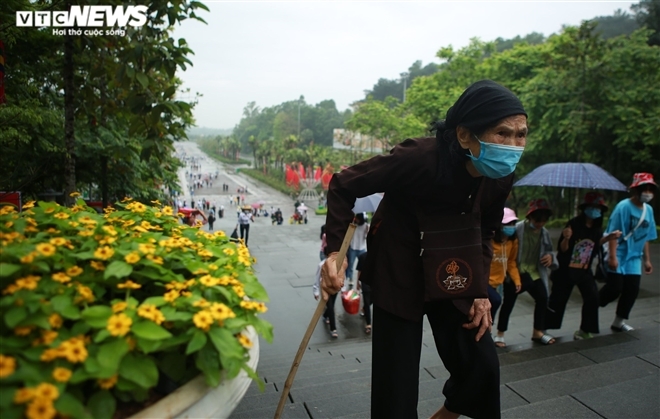 (Photo: VTC News)
One old woman climbing to Hung King's Temple, using a walking cane, as reported by VTC News.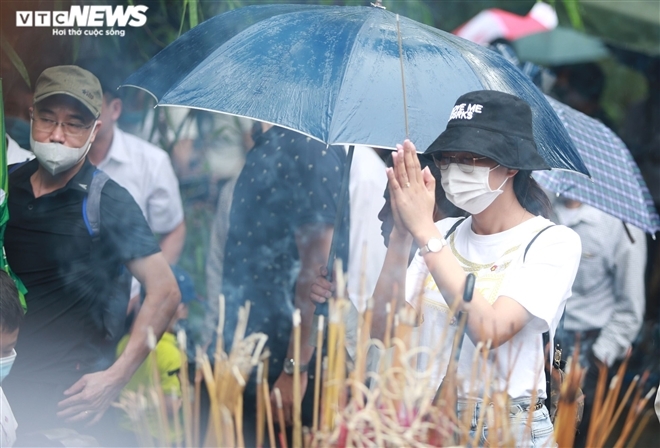 (Photo: VTC News)
"This is my second time I visit Hung King's Temple to offer incense to our origins. Today is the ceremony day, thus the flock of people is just incredible", Ms. Dang Huong Quynh, who has traveled over 90km from Hanoi to Phu Tho, told VTC News.
She added, "for thousands of years, the Hung King Festival is an opportunity for Vietnamese people to look back and contemplate of their origin. I take this occasion to pay my respect and gratitude to the deceased heroes whose contribution to the peace and development of Vietnam was great".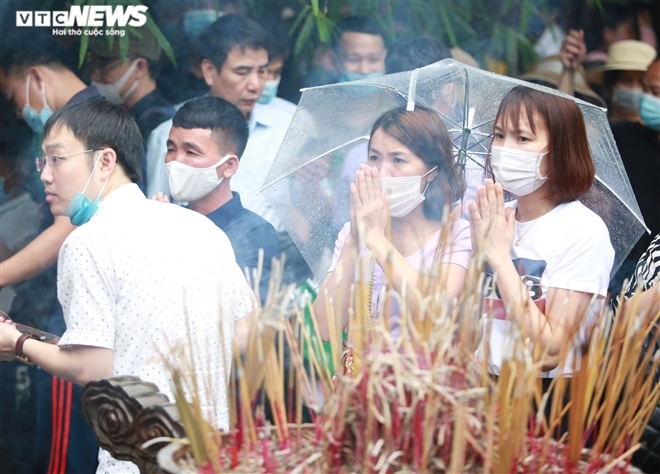 (Photo: VTC News)
For Ms. Hoang Nham Khue, from the northern province of Hai Duong, however, this is her first time joining Hung King Festival. She is planning to visit several relics nearby and her relatives while awaiting the main ceremony on March 10 (in the lunar calendar).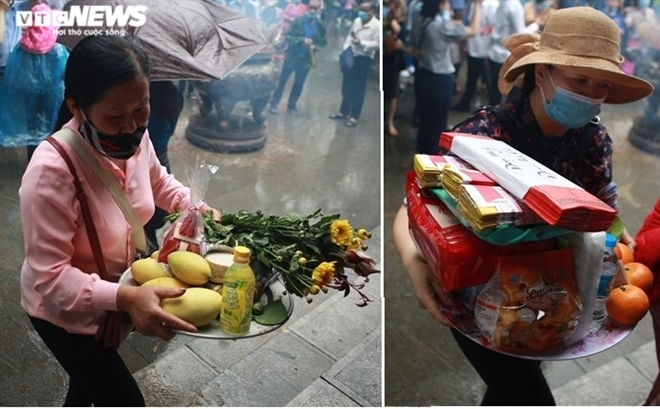 (Photo: VTC News)
People preparing offerings.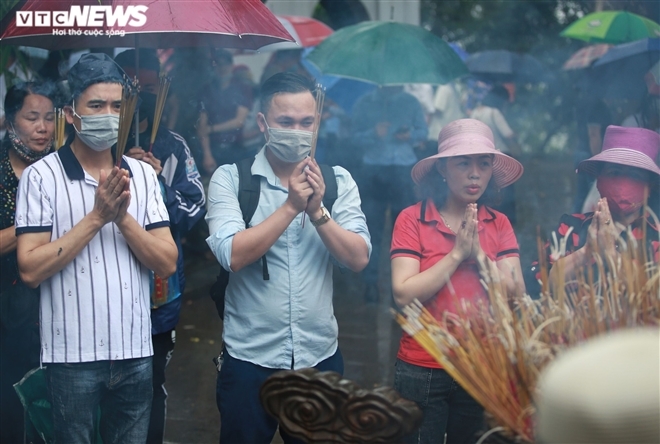 (Photo: VTC News)
People offering incense and praying.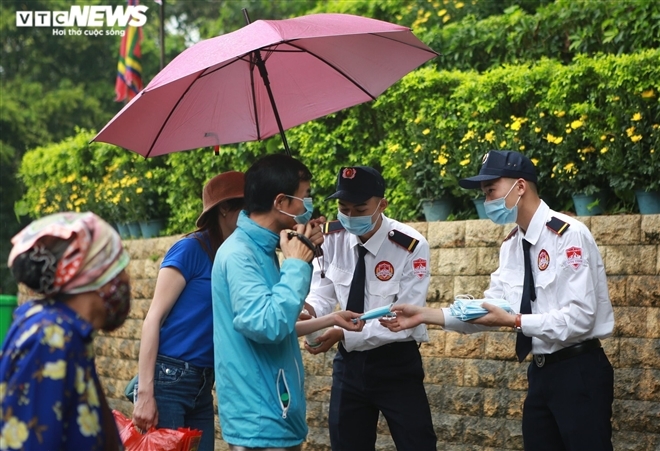 (Photo: VTC News)
In the "new normal state" with both socio-economic development and COVID-19 epidemic prevention, the 2021 Hung King's death anniversary has been adjusted and focused on ceremony instead of both ceremony and activities. The anniversary is held in a solemn, respectful manner.
King Hung Temple Festival is a traditional festival which honors the first King of Vietnam - King Hung. It's an occasion for every Vietnamese to remember their origin and express their respect as well as gratitude to ancestors of Vietnamese people. Therefore, it's considered as national festival of Vietnam.
King Hung Temple Festival takes place yearly at King Hung Temple from the 8th to 11th day of the third lunar month in the year. According to the legend, the 10th day of that month is the death anniversary of King Hung. During the festival, Vietnamese people from all over the country as well as Vietnamese people living abroad head for King Hung Temple on Nghia Linh Mountain, Phu Tho Province to take part in this historical and meaningful festival.
The Hung King Temple Festival is one of the most important and sacred festivals of the Vietnamese people, deeply embedded in the minds of every Vietnamese citizen, regardless of where they originated from.
Legend of Hung King Temple Festival
It is said that thousands of years ago, Lac Long Quan (King Dragon of the Land of Lac) had superhuman strength and liked to stay near water. He succeeded to the throne of his father, and governed the Lac-Viet tribe. De Lai, king of a northern tribe, with his daughter Au Co made a trip to visit the south.
Admiring Lac Long Quan's talent, De Lai got married Au Co to Lac Long Quan. Au Co became pregnant and gave birth to a membranous sac. The sac kept getting larger and larger, and burst on the seventh day. Surprisingly, there were one hundred eggs in the sac, which hatched into one hundred beautiful babies.
The children of Lac Long Quan and Au Co were the ancestors of Vietnam, and so the Vietnamese are known as "Dragon and Fairy descendants." The eldest son of Lac Long Quan and Au Co, who was with this mother, established himself at Phong Chau, now the southern part of Phu Tho Province, and made himself king. That was King Hung I whose realm was made up by 50 tribes. The 18 Hung kings then ruled the country from 2879 to 258BC.
According to historical records, the regime of the Hung Kings was an impressive, brilliant and outstanding start for establishing Viet Nam as a sovereign nation. The 18 generations of the Hung Kings saw the birth and development of a nation and are credited with forging national characteristics such as the sense of community, mutual affection, patriotism and unwillingness to yield to oppression.
From this original settlement, the Hong (Red) River civilization and the pre-Dong Son cultures grew. From generation to generation, the Vietnamese people hold a festival nationwide on the 10th day of the third lunar month to commemorate the anniversary of their ancestor's death, founder of the Vietnamese nation – the first Hung King.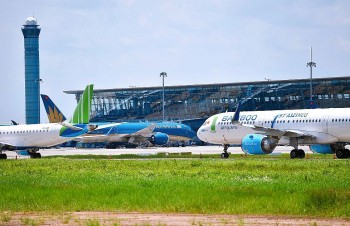 Economy
Vietnam Business & Weather Briefing (August 9): Vietnam's economic growth is expected to reach 7.5% in 2022, new securities accounts hit a near two-year low in July.