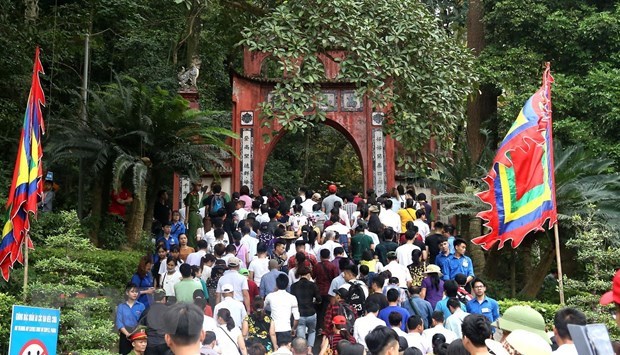 Visitors go to the Hung Kings Temple Festival (Photo: VNA)

However, the part of commemoration will still be performed, including the incense offering ceremony - the most important ritual dedicated to the legendary founders of the nation.

Legend has it that Lac Long Quan married Au Co who later gave birth to a pouch filled with one hundred eggs, which soon hatched into a hundred sons, believed to be the ancestors of the Vietnamese nation. Their eldest son was made king, who named the country Van Lang and set up the capital in Phong Chau (nowadays Viet Tri city, Phu Tho province), beginning the dynasty of the 18 Hung Kings.

To honour their great contributions, a complex of temples dedicated to them was built on Nghia Linh Mountain, and the 10th day of the third lunar month serves as the national commemorative anniversary for the kings.

The worshipping of the Hung Kings was recognised as a UNESCO Intangible Cultural Heritage of Humanity in 2012.
As the epidemic continues swelling globally, the Ministry of Culture, Sports and Tourism has requested the cancellation of events and festivals and suspension of activities at all historic and cultural sites and tourist attractions to avoid mass gathering which can put people at risk of contracting the virus.
A dozen of mass running events across Vietnam have been rescheduled due to COVID-19, according to the Vietnam Sports Administration (VSA).
Those affected include the Spartan Vietnam Obstacle Course Race 2020 (Ho Chi Minh City) and Ho Tay Half Marathon 2020 (Hanoi) which were scheduled last month. The events will return on May 16 and July 12, respectively.
Races slated for March – Wow Marathon Phu Quoc (Phu Quoc Island), VnExpress Marathon Hanoi Midnight, Dalat Ultra Trail and Dalat Victory Challenge (Da Lat), and Hanoi Marathon Techcombank – have also been delayed.
Ecopark Marathon (Hanoi) and VnExpress Marathon Hue (Thua Thien-Hue), which were scheduled for April, have been postponed to September and the Mekong Delta Marathon, planned the same month, to October./.
VNA