India daily weather forecast latest, January 23: Heavy snow covers northwest Jammu while dense fog prevails Delhi NCR, Uttar Pradesh
India is forecasted to cope with heavy snow in the northwest Jammu. Meanwhile, dense fog is likely to prevail Delhi-NCR, Uttar Pradesh.
According to Skymet Weather, an active Western Disturbance is over north Pakistan and adjoining area. An induced cyclonic circulation is over central Pakistan and adjoining Punjab and Haryana. A cyclonic circulation over eastern parts of Bangladesh is persisting in lower levels.
During the next 24 hours, rain and snowfall are expected at many places over Gilgit Baltistan, Muzaffarabad, and Jammu & Kasmir.
Rain and snowfall activities will cover many parts of Himachal Pradesh as well as parts of Uttarakhand. Isolated to scattered rain may occur over northern districts of Punjab, Haryana, and Northwestern Uttar Pradesh.
Minimum temperatures of Punjab, Haryana, North Rajasthan, Delhi NCR and West Uttar Pradesh to increase by 2 to 3 degrees.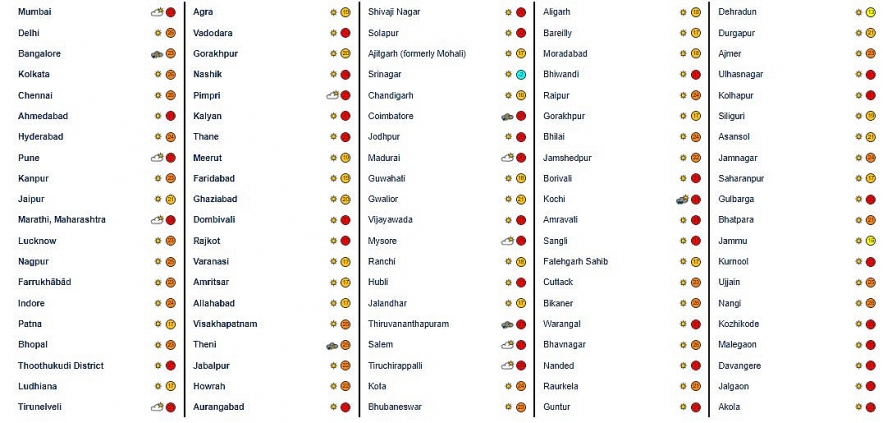 Photo: Weather Forecast
After experiencing warm but windy days, Delhi's temperature is expected to plummet again from January 24, a day after a fresh western disturbance passes over the western Himalayas, India Meteorological Department said.
"From January 24 (Sunday), the minimum temperature will start falling and from January 25, the maximum temperature will also see a fall. This will primarily be because of the cold winds blowing from Jammu Kashmir and Himachal Pradesh after spells of rain and snow on January 23," said Srivastava.
Meanwhile, the air quality in Delhi is likely to deteriorate briefly on January 23, but winds are expected to pick up again and improve the air from January 24.
5-Day Nationwide Weather Forecast
Parts of Jammu & Kashmir are set to experience wet weather conditions due to the presence of western disturbance. Precipitation is over the region until Saturday, Weather.com reported.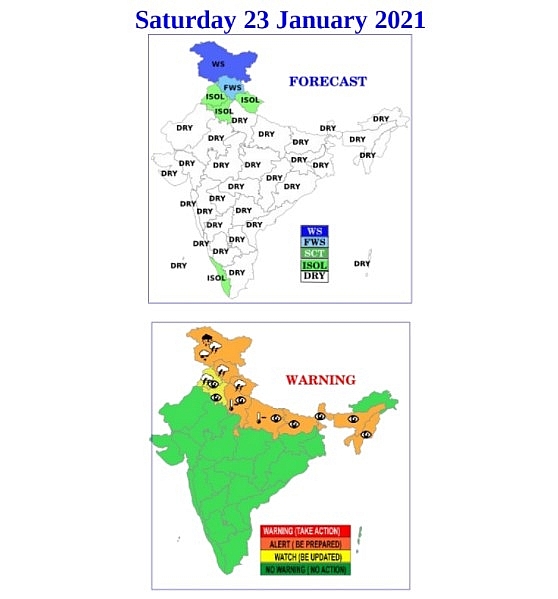 Photo: IMD
Moreover, heavy rain or snow is also expected over at isolated places of Jammu & Kashmir, Ladakh, Gilgit, Baltistan and Muzaffarabad on January 23.Moreover, under the influence of this weather system, Jammu & Kashmir, Ladakh, Gilgit-Baltistan & Muzaffarabad and Himachal Pradesh are likely to experience scattered to fairly widespread rain or snow between January 22-24. In addition, isolated rain or snow is predicted over Uttarakhand during January 22-24, while parts of Punjab, Haryana, Chandigarh and Delhi will experience very light rain and thunderstorms on January 23.
As per the IMD, an increase in minimum temperatures by 2-4°C is likely during the next 48 hours (January 23-24) over the plains of northwest India. Furthermore, the temperatures will drop again by 2-4°C on January 25-26 over the plains. Nighttime temperature can be in the single digits over the Indo-Gangetic Plain, eastern Rajasthan and much of Madhya Pradesh.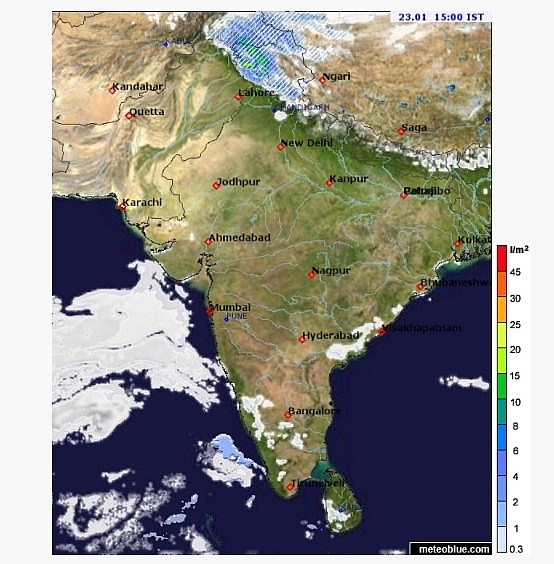 Photo: Meteoblue
From Saturday, an anti-cyclonic circulation located on the Deccan Plateau will become dominant, and wind calm condition is expected in the surrounding area. On the east coast, fog formation is favorable.
Meanwhile, northeast India is likely to experience dense to very dense fog is possible over the isolated pockets of Assam, Meghalaya, Nagaland, Manipur, Mizoram and Tripura during January 23-26. It is expected to form over Sub-Himalayan West Bengal during the morning hours of January 23.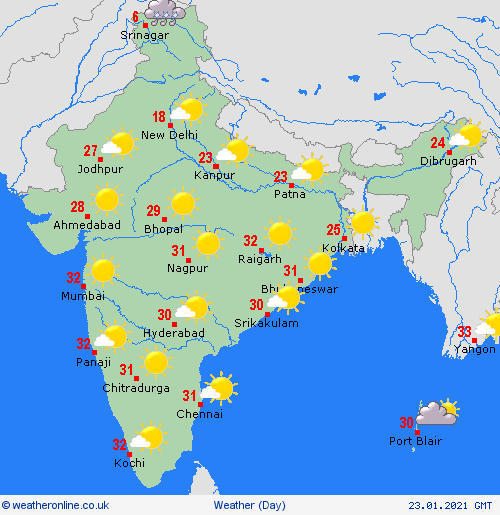 Photo: Weather Online
Regional Forecast
Isolated thunderstorms are possible over the Malabar Coast. Heavy rain is expected in low altitude areas of east Jammu. Heavy snow is possible in high altitude areas of east Jammu.
In the morning, dense fog is possible over NCR, north Uttar Pradesh, northeast Tamil Nadu, coastal Andhra Pradesh, southeast half of Odisha and east Assam and west Gujarat.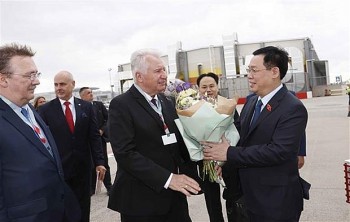 National
Chairman of the Vietnamese National Assembly (NA) Vuong Dinh Hue's official visit to Hungary from June 26-28 will surely open up many cooperation opportunities for the two countries and their parliaments, Hungarian Ambassador to Vietnam Ory Csaba has affirmed.