India weather forecast latest, January 17: Cold conditions continue prevailing in some areas of North West and Central India
Cold conditions and severe cold conditions are expected to continue and prevail in some areas of North West and Central India.
According to Skymet Weather, a cyclonic circulation is over the southeast Arabian Sea and adjoining Maldives region. A trough is extending from this system up to southern Tamil Nadu. A cyclonic circulation is currently seen over East Bihar and adjoining parts of eastern India.
During the next 24 hours, light to moderate rains may continue over Tamil Nadu and parts of Lakshadweep. Heavy rainfall may occur at one or two places during this period. Rainfall activities will decrease after 24 hours. Light to moderate rains are expected over Kerala.
Cold conditions and severe cold conditions will prevail in some areas of North West and Central India. Minimum temperatures may fall once again from January 16 in parts of North West and Central India including Punjab, Haryana, Uttar Pradesh, Delhi, Madhya Pradesh.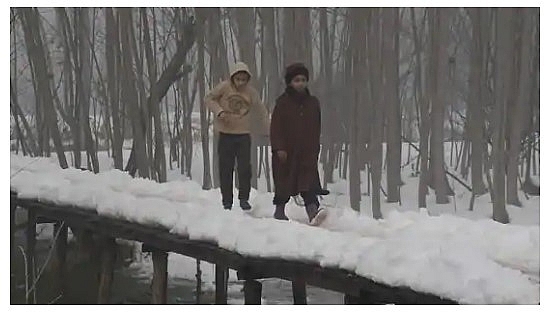 Children walk on a snow-covered wooden bridge amid dense fog during a cold winter morning, in Srinagar. (ANI Photo)
Jammu and Kashmir's summer capital of Srinagar recorded a temperature of minus 8.2 degrees Celsius on Saturday as it continues to battle cold wave conditions despite sunny days, as per weather department. The city and its adjacent towns are engulfed in fog and many water bodies in the area have frozen, especially the famous Dal Lake, Hindustan Times reported.
India Meteorological Department (IMD) officials said the temperature recorded on Saturday morning was -8.2 degree Celsius, 6 degrees below normal. Since the last four days, Srinagar and other parts of Kashmir are observing freezing temperatures and a cold wave. Though some places also witnessed bright sun shine as the day progressed, bringing relief from biting cold.
IMD officials said that there will be no significant changes in weather in J&K, except for morning mist and fog which is likely to last till January 18.
The weather department officials have also ruled out any snowfall for the next one week, however, they said the cold wave will continue. December and January months are considered to be the period when winter is at its harshest.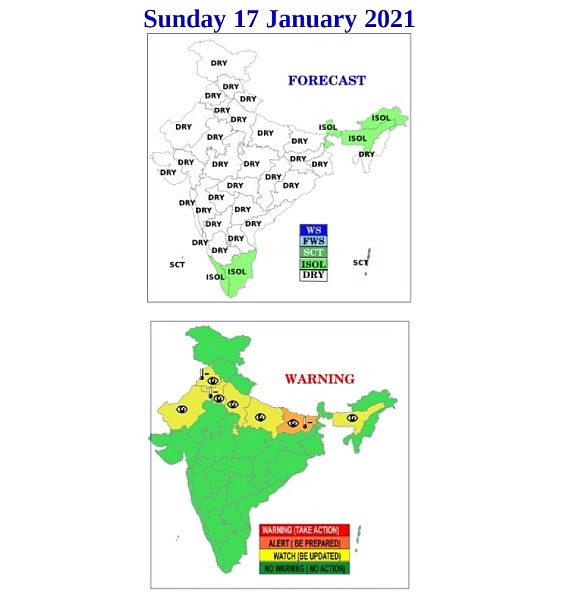 Photo: IMD
This winter, a 26-year-old record was broken when the minimum temperature plunged to below minus 8.4 degree celsius on Thursday.
"As of today, a Western Disturbance is likely to affect J&K during 22-24th January, which may cause moderate rain/snow," the IMD release said.
Already Kashmir has witnessed four to five spells of snow; at some places, more than six feet of snow was recorded.
Tourist resort of Gulmarg witnessed a temperature of minus 5.4 degrees Celsius. In winter capital Jammu, the night temperature was recorded at 8.6 degrees Celsius.
Air quality remains in 'severe' category in many parts of Delhi NCR on Saturday. Delhi's air quality index this morning is 441, Faridabad, Ghaziabad, Greater Noida and Noida also recorded 'severe' air quality which negatively impacts even the healthy.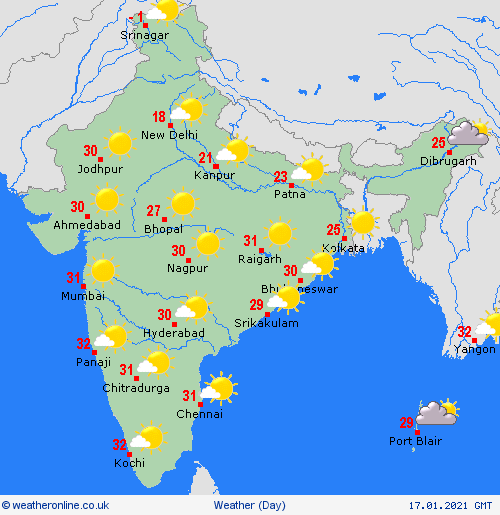 Photo: Weather Online
This is mainly due to low wind speed not allowing dispersal of pollutants in the air. Due to dry north/north westerly winds, minimum temperatures are likely to fall by 2-4 degree Celsius over most parts of northwest India during the next two days, according to the India Meteorological Department.
Dense to very dense fog at isolated pockets are very likely over Punjab, Haryana, Chandigarh, Delhi, Uttar Pradesh, north Rajasthan, sub-Himalayan West Bengal, Sikkim and Bihar during the next 3 days.
Cold wave or 'severe' cold wave conditions are also very likely over Punjab, Haryana, Chandigarh, Delhi, Uttar Pradesh, Rajasthan and east Madhya Pradesh during the next two days. Cold day conditions at isolated pockets are also very likely over Punjab, Haryana, Chandigarh, Delhi, Uttar Pradesh and Bihar during the next two-three days, as per the weather department.
According to IMD, a cold day or a severe cold day is classified as such based on two parameters—a minimum temperature of under 10 degrees C and maximum temperature of 4.5 degree C or 6.4 degree C below normal, respectively.
A cold wave occurs in the plains when the minimum temperature is 10 degrees Celsius or below and/or is 4.5 notches lower than the season's normal for two consecutive days. A cold wave is also declared when the minimum temperature is less than 4 degree C in the plains.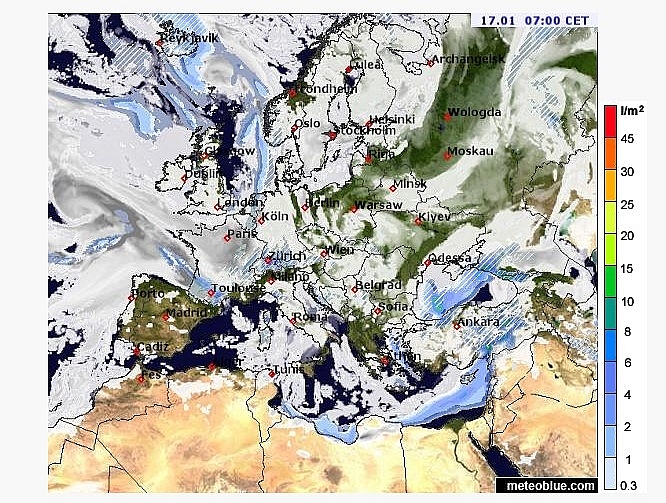 Photo: Meteoblue
A cyclonic circulation is lying over southwest Bay of Bengal off Tamil Nadu coast in mid tropospheric levels and a trough runs over central parts of south Arabian Sea and adjoining equatorial Indian Ocean to the Comorin area.
The condition is likely to result in scattered to fairly widespread rainfall with moderate thunderstorm and lightning over Tamil Nadu, Puducherry, Karaikal, Kerala, Mahe and Lakshadweep area during the next two days and a reduction in rainfall activities thereafter, as per IMD bulletin.
Conditions are becoming favourable for the cessation of northeast monsoon rains over Tamil Nadu, Puducherry, Karaikal, Kerala and Mahe and adjoining areas of coastal Andhra Pradesh and Yanam, Rayalaseema and interiors of south Karnataka around January 19, IMD's Friday bulletin said.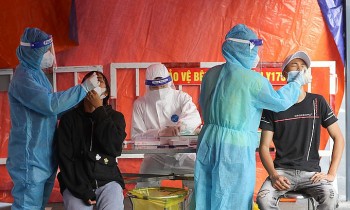 National
The country's Covid-19 tally during the latest wave has now risen to 663,232 while the number of infections since the pandemic initially broke out stands at 667,650, ranking 47th of 222 countries and territories globally.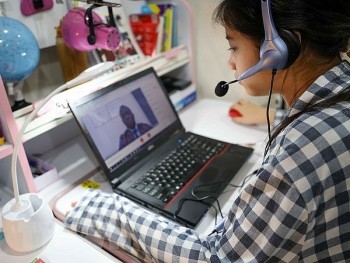 Friendship
The Dariu Foundation and Blancco Technology Group signed a cooperation agreement to provide used computers for students and pupils in difficult circumstances.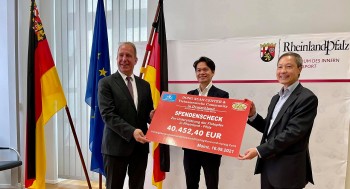 Friendship
The Vietnamese community living and working in Germany have donated EUR 40,452 to help people in the flood-affected Rhineland-Palatinate