India daily weather forecast latest, March 20: Rainfall activities in the mountains of North India to increase further
Rainfall activities in the mountains of North India is likely to increase further from Saturday.
According to Skymet Weather, a Western Disturbance is over Jammu and Kashmir and adjoining area. A Western Disturbance is over North Afghanistan and adjoining areas. An induced cyclonic circulation is over western parts of Rajasthan. A wind discontinuity is extending from interior Karnataka to central parts of Madhya Pradesh across Maharashtra.
During the last 24 hours, light to moderate rain and thundershower occurred over Madhya Pradesh, Vidarbha and parts of Chhattisgarh with one or two short intense spells.
Isolated light rain occurred over parts of Rajasthan, Jammu and Kashmir, Gilgit Baltistan, Muzaffarabad, Himachal Pradesh, and Uttarakhand. Parts of Sikkim, Assam and Arunachal Pradesh received isolated light rain.
Isolated light rain and thunderstorm activities occurred over Punjab, North Rajasthan, Haryana, Delhi, and West Uttar Pradesh. The weather remained almost dry for the rest of the country.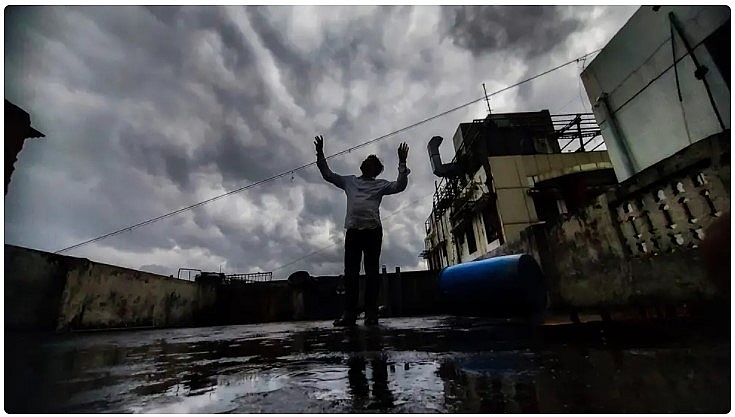 File photo: Heavy rain drenches Nagpur, Maharashtra (Aniruddhasingh Dinore/BCCL Nagpur)
During the next 24 hours, there is a possibility of light rain and snowfall in some places in North India especially Jammu and Kashmir, Himachal Pradesh with thunderstorm at some places.
Rainfall activities in the mountains of North India will increase further from 20 March. Light rain activities may occur in parts of Uttarakhand and Punjab.
Light to moderate rains are expected over Sikkim, sub-Himalayan West Bengal, and at some places in Arunachal Pradesh. Light rains may occur over East Uttar Pradesh, Bihar, South-Eastern Madhya Pradesh, parts of Maharashtra, Kerala and Coastal Karnataka. The weather to remain mainly clear and dry for the rest of the country.
According to Hindustan Times, Delhi's air quality remained in the very poor category on Friday morning due to dust transported from dry regions. Data from Central Pollution Control Board showed that the hourly air quality index (AQI) at 7am stood at 309. On Thursday, the average 24-hour AQI was 315.
An AQI between zero and 50 is considered good, 51 and 100 is satisfactory, 101 and 200 is moderate, 201 and 300 is poor, 301 and 400 is very poor, and 401 and 500 is severe.
Union ministry of earth science's air quality monitoring centre, System of Air Quality and Weather Forecasting and Research (Safar), said that the air quality in the Capital had deteriorated and PM10 was the primary pollutant.
"The overall Delhi air quality is in the lower end of the very poor category. PM10 is the lead pollutant as long range transport of dust from the dry arid southwest regions continues to contribute to it. Surface winds are moderate and west southwesterly. However, AQI is likely to marginally improve and stay in the lower end of the very poor to poor category for tomorrow [Friday] due to slow down of gusty transport. Poor AQI is forecast for March 20 and 21," Safar said in its daily bulletin on Thursday.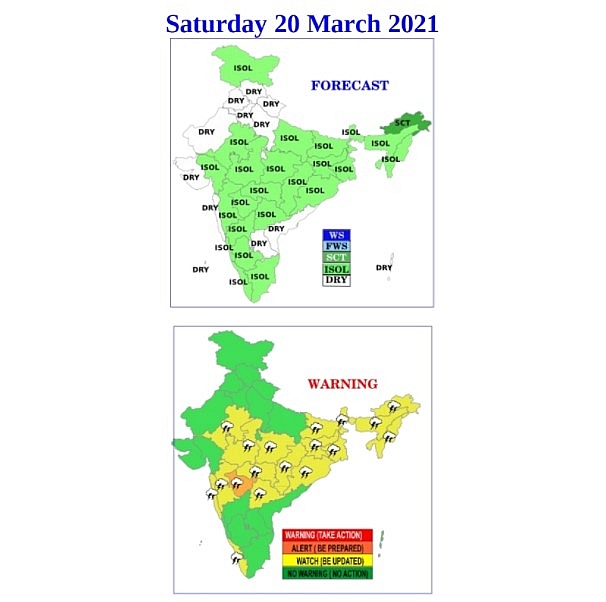 Photo: IMD
5-Day Nationwide Forecast
According to Weather.com, two cyclonic circulations, one over East Rajasthan and neighbourhood and another over Marathwada and neighbourhood, are set to cause isolated to scattered rainfall with thunderstorms, lightning and gusty winds (speed reaching 30-40 kmph) over Madhya Pradesh, Vidarbha and Chhattisgarh during the next two days. Isolated hailstorms are also very likely over Madhya Pradesh and Vidarbha on 19th March, and over Marathwada and Telangana on 19th and 20th March.
Further, an intense western disturbance will bring scattered to widespread rainfall/snowfall over the Western Himalayan Region, and isolated to scattered light to moderate rainfall over the adjoining plains of Northwest India, during 21th-24th March. Isolated thunderstorms, lightning and hailstorms are also on the cards over the region during the same period. Isolated heavy rainfall/snowfall have been forecast over the Western Himalayan Region on 22nd & 23rd March. Overall, 3-day total precipitation of 50 mm to 100 mm is possible over Jammu & Kashmir, Ladakh and Himachal Pradesh from Sunday to Tuesday.
Meanwhile, under the influence of a trough in westerlies in lower tropospheric levels, isolated rainfall is expected over Sub-Himalayan West Bengal, Sikkim, Arunachal Pradesh, Assam and Meghalaya during the next 3-4 days.
No heatwave conditions are likely across India, but maximum temperatures of 40°C or more are possible over isolated places of Saurashtra & Kutch from Saturday onwards. Maximum temperatures will be below average over Central India and adjoining areas in this forecast period, while other areas will witness near-normal or slightly warmer temperatures in this period.
On the other hand, the minimum temperatures will be warmer or slightly warmer than normal across India in this period, but Central India will continue experiencing near-normal mercury levels.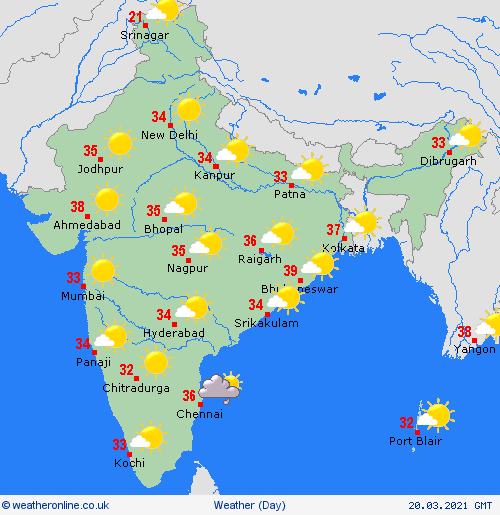 Photo: Weather Online
Regional forecast
Scattered rain and thunderstorms are expected over interior Maharashtra. Isolated rain/snow and thunderstorms are possible over Arunachal Pradesh, Sikkim, Jammu & Kashmir and Ladakh.
Isolated rain and thunderstorms are on the cards over Assam, Meghalaya, West Bengal, Odisha, Jharkhand, Bihar, east Rajasthan, Madhya Pradesh, Gujarat, Chhattisgarh, Telangana, Tamil Nadu, Karnataka and Kerala. Maximum temperatures of 40°C or more are possible over isolated places of coastal Western India.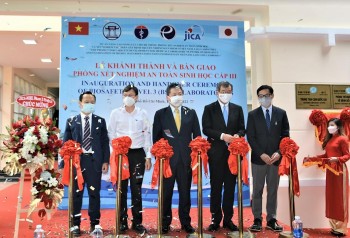 Friendship
The Pasteur Institute in Ho Chi Minh City (PI HCMC) hold an inauguration of its new Biosafety Level-3 Laboratory (BSL-3) on January 17th, 2022. For this new laboratory, the Japan International Cooperation Agency (JICA) has supported the main materials and equipment such as the air conditioning system, the wastewater treatment system, and the two-door autoclave, with a total value of 200 million yen (nearly 40 billion VND).