India daily weather forecast latest, March 21: Isolated rain, thunderstorms to cover West Bengal, Tamil Nadu and Gujarat
On Sunday, isolated rain and thunderstorm are expected to cover Assam, Meghalaya, Nagaland, Manipur, Mizoram, Tripura, West Bengal, Odisha, Punjab, Haryana, Delhi, Rajasthan, Madhya Pradesh, Maharashtra, Goa, Telangana, Tamil Nadu, Karnataka and Kerala.
According to Skymet Weather, a Western Disturbance is over Jammu and Kashmir and adjoining area. A Western Disturbance is over North Afghanistan and adjoining areas. An induced cyclonic circulation is over western parts of Rajasthan. A wind discontinuity is extending from interior Karnataka to central parts of Madhya Pradesh across Maharashtra.
During the last 24 hours, light to moderate rain and thundershower occurred over Madhya Pradesh, Vidarbha and parts of Chhattisgarh with one or two short intense spells.
Isolated light rain occurred over parts of Rajasthan, Jammu and Kashmir, Gilgit Baltistan, Muzaffarabad, Himachal Pradesh, and Uttarakhand. Parts of Sikkim, Assam and Arunachal Pradesh received isolated light rain.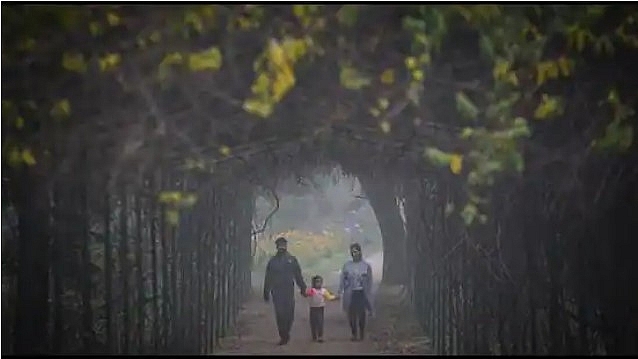 Representational Image. (HT file photo)
Isolated light rain and thunderstorm activities occurred over Punjab, North Rajasthan, Haryana, Delhi, and West Uttar Pradesh. The weather remained almost dry for the rest of the country.
During the next 24 hours, there is a possibility of light rain and snowfall in some places in North India especially Jammu and Kashmir, Himachal Pradesh with thunderstorm at some places. Rainfall activities in the mountains of North India will increase further from 20 March. Light rain activities may occur in parts of Uttarakhand and Punjab.
Light to moderate rains are expected over Sikkim, sub-Himalayan West Bengal, and at some places in Arunachal Pradesh. Light rains may occur over East Uttar Pradesh, Bihar, South-Eastern Madhya Pradesh, parts of Maharashtra, Kerala and Coastal Karnataka. The weather to remain mainly clear and dry for the rest of the country.
India Meteorological Department (IMD), has forecast that weather in Pune city till March 24 will be cloudy followed by thunderstorm and lightning.
As per forecast by IMD, the day temperature in the city will remain around 35 degrees Celsius in the next few days. And the night temperature will be around 21 degrees Celsius till March 24, Hindustan Times reported.
"Pune city will witness thunderstorms and lightning during the afternoon time in the coming few days along with light to very light rainfall. This is because of the interaction of winds and various weather systems over Maharashtra," said IMD officials.
Along with the city, other parts of the state will also experience light to very light rainfall till March 23.
"Thunderstorms and lightning are expected at Marathwada, Madhya Maharashtra, Konkan and Goa till March 23. Vidarbha will experience similar weather only till March 22. Weather in the state post that is likely to remain clear and dry," said IMD officials.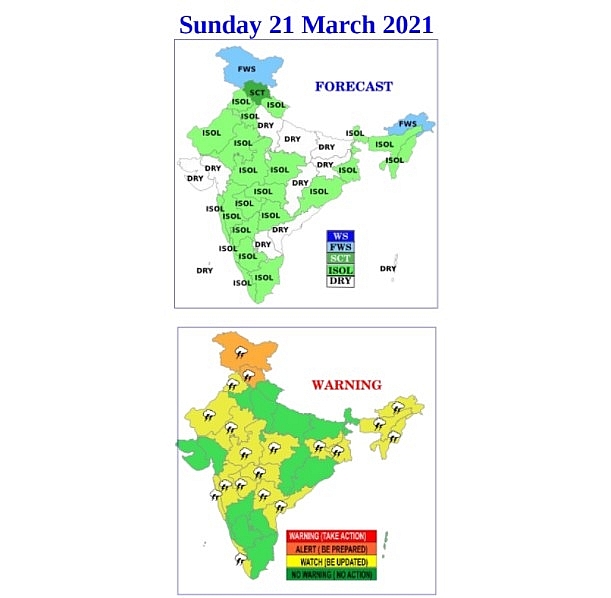 Photo: IMD
5-Day Nationwide Forecast
According to Weather.com, two cyclonic circulations, one over Southeast Rajasthan and its neighbourhood and another over Vidarbha and its neighbourhood, are set to cause isolated to scattered rainfall with thunderstorms, lightning and gusty winds (speed reaching 30-40 kmph) over Madhya Pradesh, Central Maharashtra, Marathawada and Vidarbha during the next 2 days. Isolated hailstorms are also very likely over Marathawada on 20th March.
Further, an active Western Disturbance (WD) over Afghanistan and its adjoining area is likely to affect the Western Himalayan Region (WHR) from Saturday afternoon. The western disturbance could produce scattered to widespread snow/rain and thunderstorm over Jammu & Kashmir, Ladakh, and Himachal Pradesh from Sunday to Tuesday. Overall, 3-day total precipitation of 50 mm to 130 mm is possible over the region in the same period. Scattered rain and thunderstorms are also predicted over the plain areas of Northern India on Monday and Tuesday.
Moreover, isolated hailstorms are also on the cards over Jammu & Kashmir, Ladakh, and Himachal Pradesh on 21st March, over Punjab, Haryana, Chandigarh, Delhi and Rajasthan on 22nd March, and over Uttarakhand on 22nd and 23rd March.
No heatwave conditions are likely across India, but maximum temperatures of 40°C or more are possible over isolated areas of Saurashtra & Kutch from Saturday onwards.
As for mercury levels, maximum temperatures will be slightly below average over Central India and adjoining areas in this forecast period, while other areas will witness near-normal or slightly warmer temperatures in this period. Particularly, Northern India is expected to be cooler than average from Monday onwards.
On the other hand, minimum temperatures will be warmer or slightly warmer than normal across India in this period, but Central India will continue experiencing near-normal mercury levels.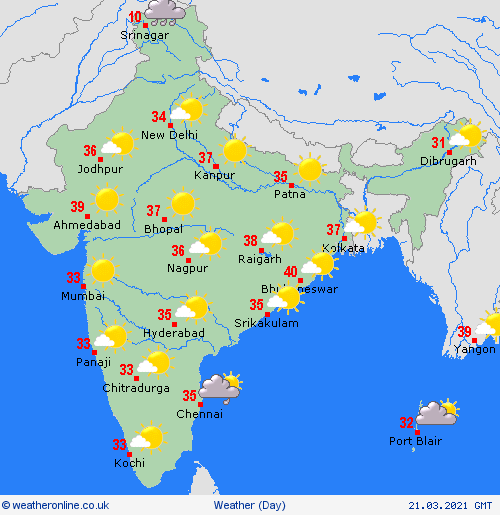 Photo: Weather Online
Regional Forecast
Fairly widespread rain/snow and thunderstorms are likely over Arunachal Pradesh, Jammu & Kashmir, and Ladakh. Scattered rain/snow and thunderstorms are expected over Himachal Pradesh.
Isolated rain/snow and thunderstorm are possible over Sikkim and Uttarakhand.Isolated rain and thunderstorm are on the cards over Assam, Meghalaya, Nagaland, Manipur, Mizoram, Tripura, West Bengal, Odisha, Punjab, Haryana, Delhi, Rajasthan, Madhya Pradesh, Maharashtra, Goa, Telangana, Tamil Nadu, Karnataka and Kerala. Maximum temperatures of 40°C or more are possible over isolated places of coastal Western India.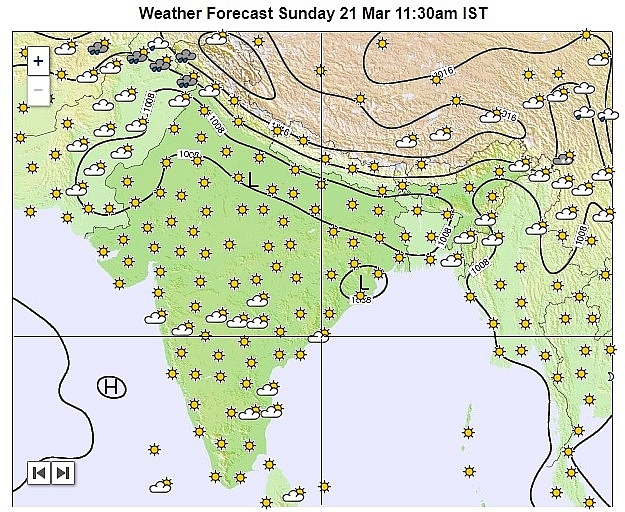 Photo: Weather-Forecast.com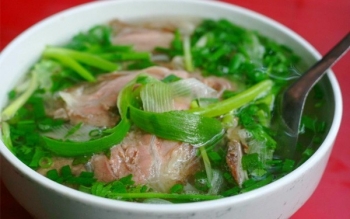 Handbook
A winter chill settles over Hanoi. Sitting in a small corner in the chilling weather, there is nothing better than enjoying a bowl of hot dish to beat the cold and warm up your body.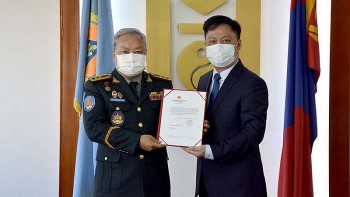 Friendship
The Vietnamese Government has donated 50,000 USD to Mongolia to assist the country in responding to the Covid-19 pandemic.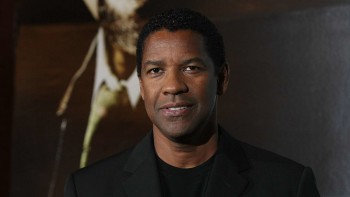 World
There are many talented actors in the Hollywood's land, and black actors and actresses have been claiming their places with many famous stars that their achievements will amaze you.