India Helicopter Crash: Military Chief, Wife among 13 Killed
Chief of Defence Staff Bipin Rawat and his wife were among 13 killed after an IAF chopper they were travelling in crashed near Coonoor in Tamil Nadu on December 8.
A file photo of General Bipin Rawat, India's chief of defence staff as he inspects a guard of honor during the Air Force Day Parade at Hindon Air Force Station in Ghaziabad, Uttar Pradesh, India, on Friday, Oct. 8, 2020. Photo: T. Narayan | Bloomberg | Getty Images
"With deep regret, it has now been ascertained that General Bipin Rawat, Mrs Madhulika Rawat and 11 other persons on board have died in the unfortunate accident," the Indian Force said in a tweet, as cited by The IndianExpress.
The crash happened at a distance of about 10 km from the helipad where it was to land. Defence Minister Rajnath Singh informed Prime Minister Narendra Modi about the incident. According to sources, Singh will brief Parliament on the incident.
Sources earlier said that at least three injured people from the crash were taken to a nearby hospital. The crash took place in the Nilgiris, shortly after the Mi-series chopper took off from the army base in Sulur.
Rawat's career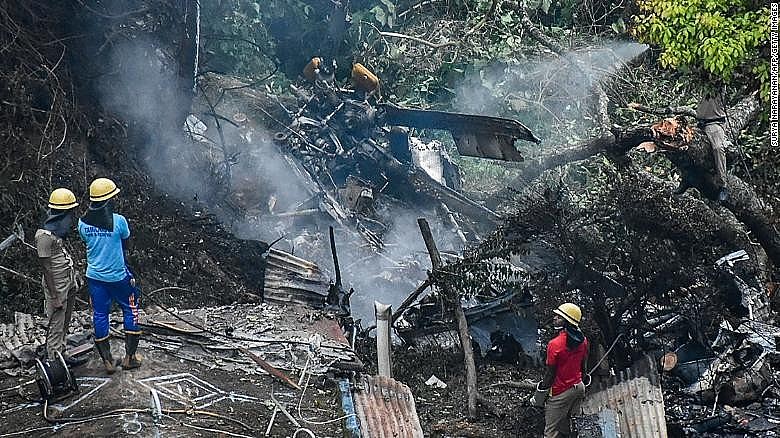 Firemen and rescue workers stand next to the debris of an IAF Mi-17V5 helicopter crash site in Coonoor, Tamil Nadu, on December 8. Photo: CNN
Rawat, 63, was the most senior official in the Indian military and the first chief of defense staff, a position created by the government in 2019. He was also an adviser to the Defense Ministry, CNBC said.
His primary task was to overhaul the military, which has struggled to modernize and improve coordination among the army, navy and air force.
He previously served as chief of army staff and also commanded forces in Indian-controlled Kashmir and along the frontier with China.
In 2015, Rawat oversaw Indian "surgical strikes" into neighboring Myanmar, when para-commandos entered the country to attack Naga rebels who had ambushed and killed Indian troops.
In 2017, he awarded a gallantry medal to an army officer who had tied a civilian to the front of his jeep in Kashmir, where rebels are fighting Indian rule. The incident sparked controversy within India and outside, with rights groups saying the officer used the man as a human shield against stone-throwing protesters. Rawat said the officer's actions were within the rules because the army was facing a "dirty war" in the disputed region and had to fight using "innovative" ways.
He earlier survived a helicopter crash in 2015 in the northeast state of Nagaland.
The type of military transport helicopter that crashed on December 8, Mi-17V5, is widely used in India by the army and ministers when visiting defense locations.
In 2017, an Mi-17V5 helicopter crashed in northeast Arunachal Pradesh state, killing seven military personnel.
Condolences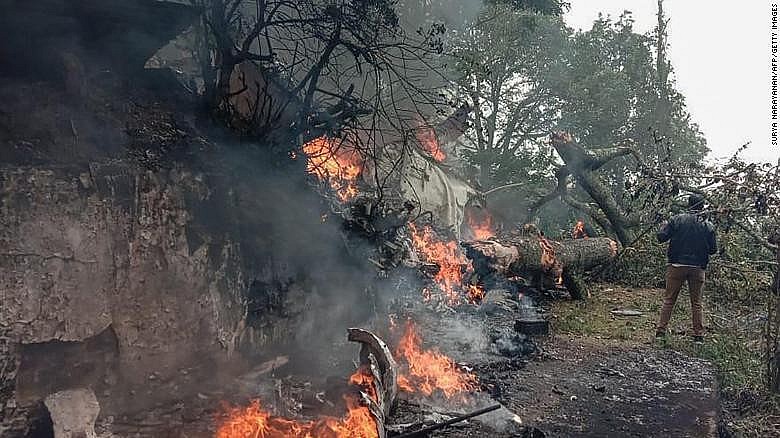 A man stands next to the burning debris at the crash site. Photo: CNN
A statement released by the Indian Army described Gen. Rawat as "a visionary who initiated far reaching reforms in the Indian military's higher defense organization" and his wife as "an epitome of grace whose presence will be missed by everyone."
Indian Prime Minister Narendra Modi tweeted of his deep anguish at the news of the 13 deaths, CNN reported.
"They served India with utmost diligence. My thoughts are with the bereaved families," he said. "Gen Bipin Rawat was an outstanding soldier. A true patriot, he greatly contributed to modernising our armed forces and security apparatus. His insights and perspectives on strategic matters were exceptional. His passing away has saddened me deeply."
Indian President Ram Nath Kovind also offered his condolences to all the bereaved families and paid tribute to Gen. Rawat's service.
"The nation has lost one of its bravest sons. His four decades of selfless service to the motherland was marked by exceptional gallantry and heroism," he tweeted.
India's Defense Minister Rajnath Singh and Chief of Army Staff Gen. Manoj Mukund Naravane visited Rawat's residence in New Delhi before his death was confirmed.
Singh later tweeted to express his condolences, saying his heart went out to the families of those killed.
"Deeply anguished by the sudden demise of Chief of Defense Staff Gen Bipin Rawat, his wife and 11 other Armed Forces personnel in an extremely unfortunate helicopter accident today in Tamil Nadu. His untimely death is an irreparable loss to our Armed Forces and the country," he wrote.
"General Rawat had served the country with exceptional courage and diligence. As the first Chief of Defence Staff he had prepared plans for jointness of our Armed Forces."
Singh said he was praying for a speedy recovery for the officer who survived the crash.
The Indian Army said the 11 military personnel who had died alongside Gen. Rawat and his wife would "also be equally missed by everyone."/.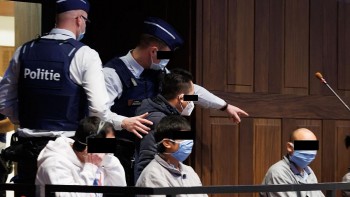 Overseas Vietnamese
Belgian court sentenced smuggler organization over 39 Vietnamese victims found dead in sealed lorry container in Essex.