India weather forecast latest, January 6: Widespread rain accompanied with thunderstorm and lightning over northwest areas
Thunderstorm, hail and lightning are forecasted to cover at several parts of northwestern plains including Delhi during the next 3 days.
According to Skymet Weather, an active Western Disturbance is currently over North Pakistan and adjoining Jammu and Kashmir. Due to its effect, the cyclonic circulation over the plains still remains on the south and western parts of the state.
A trough is extending from the north-eastern Arabian Sea to Punjab through Gujarat, Rajasthan, and Haryana.
Also due to the Confluence zone on parts of Central India, the humid winds from opposite sides of the Arabian Sea and Bay of Bengal, are colliding from Central India to North India.
During the next 24 hours, there is a possibility of widespread rains in the mountains of North India. Moderate to heavy rain and snowfall is likely to continue at many places in Jammu and Kashmir, Himachal Pradesh and Uttarakhand.
There are chances of thunderstorm activities in Rajasthan, parts of Uttar Pradesh, Haryana, Punjab and Delhi.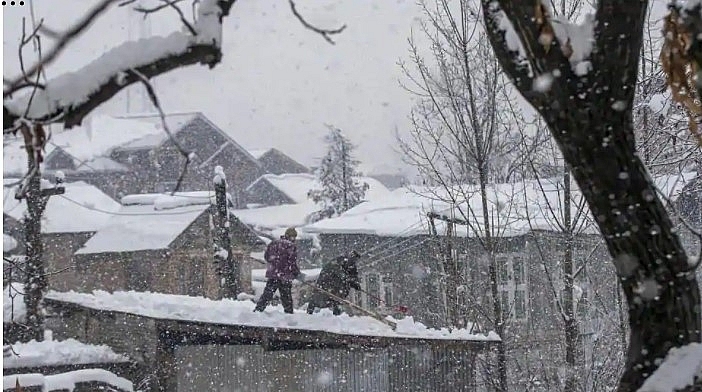 Men clear snow from the roof of their workshop as it snows in Pulwama, south of Srinagar, Kashmir, Monday.(AP)
In South India, light to moderate rain and thundershowers may occur at many places in Tamil Nadu and Kerala.
Light to moderate showers may occur at one or two places over Madhya Pradesh, Konkan and Goa, South Madhya Maharashtra, Coastal and South Interior Karnataka.
In the morning, there will be dense fog in the northwestern plains. In most parts of Northwest and Central India, the minimum temperature will be above normal.
IMD has predicted that south Konkan, south-central Maharashtra and some areas of Marathwada are likely to see thunderstorm and light rainfall for the next four to five days. However, Mumbai is expected to see cloudy skies but no significant rainfall is predicted over this period.
"An active Western Disturbance lies as a middle and upper level cyclonic circulation over central Pakistan and neighbouring areas with its induced cyclonic circulation over southwest Rajasthan and its neighbourhood at lower levels. A north-south zone of wind confluence continues to exist from north Punjab to northeast Arabian Sea, with strong interaction between the southwesterlies in association with the above Western Disturbance and lower level moist southeasterlies," said KS Hosalikar, deputy director general of western region, IMD.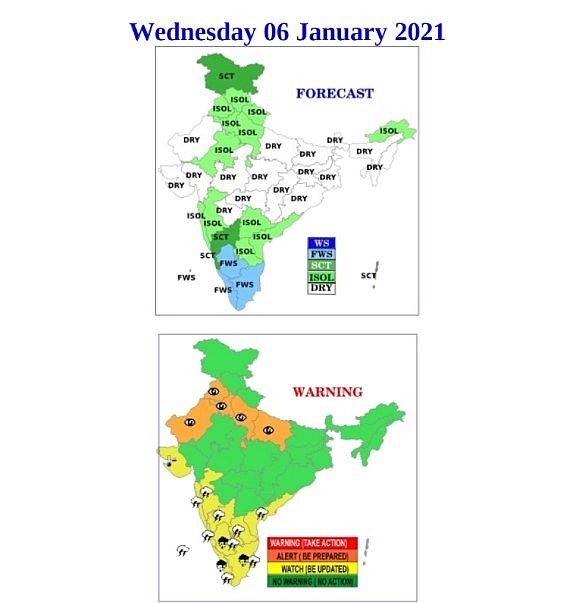 Photo: IMD
Photo: Weather Online
According to Hindustan Times, several parts of northwest India are continuing to receive rain and thunderstorms.There is likely to be widespread and heavy snowfall in some parts of the Western Himalayas, including Jammu and Kashmir; Himachal Pradesh and Uttarakhand today.
Hailstorm in isolated places is likely over Jammu and Kashmir, Ladakh, Gilgit-Baltistan and Muzaffarabad, Himachal Pradesh, Uttarakhand, Punjab, Haryana, Chandigarh and Delhi on January 4 and 5 and over West Uttar Pradesh on January 5. Heavy rain or snowfall is also likely over J&K, Ladakh, Gilgit-Baltistan & Muzaffarabad on January 4 and 5; over Himachal Pradesh and Uttarakhand on January 5 and isolated heavy rainfall over northern parts of Punjab on January 4 and 5.
A fresh Western Disturbance is likely to affect Western Himalayan region from January 7. As a result, no significant change in minimum temperatures is likely during the next 2-3 days over northwest India, the bulletin said.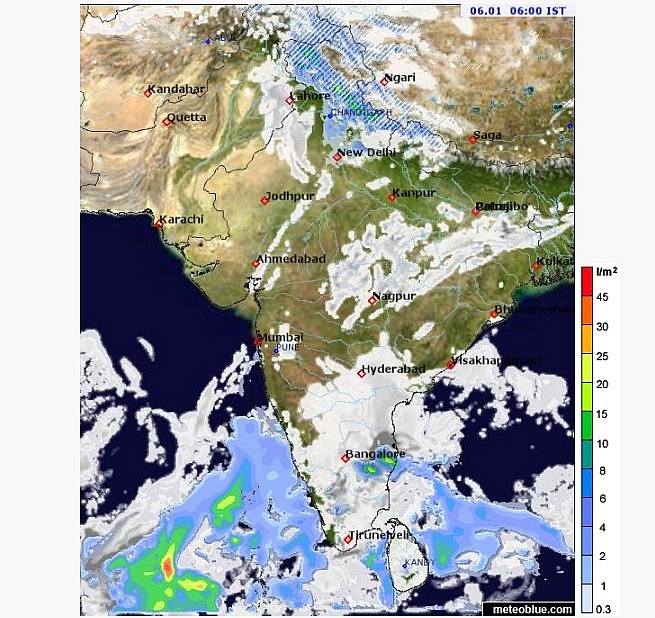 Photo: meteoblue
"There is Western Disturbance as a cyclonic circulation over central Pakistan. There is a confluence or interaction of southwesterly and southeasterly winds causing an extreme weather. There is also an induced cyclonic circulation over Rajasthan. Our radar images are showing a lot of rain and thunderstorm over Punjab, Jammu and Kashmir, east Rajasthan and Haryana. There may have been hailstorm also. Similar weather will persist on Tuesday but the spatial distribution and intensity may reduce from Wednesday. A comparatively weak Western Disturbance is approaching the Western Himalayan region on January 7," K Sathi Devi, head, national weather forecasting centre said on Monday.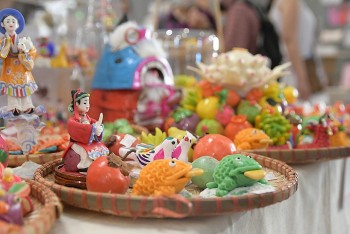 Handbook
This event will be an opportunity for cultural exchange between Hanoi locals and expats, and it will also be a real family event.