VUFO President and Pakistan Ambassador discuss plans to promote bilateral relations
Newly-elected Pakistan Ambassador to Vietnam Samina Mehtab hopes to connect Vietnamese - Pakistanis through friendship groups
Ambassador Nguyen Phuong Nga, President of the Vietnam Union of Friendship Organizations (R), and Samina Mehtab, Pakistani Ambassador to Vietnam (L). (Photo: Tuan Viet)
On the afternoon of June 3 in Hanoi, Ambassador Nguyen Phuong Nga, President of the Vietnam Union of Friendship Organizations (VUFO) received Pakistani Ambassador to Vietnam Samina Mehtab, who came for greeting on the occasion of her assignment in Vietnam.
Emphasizing that the two countries have great potential for developing economic cooperation, the ambassadors hoped that the two countries could increase bilateral turnover. "There is a great potential between our two countries in this [economic] relationship," said the Pakistani Ambassador.
Ambassador Samina Mehtab also expressed her desire to promote tourism development between the two countries.
Samina Mehtab said that it was necessary to further promote people-to-people diplomacy between the two countries. She shared ideas of connecting young people, experts, women, etc through friendship initiates.
Technical education and media are also areas that the Pakistan ambassador wanted to promote in the relationship between the two countries, through cooperation activities and mutual learning for bilateral development.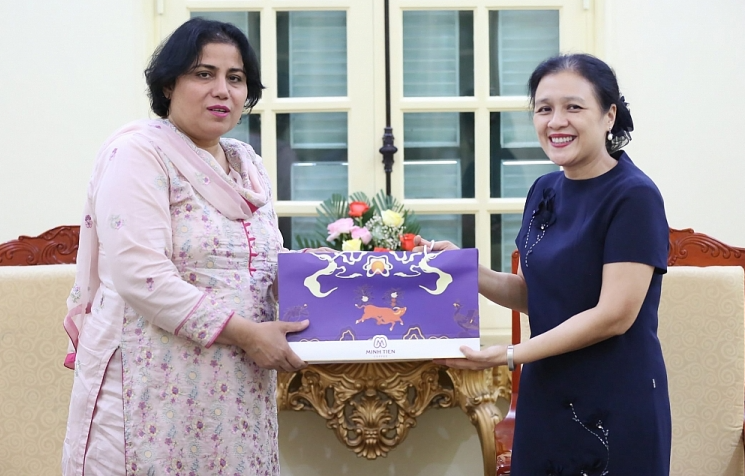 VUFO President Nguyen Phuong Nga and Pakistan Ambassador Samina Mehtab sent each other commemorative gifts. (Photo: Tuan Viet)
On behalf of the Vietnam Union of Friendship Organizations (VUFO), Nguyen Phuong Nga welcomed Ambassador Samina Mehtab to accept her new position in Vietnam. Nga also thanked the ambassador for her "comprehensive and insightful ideas" to develop Vietnam - Pakistan relations. Nga said that with the ambassador's energy and great insight, she would realize her ideas very soon in Vietnam.
On this occasion, Nga introduced to the Pakistan ambassador VUFO's mission and activities. Nga also introduced the ambassador to the VUFO's Vietnam Times forum. The magazine is currently being published in 06 languages: Vietnamese, English, Chinese, Russian, Lao, Khmer with rich and diverse information and an increasing number of readers, which will contribute to promoting cooperation in press and communication between the two countries.
At the meeting, the two ambassadors discussed the Covid-19 situation and vaccination in the two countries. Nga wished Ambassador Samina Mehtab a successful term in Vietnam. She hoped the Embassy of Pakistan in Vietnam continued to be a bridge to promote Vietnam - Pakistan people-to-people relations.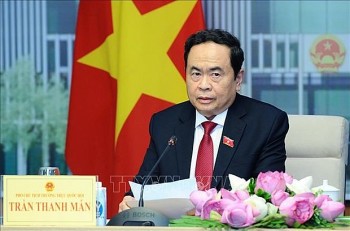 National
China's National People's Congress stands ready to work with Vietnam's National Assembly to play a positive role in carrying forward traditional friendship, enhancing political mutual trust, deepening practical cooperation, properly managing differences, and enhancing people-to-people ties