'Zero dong market' brings hope to blockaded residents in Ho Chi Minh City
The makeshift stalls give locals, especially those in blockade areas, a sense of security and hope during the unprecedented difficult time.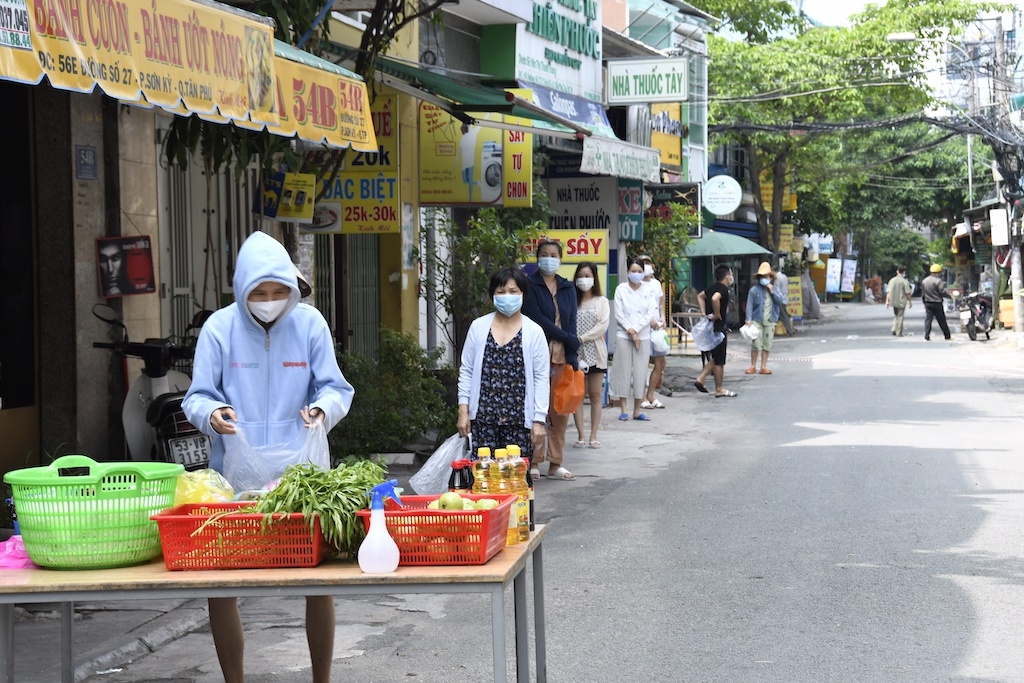 Local people queue up for the free food (Photo: Thanh Nien)
A number of so-called "zero dong stalls" have popped up near locked-down residential areas in Son Ky ward, HCMC's Tan Phu district. Run by the local Women's Union and Youth Union, the market offers free essentials and foods to households heavily affected by the new outbreak.
Every day, members of the unions wake up before dawn to prepare breakfast for the first responders fulfilling their duty at blockade areas. After breakfast, they would then busy categorizing and laying free stuff onto the tables. The daily necessaries which residents can take include rice, cooking oil, species, veggies, canned fish, instant noodles, fresh vermicelli, fruits, shampoo, toothpaste, among others.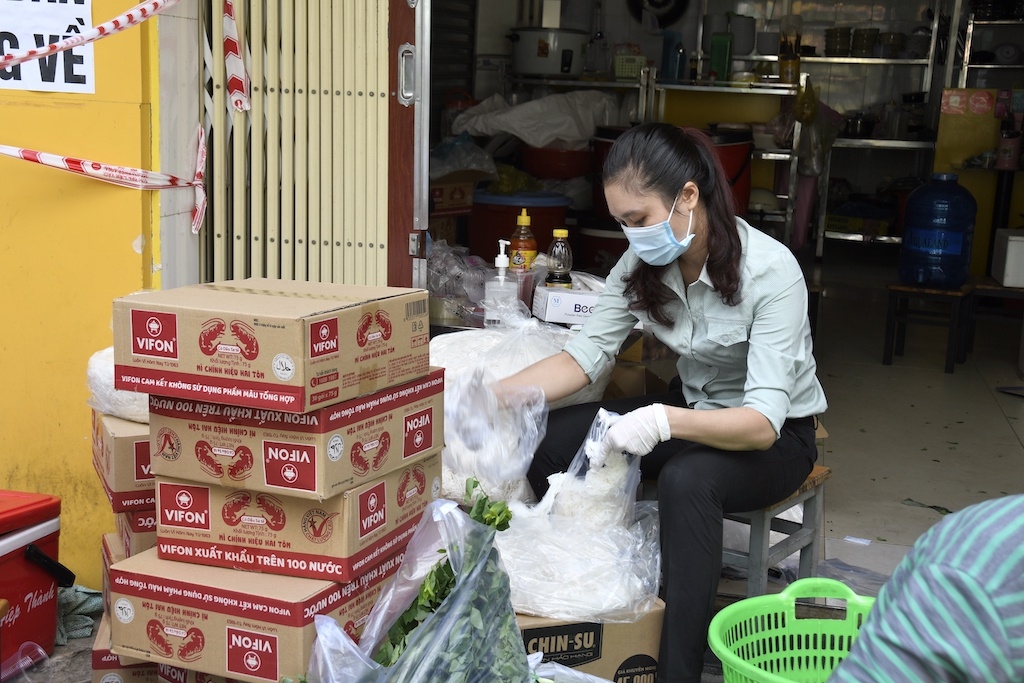 Member of the unions prepares breakfast and the food before dawn every day (Photo: Thanh Nien)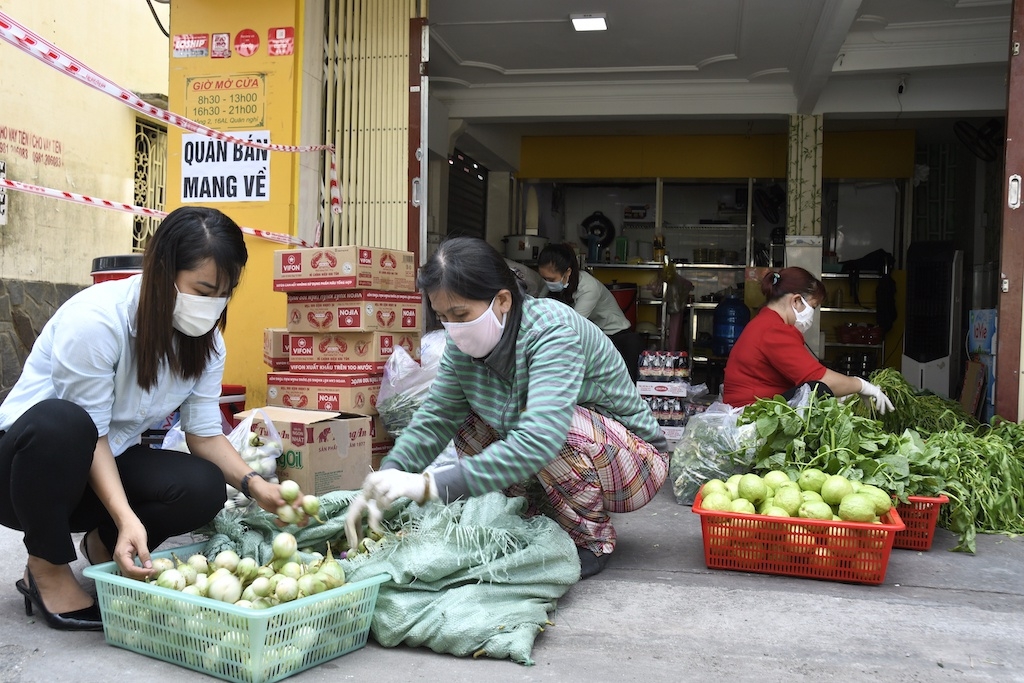 (Photo: Thanh Nien)
The market reportedly opens twice a day, at 10 – 11 a.m. and 3-4 p.m. near three locked-down areas in Son Ky ward.
Recipients lining up in front of the stalls are asked to remain socially distanced from others, wear face masks, and sanitize their hands before getting out. They can pick essentials, as well as foods and seasonings to their liking. All the stuff are freely distributed.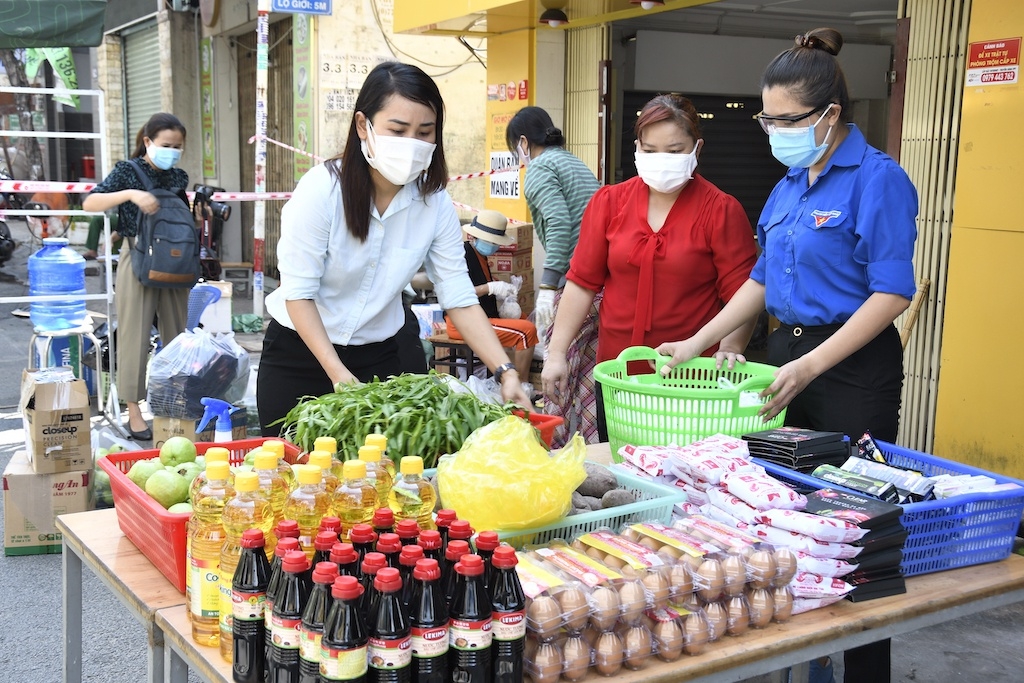 Foodstuff are on offer for free (Photo: Thanh Nien)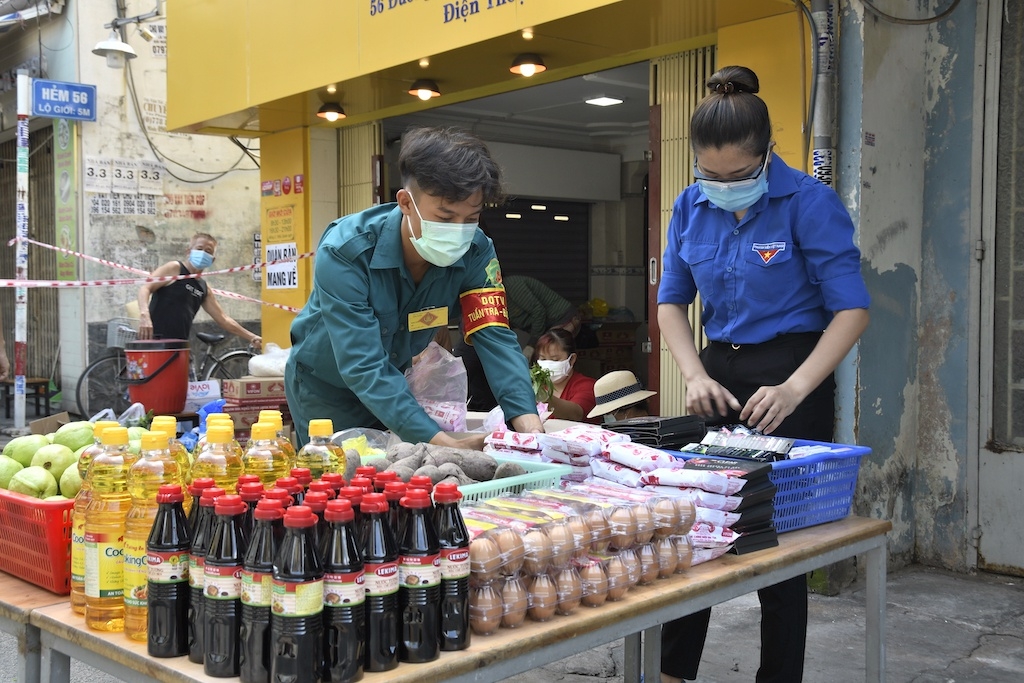 (Photo: Thanh Nien)
Pham Thi Hong Hanh, chairwoman of the Women' Union in Son Ky said the union and the Youth's Union had initiated the idea of a free market right after the lockdown order was in place.
"Many households were left unprepared by the sudden lockdown order. Therefore, we mobilized donations in forms of money, foodstuffs, and other necessities from our families and acquaintances as well as benefactors," Hanh told Thanh Nien.
Volunteers from the Youth's Union also present at blockade areas to help households run errands, she added.
"I hope our stalls would help locals feel more secure and confident in the fight against the pandemic," Pham Thi Thu Dung, Secretary of the Youth Union, shared. "If there is anyone or anyplace that needs our help, we would always be ready."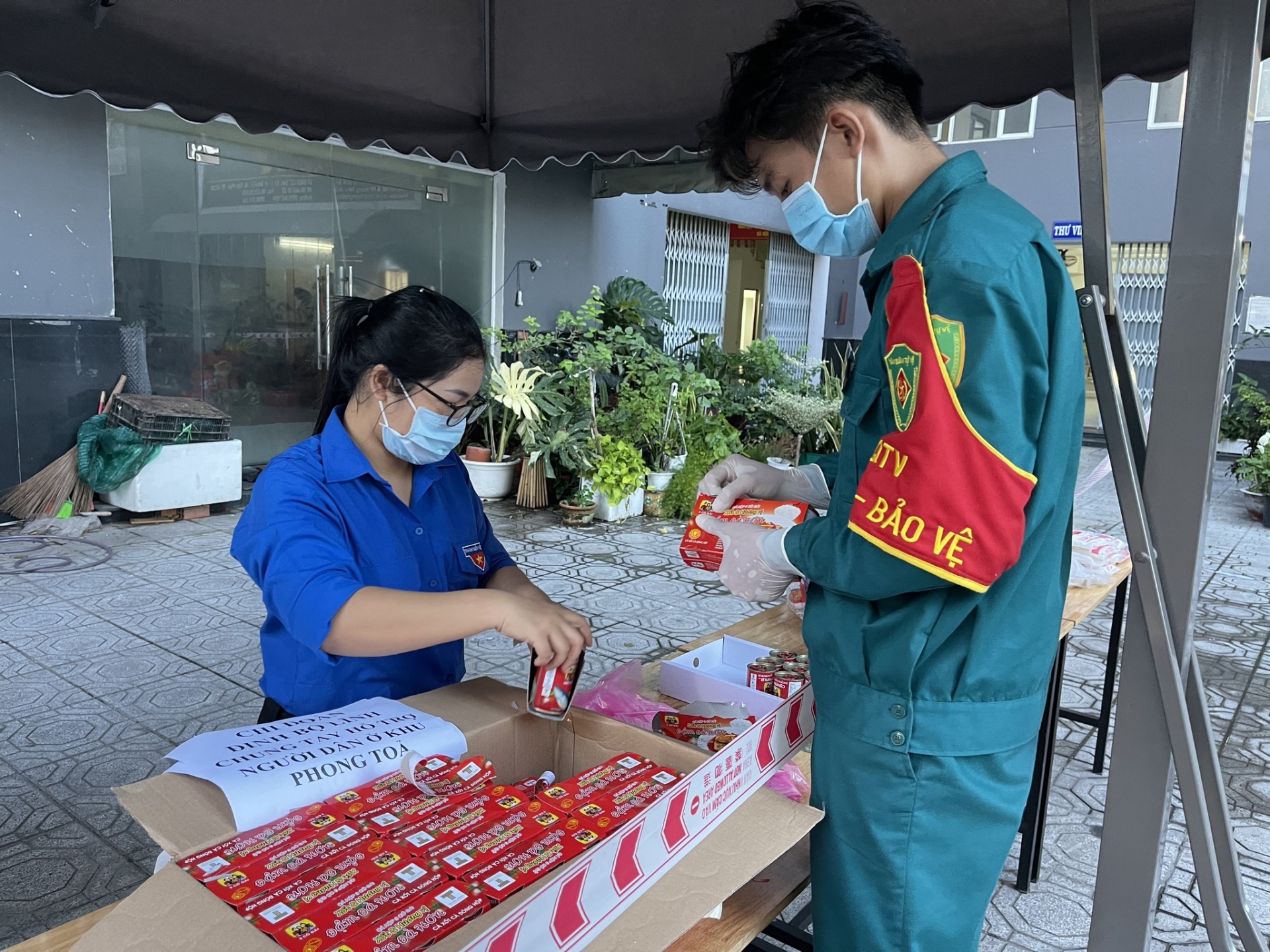 (Photo: Thanh Nien)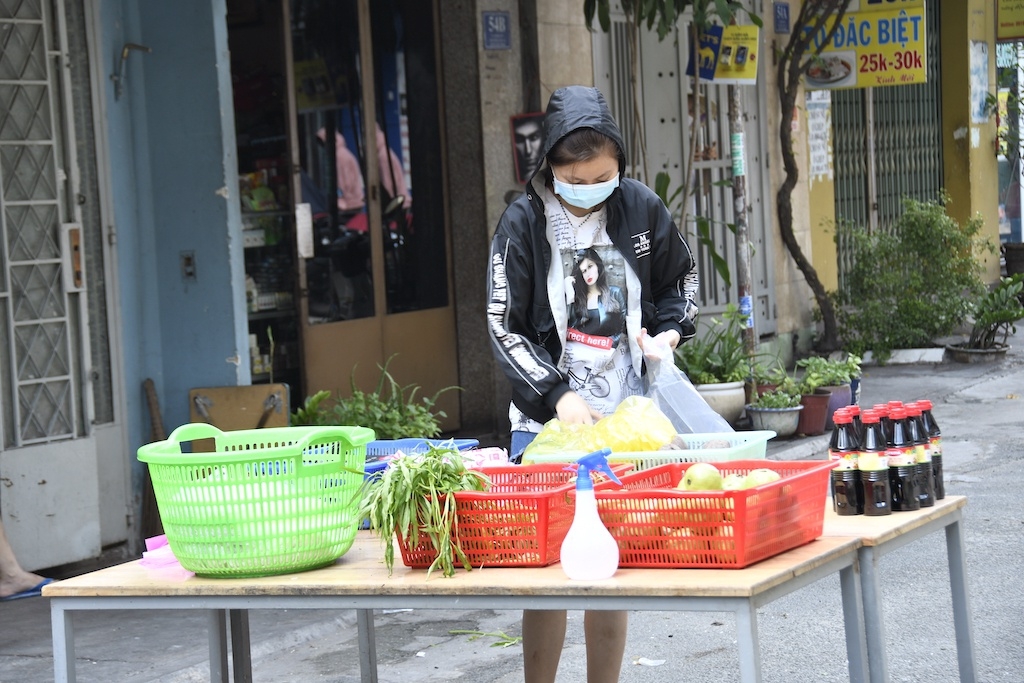 People can choose the essentials to their liking (Photo: Thanh Nien)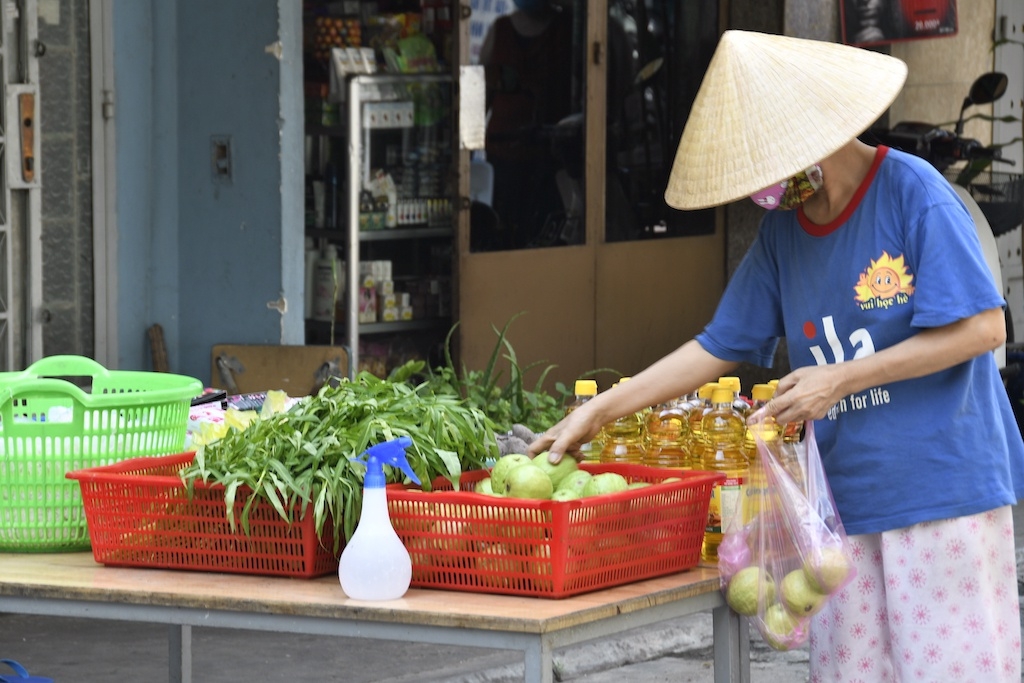 (Photo: Thanh Nien)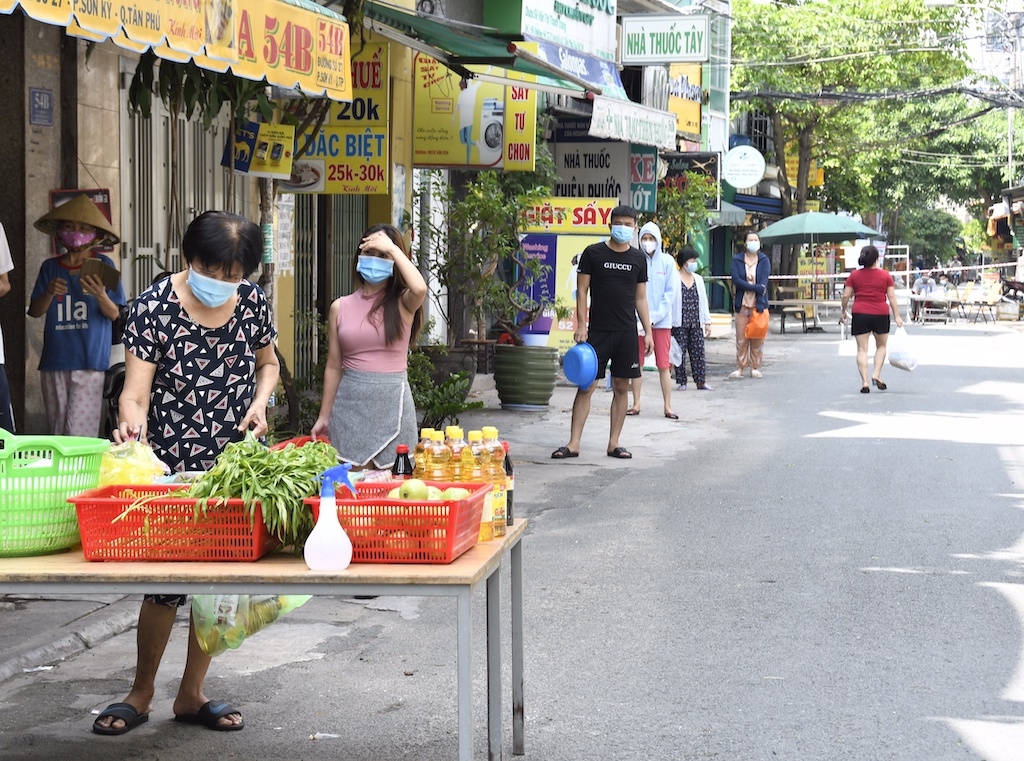 (Photo: Thanh Nien)
Such a "zero dong market" has been popular in Covid-stricken areas across the country. Since May 20, the Bac Giang Labor Confederation has established 10 markets that gave free essentials for workers in locked-down areas.
Under the plan issued by the Provincial People's Committee, each worker's ration worth VND 75,000 (US$ 3.25) per day.
Last August when the central city of Da Nang became a Covid-19 hotspot, dozens of makeshift "zero dong" food stores were also set up to help needy people who could hardly afford daily meals due to the pandemic.
Each makeshift grocery store had many ingredients, from rice, instant noodles, fish sauce, salt, sugar, cooking oil, eggs to an abundance of fresh fruits and veggies, such as squash, eggplant, papaya, sweet potato, etc. One person could get from 12 to 15 items to their liking.
Every day, the group prepared enough ingredients for up to 100 needy people in each store.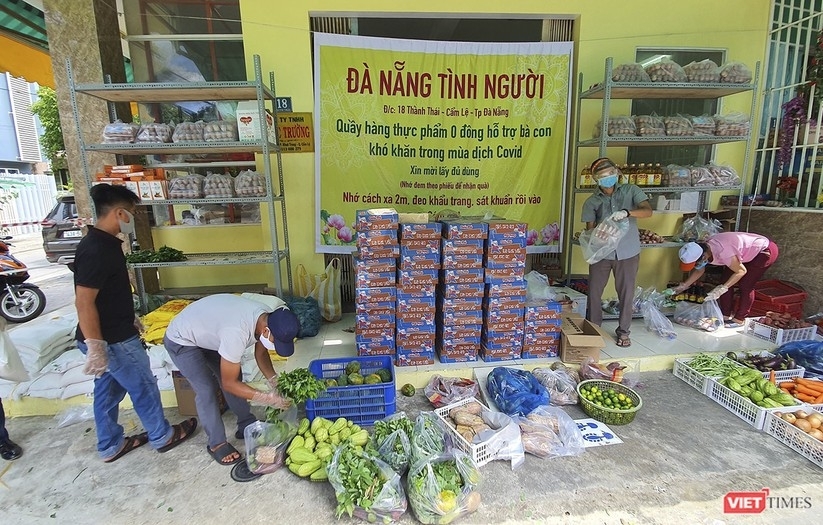 A free food stall in Da Nang (Photo: Viet Times)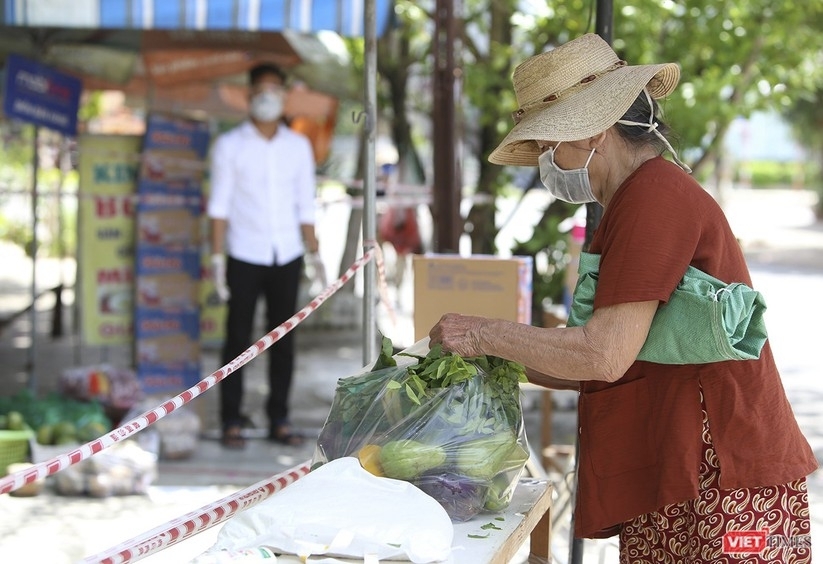 A lady takes a bagful of foods from the zero dong food store (Photo: Viettimes)
Knowing he was listed as a recipient from the zero dong food stores, Mr. Dinh Ta, an amputee rides his wheelchair to the charitable site. All the recipients were from disadvantaged families and listed as "under difficult living conditions" by the local officials. These people must show the promissory note earlier granted by local officials to prove they are eligible to get the free food.
"These foods could fill me up in the next week. I don't know what to say but a sincere thanks to the sponsors for helping those disabled like me during this COVID-19 time," he said.
With new clusters detected since May 26, HCMC is facing its worst coronavirus outbreak yet. It has documented over 323 infections and one death within several days. At least 265 patients and nearly 300,000 suspected patients have been identified as linked to the Revival Ekklesia Mission cluster – the biggest cluster recorded in Vietnam so far. The city has been placed under a two-week social distancing period starting Monday.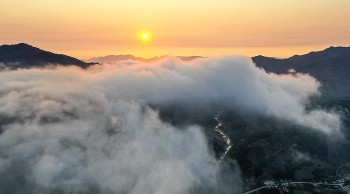 Multimedia
The gorgeous dawn behind a sea of fluffy white clouds creates a wonderful and beautiful picture of Truong Son Dong peak, Quang Ngai.