Irish single father adopts Vietnamese baby with cleft palate - video
John Hennigan, an Irish national, has adopted Liam, a Vietnamese baby with a cleft palate
"In my life, I have never done anything as difficult as adopting Liam," John Hennigan said while picking up Liam and tickling his belly with his head.
Hennigan has lived in Vietnam for six years. He is an English teacher at the British - Vietnamese International School (BVIS). With many years of working in education, he loves children and has an intention of adoption. "I determine it will be difficult for foreigners, especially single fathers," he said.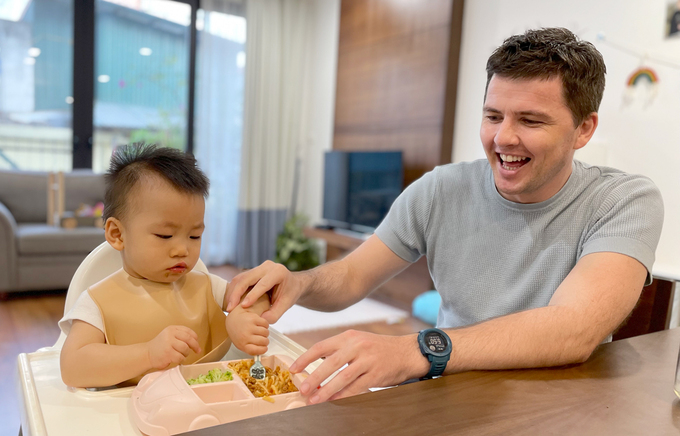 John feeding his son. Photo: VnExpress
In early June 2020, a Vietnamese friend sent Hennigan a picture of a newborn baby with a cleft palate but bright eyes. The baby was abandoned outside an orphanage center in Hai Duong on May 18. Nannies took care of him and named him Pham Dang Son.
"It was heart-wrenching when seeing the baby's incomplete smile. I immediately realized that he was the child I wanted to adopt," Hennigan said.
John then started procedures to adopt the baby, but it was complicated because they needed be approved by Vietnamese and Irish authorities. Simultaneously, he contacted Operation Smile to operate on the baby.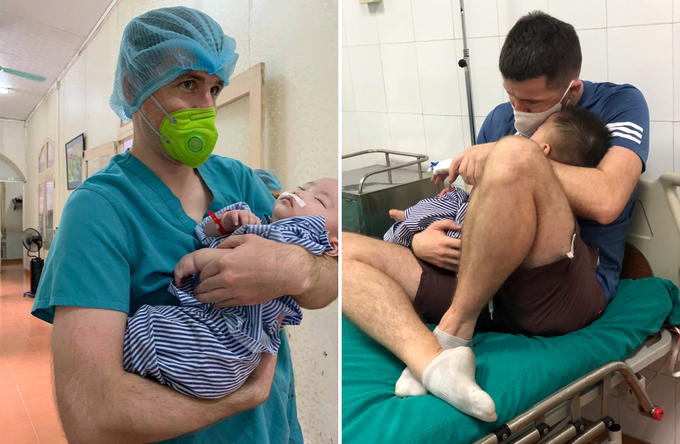 Liam underwent two surgeries in September 2020 and March 2021. Photo: John Hennigan
Hennigan first met Dang Son on Sept. 28 when the latter was taken to Vietnam - Cuba Friendship Hospital to have his health checked before the operation. One day later, Son had surgery. Hennigan was nervous and continuously prayed. Luckily it was successful. Every day, after work, Hennigan went to the hospital to help the nanny to look after Son. He embraced his son for hours to assure him a sound sleep.
Son was discharged from the hospital 10 days later. Hennigan returns from Hanoi to Hai Duong to every weekend, even rainy ones. The center's employees feel warm when seeing Hennigan's affection and attention for Son.
Hennigan was officially allowed to adopt Dang Son on Jan. 28, 2021. He renamed the baby Liam and brought him to Hanoi just before the resurgence of Covid-19 in Hai Duong.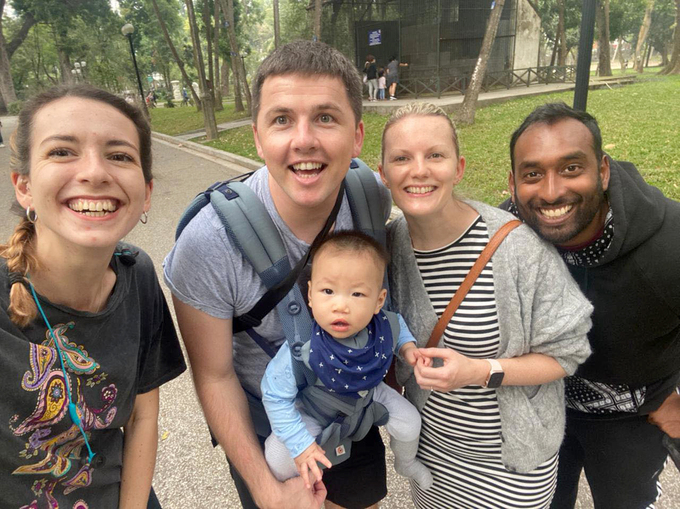 John's colleagues often help him to take care of Liam. Photo: John Hennigan
The single man's spacious apartment has now been turned into a nursery. A crib is placed in the baby's bedroom. Another room is full of diapers, milk and toys. The living room is also used to make a playground.
For the first time, BVIS granted a male teacher two-month "maternity leave." John took advantage of this time to foster a bond with the adoptee. He bathed, fed, played with and lulled the baby to sleep.
Everything is new for both of them. With Liam, the changes in the living environment and caregivers make him fretful. While, though asingle man, Hennigan has becomes a genuine daddy who thoroughly grasps the suitable water temperature for bathing his baby and knows he likes listening to music while sleeping.
Every time they go out, Hennigan carries a backpack filled with toys, milk bottles, milk warmers and diapers, making many of his friends "take their hat off." He is busier now, and no longer has regular chats or trips with his friends.
During the "maternity" period, Hennigan's colleagues often came over to help him. His younger sister in Ireland also has a child the same age as Liam, so he learned much about taking care of the baby from her. One night when Liam was shaking while sleeping, Hennigan asked for help from his younger sister as Liam had suffered a nightmare.
After one month and a half staying with the young father, Liam underwent his second surgery.
Looking back, staying with Liam for two operations and countless "first times" such as learning to walk and swim, Hennigan said he was extremely happy.
After nearly 15 years of teaching English to children, Hennigan said he w now learning a new language, the language of paternal love.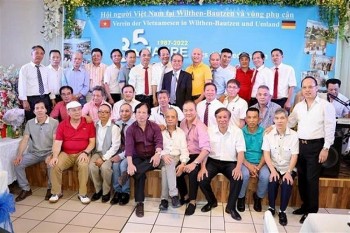 Economy
The Overseas Vietnamese Association in Wilthen - Bautzen and surrounding areas in Germany held a get-together on the occasion of the 35th anniversary of Vietnam - Germany labour cooperation.