Vietnamese French adoptee reunites with biological mother after decades of separation
Tan finally found his birth mother after 27 years thanks to the power of the Internet and social media. He had earlier returned to Vietnam 5 times in search of his origin.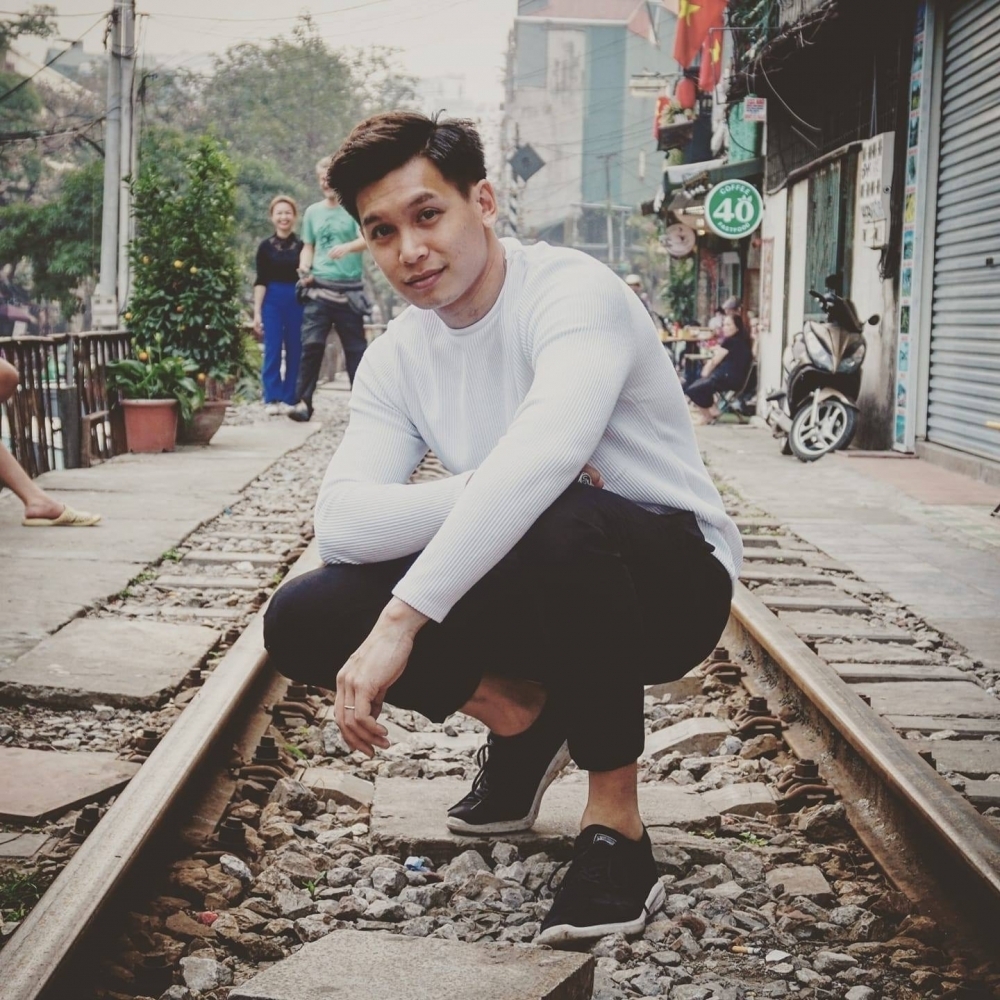 Tan in Hanoi (Photo courtesy of Nguyen Van Tan/ via Thoi Dai)
"It took me by surprise that I couldn't say a word. Happy, worry, anxious was how I feel. For days, I couldn't sleep a wink", Tan was quoted by Thanh Nien.
Two days after his story published on a Vietnamese news outlet and got wide media coverage on social media, Nguyen Van Tan, 27, (French name is Loic Langeard) got a call from Vietnam. It's his half-sister, Le Thi Ngoc Hoai , 22. In a statement with Thanh Nien, Hoai said she had a hunch that Tan is his long-lost half-brother the minute she saw his picture on the Internet. Hoai and Tan, who was in France that day, exchanged photos, detailed information. There are a lot of things in common between Tan and the woman supposed to be his mother.
"I was so emotional seeing my mom for the first time, though they were just her photos. I had a strong feeling that the blood flowing in my body is hers", Tan said. He added that although it wasn't genetically certified, he pretty much physically resembled his mother.
From French, Tan video-called his mother in Vietnam. With the help of a virtual interpreter, the two could talk to each other for the first time after decades of separation.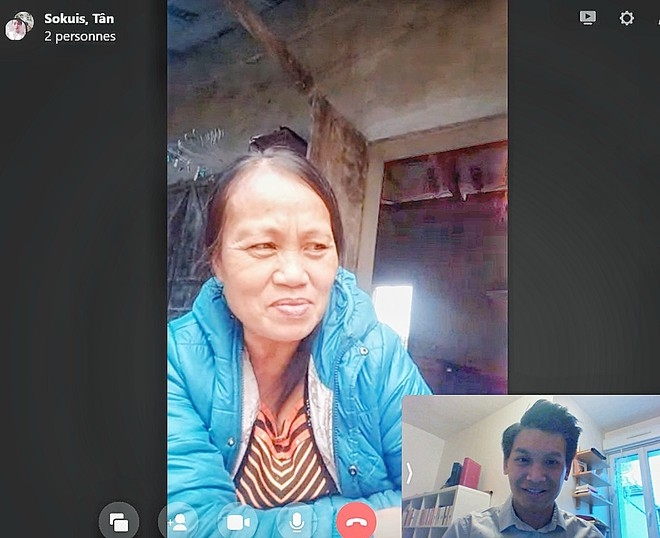 Tan in a video chat with his birth mother (Photo: Thanh Nien)
"I told my mom of what'd happened to me in the last 27 years and she did the same thing to me. She also showed me the photos of my biological dad. He looked exactly like me", Tan added. Tan's birth father, however, had passed away three years ago.
Tan's mother is Mrs. Tran Thi Thao, 57 is currently living in Phu Tho province, northern Vietnam. She's doing different blue-collar jobs to scrape by. She is reportedly in bad health condition.
Back then, Mrs. Thao got pregnant with a man with who she had no ties. The thought of abortion came to Thao's mind several times, but in the end, she decided to give birth to the child and leave the newborn at the hospital. She said she wanted her son to have a better life as hers was already so poor and hopeless.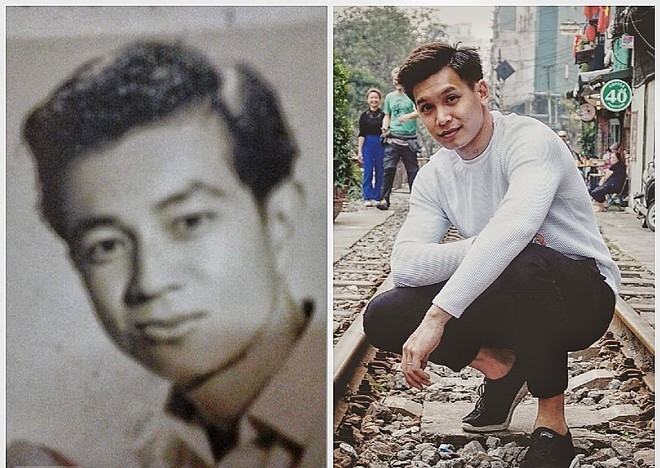 Tan and his biological father (left) are alike like two peas in a pot (Photo courtesy of Nguyen Van Tan/ via Thanh Nien)
"I'm really happy for him. I couldn't sleep either. We've been talking about this in delight for days", Léa Delévacque, 25, Tan's wife said. "I know he had relieved the burden he's been shouldering for years".
As much as happy he is, Tan is trying to learn Vietnamese so that he could communicate with his mother and other family members in Vietnamese.
"I had a big scar in my soul. Today, the scar seems to have gone away", Tan almost cried talking about his reunion with his birth mother after 27 years.
Tan and his mother are planning to do the DNA test as soon as he returned to Vietnam. He said he was 99 percent sure Mrs. Thao was his birth mother. The DNA test would fulfill the remaining 1 percent.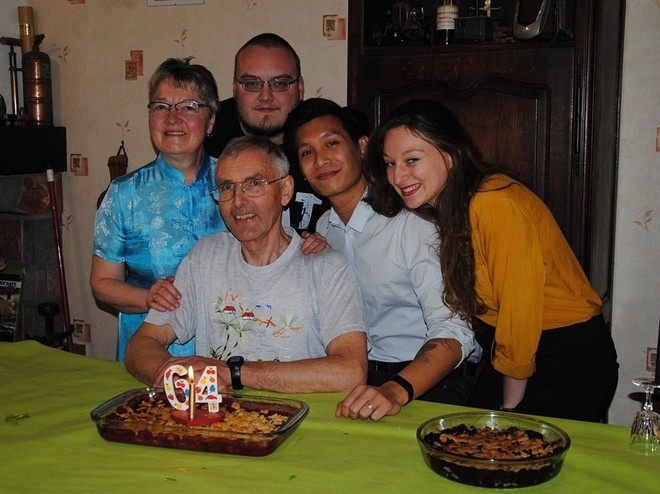 Tan and his adoptive family in France (Photo courtesy of Nguyen Van Tan/ via Thoi Doi)
Tan moved to the town of Athis-Mons, France with his adoptive parents on December 5, 1993. On that day, he was only 8-day-old. His is childhood was filled with love and care from his adoptive parents, relatives, and friends. But as he grew older, he started to question the difference in his skin color, his eyes, his hair.
Knowing he was actually a Vietnamese-born child, Tan gradually learned about Vietnamese people, nature, and culture.
Since 2018, Tan has traveled to Vietnam 5 times in search of his parents. However, due to language and cultural differences, yet is Tan to find his root, he had the chance to experience his home country more.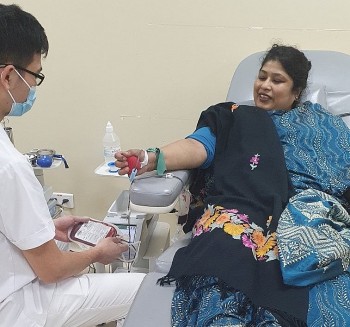 Focus
Blood donation campaigns launched by embassies amid shortages due to Covid-19