Israeli army arrests Hamas leader in West Bank
The Israeli army said on June 2 it has arrested a Hamas leader in the occupied West Bank.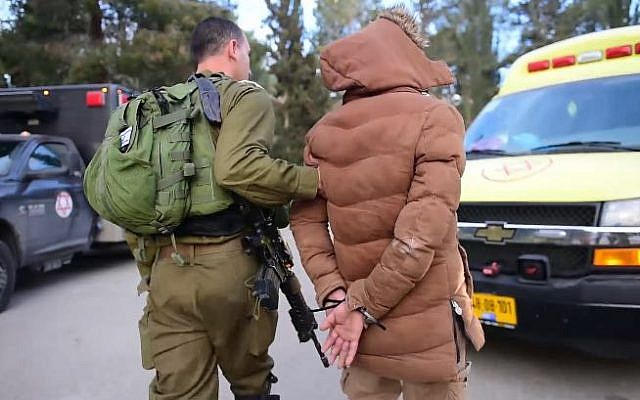 Illustrative: An Israeli soldier arresting a suspect after a raid in the West Bank city of Nablus, on March 18, 2018. (Israel Defense Forces)
The Israeli army said on June 2 it has arrested a Hamas leader in the occupied West Bank accused of setting up a base for the Palestinian Islamist group in the territory.
Special forces arrested Sheikh Jamal Al-Tawil in the city of Ramallah late June 1, the army said.
It said Tawil "took an active part in organizing violent riots" and "the re-establishment of the Hamas headquarters in Ramallah."
Hamas spokesman Hazem Qassem in Gaza confirmed the arrest.
"The occupation forces' arrest of movement leader Jamal Al-Tawil will not quell the voice of resistance in the West Bank," he was cited by Arab News as saying.
Tawil's arrest came amid a general crackdown on Hamas activities in the West Bank in recent days, as well as large-scale arrest raids in response to widespread protests and violent riots during last month's Gaza conflict, according to The Times of Isarel.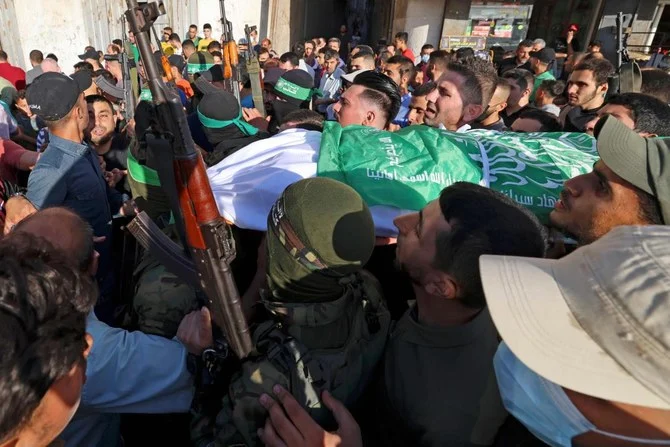 Palestinian members of Al-Qassam Brigades carry the body of one of two fighters who died after reportedly dismantling a bomb dropped in Gaza by Israeli forces, who said they arrested a Hamas leader in the West Bank. Photo: AFP
On June 2, Iyad Al-Bozom, spokesman for the Hamas-run interior ministry in Gaza, said two more Hamas combatants died while dismantling Israeli ordnance in the enclave.
More than ten Hamas activists were arrested in the pre-dawn hours on May 20 alone, including prominent Palestinian legislator Naif Rajoub, a Shin Bet spokesperson told The Times of Israel at the time. It is unclear how many were later released.
Israel and Hamas concluded 11 days of fighting last month during which the group launched thousands of rockets at Israeli cities and towns, and Israel launched hundreds of retaliatory airstrikes in the Gaza Strip.
Hamas controls the Israeli-blockaded Gaza Strip, while Fatah dominates the Palestinian Authority in the West Bank, Arab News said.
Israel, the United States and the European Union consider Hamas a "terrorist" organization.
Palestinian protests have erupted across the West Bank since early May, with 30 Palestinians killed in clashes with Israeli forces and in alleged attacks./.