Overseas Vietnamese Desires To Regain European Market
Businesses aim to introduce more Vietnamese products to Europe, competing with China and other nations.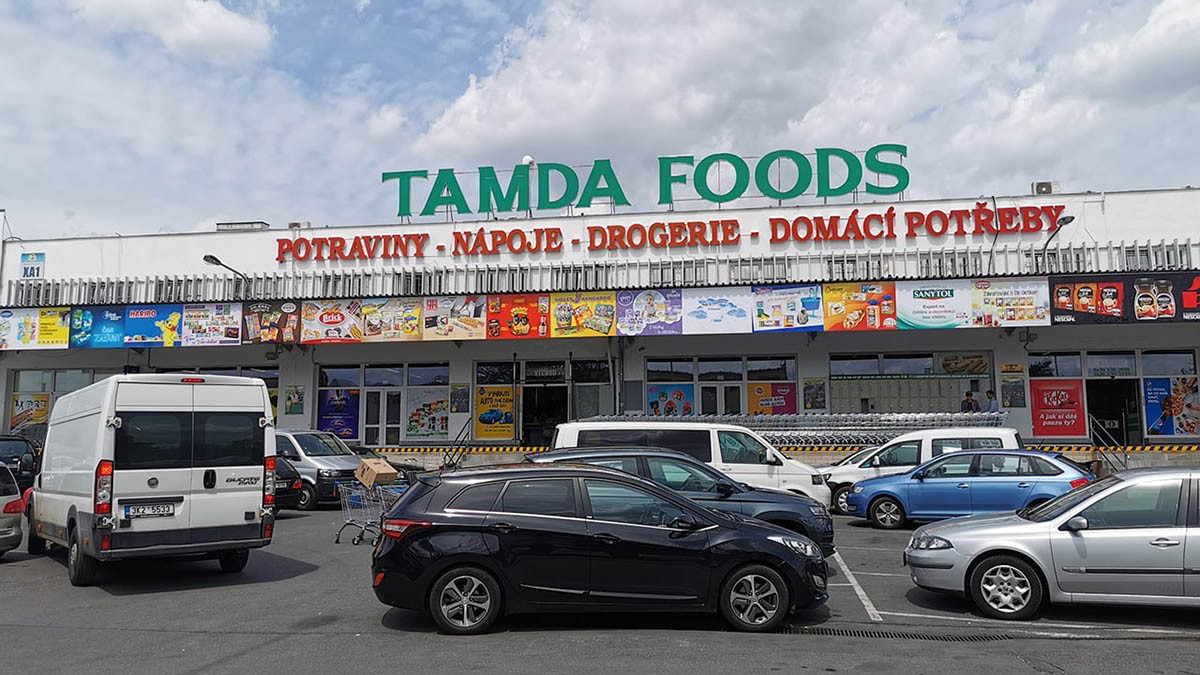 Tamda Foods Group is growing stronger in the Czech Republic. Photo: WVR
Possessing large commercial centers and a strong retail sales network, Hoang Manh Hue, president of the Union of Vietnamese Business Associations in Europe, is still frustrated by the fact that Vietnamese goods are losing market share compared to other countries.
The slogan "Vietnamese People Prioritize Using Vietnamese Goods" hopes to boost homeland products in European, with the cooperation of overseas Vietnamese and domestic enterprises.
"Ready to be a distributor"
As an overseas businessman who has worked and lived in Europe for many years, Hoang Manh Hue said that Vietnamese people currently have very good facilities to develop business and consume domestic products. Moreover, having lived in the host country for many years, each Vietnamese has a certain understanding of European customs, tastes, and consumption markets.
Along with the development of large trade centers, Hue believes that Vietnamese people can establish a system of consuming and distributing Vietnamese products in the area. However, the most important thing is still the connection between overseas businesses and domestic enterprises. Currently, in Vietnam, there are many unique and potential products but have not found their way to foreign markets.
He said: "We are ready to be the distribution agent and representative of Vietnamese goods in Europe. However, for this to become a reality, more active solutions are needed to connect and promote this cooperation with domestic enterprises."
In the near future, Hue plans to organize business forums in some European countries. "Hopefully through events like this and more dialogues, we can bring quality Vietnamese goods to Europe."
"We believe that domestic enterprises and overseas Vietnamese enterprises in Europe will realize cooperation projects with specific activities. The Committee will always be ready to accompany and support the connection so that domestic and foreign business organizations work together, contributing to promoting the growth of the country's economy to overcome difficulties and challenges of the Covid-19 pandemic."
Ngo Huong Nam, vice president of the State Committee for Overseas Vietnamese Affairs
Take advantage of the EVFTA
Currently, despite many difficulties in the context of Covid-19, Hoang Xuan Binh, president of the Vietnam Business Association in Poland said that the EVFTA Agreement is a golden opportunity to connect overseas Vietnamese businesses in Europe with domestic enterprises.
Recognizing the advantageous relationship between Europe and Vietnam, Binh desires to bring Vietnamese goods to Europe and regain the market from Chinese and other Asian markets.
Binh said that if in the past, overseas Vietnamese businesses in Europe could consume about 70% of Vietnamese goods, now, the market share is only about 20%. "What is not desirable is that about 80% of the time we trade products from other countries. Therefore, we need to think seriously, have an effective action plan to recapture the market and continue to bring Vietnamese goods to Europe in a more professional, methodical and extensive way."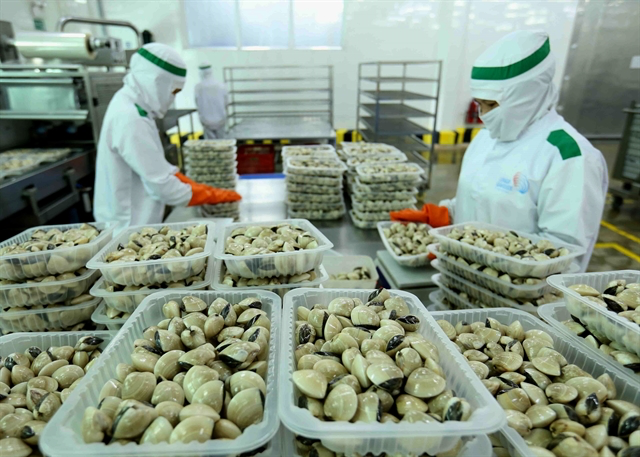 The Lenger Vietnam Seafood Company has processed clams for the domestic market and export, including to the EU. Photo: VNA
In fact, in recent years, many large Vietnamese enterprises have still found a way to penetrate the European market. However, for Vietnamese small and medium enterprises, this path is still arduous because of the lack of funds for travel, marketing, and product introduction seminars.
According to Binh, if overseas businesses associate and help promote, Vietnamese goods can reduce costs and increase development opportunities with other countries' products.
At the same time, domestic enterprises should actively approach and learn more about the quality standards of the European market. Once they have a product, they need to have a representative office to promote the brand here.
Quality and competition
Realizing that there are many good opportunities in Europe, in fact, Vietnamese goods are facing stiff competition in one of these difficult markets.
Living and doing business in Germany for 40 years, Vu Van Long, president of the Vietnam Business Association in Germany said that Vietnamese goods are increasingly losing their place in the market, currently accounting for only about 10% of the business of overseas businesses.
The Vietnam Business Association in Germany is always willing to act as a bridge for Vietnamese goods, but the question is still the quality standard to be able to meet the needs and tastes of consumers abroad.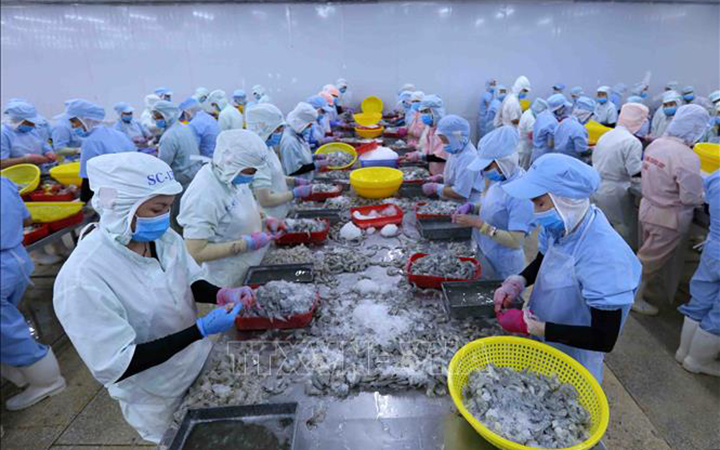 Processing shrimp for export to the EU market. Photo: VNA
However, overseas businesses believe in a generation of young entrepreneurs who are qualified, have a long-term vision and always look to their homeland. Typical of those young entrepreneurs is the President of Tamda Foods Group in the Czech Republic Hoang Dinh Toan. This young businessman said, starting from the aspiration and improving the position of Vietnamese people abroad, as well as bringing Vietnamese products to the European market, he founded the company in 2008 and is now a big corporation. The birth of Tamda Foods met the needs of supplying goods for the wide-ranging store system of Vietnamese people in the Czech country.
He shared: "We have become a reliable address of Vietnamese people in Europe in general and in the Czech Republic in particular. With great potential from the Czech consumer market, we look forward to continuing to cooperate with domestic enterprises to bring more Vietnamese products to Europe."