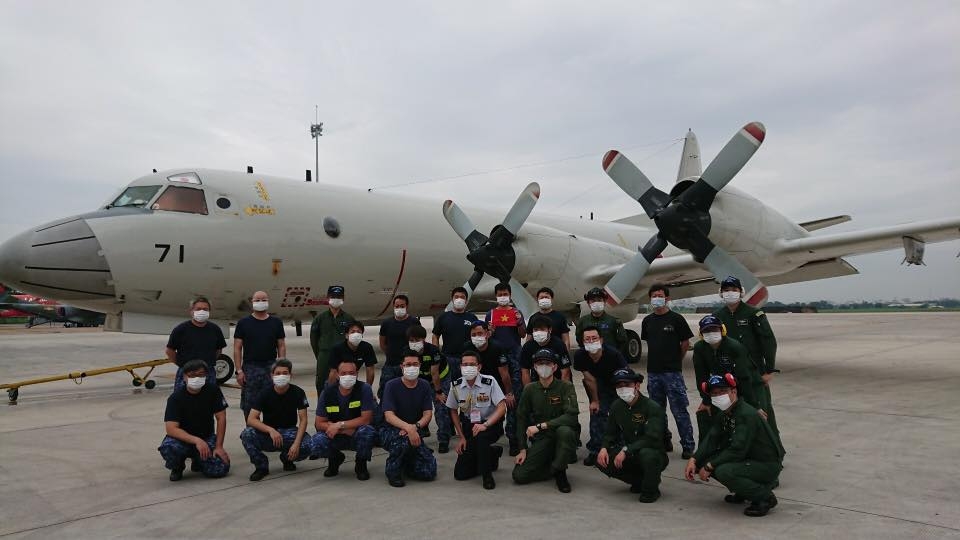 The P-3C aircraft and its crew at Tan Son Nhat Airport in HCMC, June 2020. Photo courtesy of the Japan Embassy in Vietnam
The Japan Joint Staff (JJS) of the Japan Self-Defense Forces on July 3 also expressed its sincere gratitude to Vietnam's government for helping the anti-submarine patrol aircraft the past two months.
In a video posting on their Twitter and Facebook's accounts, JJS said on June 26, its P-3C anti-submarine patrol aircraft with 19 crew members had returned to Japan safely after almost two months at Tan Son Nhat International Airport in Ho Chi Minh City.
"We sincerely appreciate your kindness to offer help when we were facing difficulties. We will never forget our strong ties. Thank you, Vietnam," the JJS stressed in the video.
According to Japan's Embassy in Vietnam, on June 29, the P-3C aircraft had returned to Japan after two-months stay in Vietnam due to engine trouble on its way to Japan.
It was on its way home following an anti-piracy mission in the Gulf of Aden in the Middle East and in need of refueling to help complete its 10,000km (over 6,200 miles) journey.
While no country would let them enter due to the COVID-19 pandemic, Vietnam had agreed to received the P-3C at Tan Son Nhat International Airport for refueling.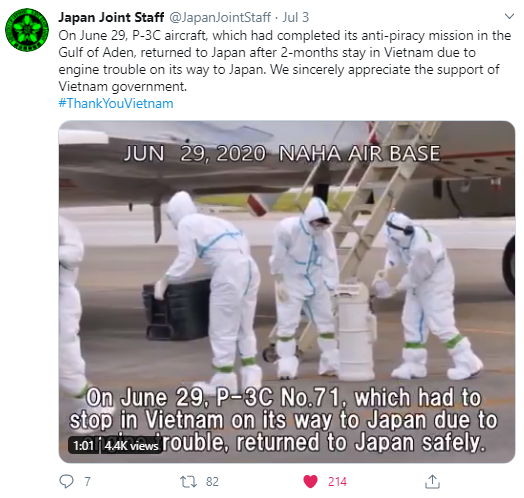 The Japan Joint Staff sincerely appreciate the support of Vietnam government.
On April 29, the aircraft landed at Tan Son Nhat airport. But after getting the fuel, engine trouble during take-off has grounded the aircraft. The COVID-19 pandemic and Vietnam's decision to lock down the country to foreigners has delayed repair plans significantly.
"Vietnam admitted the SDF [Self-Defense Forces] personnel into the country and offered a rest space...It took about two months for the maintenance of the P-3C and accompanying coordination. Vietnam gave us its full support," the JJS said.
Vietnam also allowed Japan to send technicians over, bringing along a spare part to replace the broken engine.
Vietnam banned entry of foreign nationals and suspended international flights in late March. But it has been receiving special flights which repatriated Vietnamese citizens from around the world and carried foreign experts and workers needed in major economic projects.
Here's the short video clip from the Joint Staff of the Japan Self-Defense Forces regarding the P-3C that was stuck in Vietnam for two months.
The P-3C is a land-based maritime patrol and anti-submarine warfare aircraft developed for the U.S. Navy. Since 2009, the Japan Maritime Self-Defense Force had deployed the aircraft on anti-piracy patrols.
Hannah Nguyen