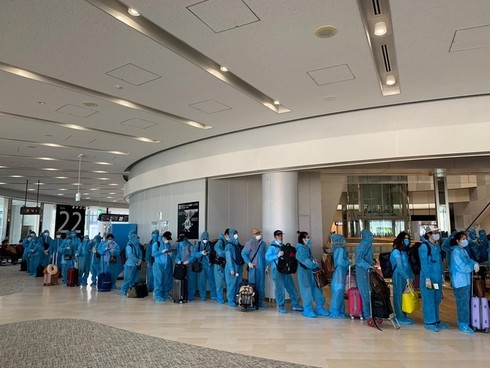 Vietnamese citizens are safely repatriated from Japan due to COVID-19. Photo: The gioi & Viet Nam
A Vietjet Air special repatriation flight, carrying 225 Vietnamese citizens stranded in Japan due to the virus pandemic, landed at Da Nang airport on June 30.
The flight was conducted with great support from relevant Vietnamese and Japanese agencies, Vietnamese Embassy in Japan, along with the Vietnamese budget carrier.
The majority of passengers on board the flight were minors under the age of 18, the elderly, sick individuals suffering from underlying diseases, pregnant women, guest workers whose labour contracts had been terminated, and students without residence due to the closure of their living accommodation.
To successfully arrange the flight amid growing concern over a second wave of infections in Tokyo after business and social restrictions were eased in stages, the Vietnamese Embassy in Japan sent officers to the airport to assist citizens in making check-in procedures and solve arising issues.
The country has now successfully gone through 76 consecutive days without the emergence of any COVID-19 cases recorded within the community as of the morning of July 1, with 355 COVID-19 cases being confirmed so far.
Therefore, pandemic prevention measures were implemented strictly during the flight, and crew and passengers underwent medical check-ups and were subsequently placed into quarantine upon arrival at Da Nang International Airport, as per regulations.
Following instructions of the Prime Minister, Vietnamese agencies will continue to coordinate with representative agencies abroad to arrange more flights to take Vietnamese citizens back home based on their wish and domestic quarantine capacity.
There are now 20 COVID-19 cases being treated throughout Vietnam, with nine of them subsequently testing negative for the virus at least once.
A British pilot patient (patient 91) - the most critical case - who is currently being treated at Ho Chi Minh City-based Cho Ray Hospital is making a strong recovery and is mentality stable, according to the COVID-19 treatment sub-committee under the Ministry of Health.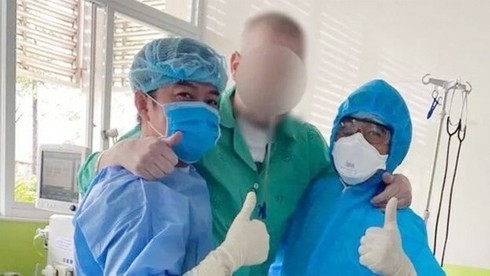 Recovery going well for British pilot after 105 days of treatment. Photo courtesy of Cho Ray Hospital
Representatives of the World Health Organisation (WHO) and other international organisations spoke highly of Vietnam's initial success in COVID-19 prevention and control in the recent past, as well as Vietnamese scientists' efforts in researching and manufacturing equipment and medical biological products for the fight against the COVID-19.
However, Vietnam should be cautious about reopening its door to the world as the novel coronavirus pandemic is evolving in a complex manner globally, foreign experts told the National Steering Committee on COVID-19 Prevention and Control in Hanoi on June 30.
They advised Vietnam's health sector to further improve its testing capacity, considering this key to preventing the epidemic. At the same time, they said it is necessary to enhance communication campaigns to equip residents with necessary knowledge to cope with a possible new wave of virus infection in the future./.
Hannah Nguyen