Japanese cosmetic, pharmaceutical store chain first opens in Vietnam
Matsumoto Kiyoshi, the Japanese cosmetic and pharmaceutical store chain opens its first store at District 1's Vincom Center shopping mall, Ho Chi Minh City on October 18.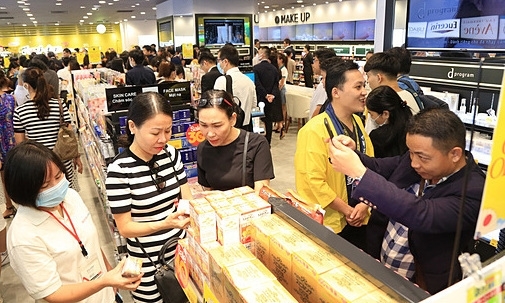 First groups of customers to visit Matsumoto Kiyoshi in HCMC (Photo: VNE)
The famous brand name garnered hundreds of customers on the opening day at the new branch. It is reported to have stocked more than 6,000 items from all over the world.
The opening ceremony was initially scheduled to take place earlier in March but was put off until this Sunday due to the COVID-19 pandemic.
Another 10-15 stores were likely to be opened in Vietnam in the next five years, Hiroki Miyaoka, managing director of Matsumoto Kiyoshi Vietnam, was quoted by VNE as saying at the opening ceremony.
Vietnam has become the third foreign market in the company's expansion strategy. As of June it had 32 stores in Thailand and 12 in Taiwan.
"It's a good time for Japanese corporations to expand their business in Vietnam since the pandemic has been contained and economic activities are gradually recovering", Hirai Shinji, chief representative of the Japan Trade Promotion Organization (JETRO) in HCMC, said.
Matsumoto Kiyoshi Holdings last year signed a joint venture deal with the HCMC-based Lotus Food Group to establish the Matsumoto Kiyoshi Vietnam with a registered capital of VND31.5 billion ($1.35 million).
Vietnam is among 17 countries in the pharmerging markets, a group of countries that are expected to be the pillars of the global pharma industry, according to U.S. information technology firm IMS Health.
Its drug market is expected to grow at 10 percent annually for the next five years.
It grew at 16 percent a year in 2015-18, and is currently worth $10 billion, global research firm Business Monitor International reported.