Japanese youths stand out with unique face masks
Young Japanese show off their street style fashion with richly decorated face masks.
Of all the fashion weeks cover around the world, it's Tokyo's street style that never disappoints. Tokyo's buzzy schedule—which includes Kozaburo, Hare, Tae Ashida, and Hyke this season, among others—draws editors and stylists from all over the world, but the locals we're seeing on the streets are easily the most experimental fashion fans. If you liked the minimalism of New York, London, Milan, and Paris, Tokyo will change your mind; here it's all about wild prints, statement-making accessories, and multicolored hair. Tokyo Fashion Week takes place from March 16 (Mon) – March 21 (Sat), according to Vougue.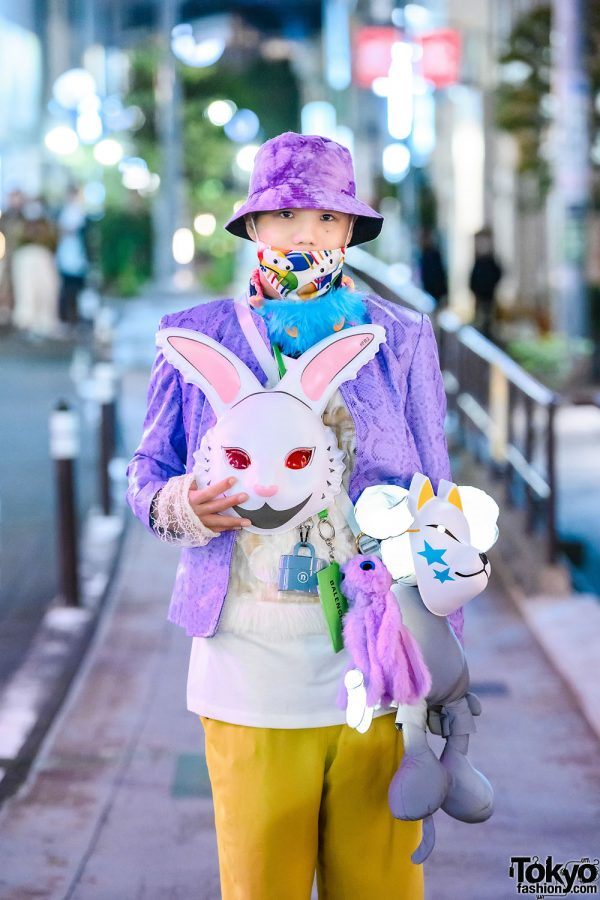 Ryo – a Japanese architect – stepped out in a vintage and resale outfit consisting of a purple snakeskin print collarless jacket, a white sweatshirt with lace sleeves and furry textured details, and mustard yellow pants. Resale purple suede sneakers and a Codona de Moda plushie bag finished off his look. Ryo also accessorized with colorful items such as a purple bucket hat, a printed face mask, a blue furry sleeping eye mask, a blue lock necklace, a green Balenciaga card holder necklace, a cat mask, an FR2 rabbit mask, and a purple animal plushie. (Photo: Tokyo Fashion)
At the left dressed in an all-black look is Ritsu, a Japanese Pop Idol. He is clad in a cropped ribbed jacket with distressed hems, which he wore over a sheer M.Y.O.B. tattoo shirt. He also wore convertible pants with grommet suspender straps from Ikumi and stepped into a pair of white platform sneakers from Yosuke. Accessories such as goggles, a colorful face mask, multiple ear piercings, a leather choker layered with a silver chain necklace, and a dark brown leather belt rounded out his edgy style. (Photo: Tokyo Fashion)
Lisa13 is a female Japanese rock guitarist in the band Bad Baby Bomb, and a longtime regular in the Harajuku street fashion scene. Lisa's look features a bomber jacket by the Japanese fashion brand Kami Jamele over a Joyrich graphic sweatshirt, a pink plaid skirt, fishnets, a Barbie phone case, Bad Baby Bomb face mask, a Nyulycadelic purse, and tall Demonia buckle boots. (Photo: Tokyo Fashion)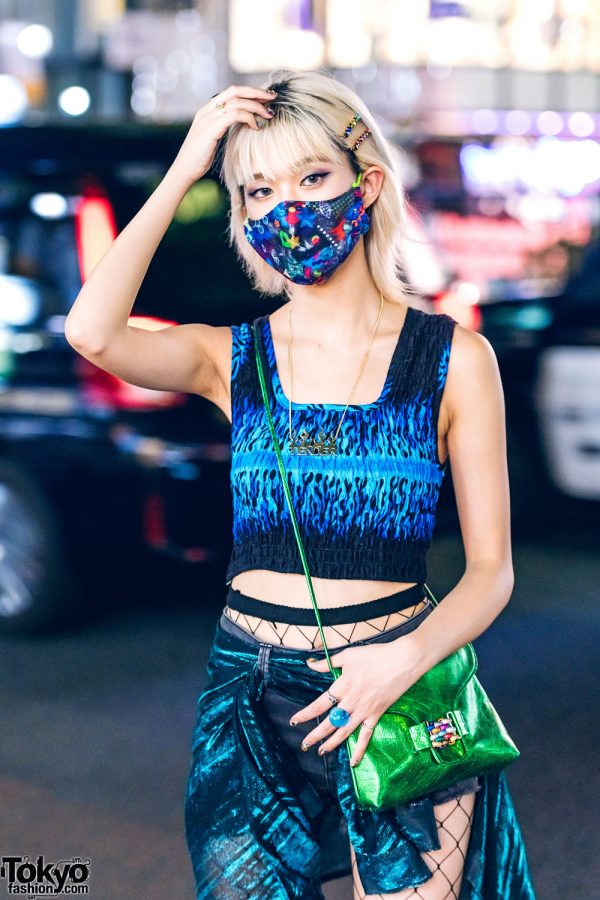 Rikarin is a longtime Harajuku street style personality, fixer, and fashion industry professional. Rikarin was wearing a Bluesis graphic crop top with denim shorts wrapped in a blue scarf, fishnets, a Bluesis metallic bag, cowboy boots by the Japanese brand Yello, a Tender Person necklace, and a face mask. (Photo: Tokyo Fashion)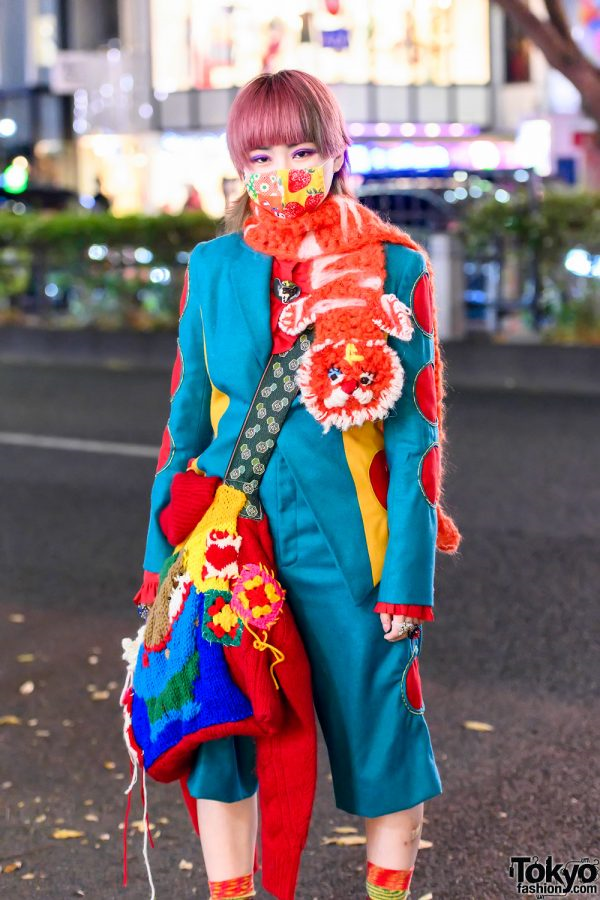 Saki is a 20-year-old Bunka Fashion College student and fashion designer. Her colorful look here features a matching handmade cutout jacket and pants over a vintage shirt bought in Koenji, a handmade knit muffler by her own brand Hyoga Knitting, a handmade oversized knit bag, vintage rings, Vivienne Westwood socks, and Dr. Martens boots. (Photo: Tokyo Fashion)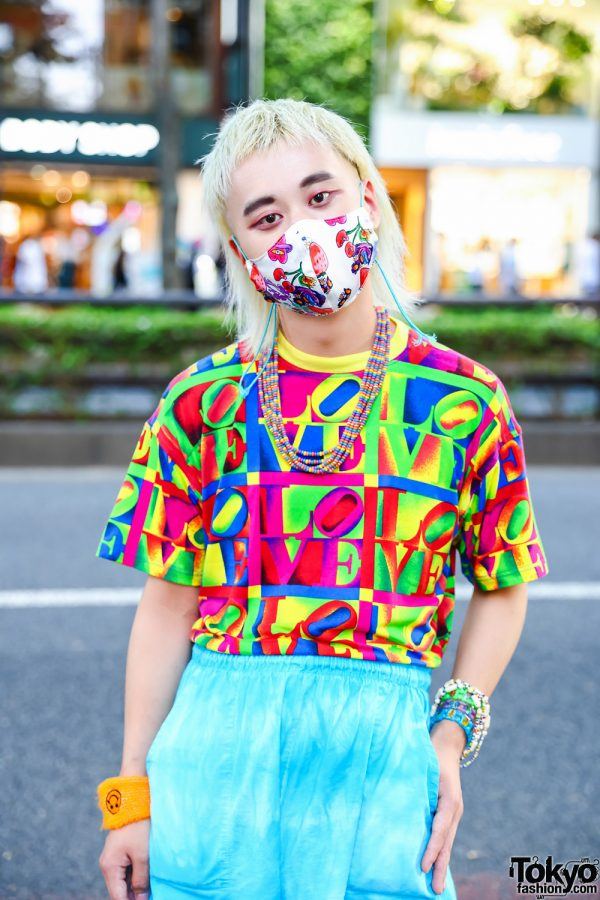 23-year-old Pyon – a resale shop worker who was rocking a mullet hairstyle and multicolor fashion. Pyon is wearing a vintage shirt with LOVE graphic print, which he paired with vintage Kinji teal garter shorts with side pockets and white Nike sneakers worn with pink flower socks. He styled his outfit with a Kobinai floral print mask and Chicago accessories including a beaded multicolor layered necklace, a beaded bracelet, assorted plastic bracelets, and a yellow smiley wristband. (Photo: Tokyo Fashion)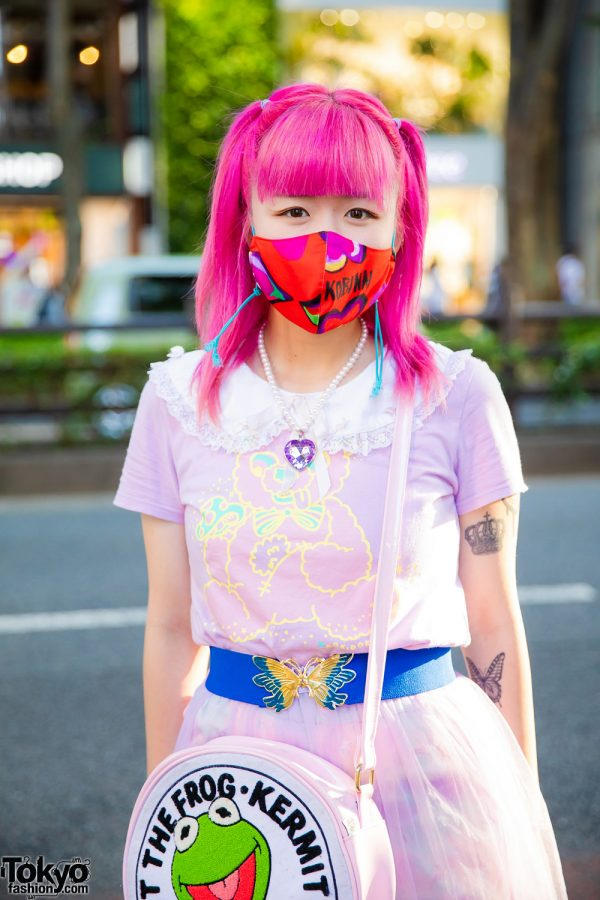 Chi-chan, a Kinji staffer sporting pink hair and a pastel ensemble. Chi-chan is dressed in a light purple 6%DokiDoki x Milklim teddy bear print shirt with a white lace-trimmed collar, which she styled with a sheer tiered skirt from 6%DokiDoki worn over G2? lace-trimmed shorts. Pink and white striped Jenni socks, pink and white Skechers sneakers, and a Kermit the Frog round sling bag from Little Sunny Bite completed her outfit. Chi-chan embellished her style with accessories such as a Kobinai face mask, a pearl necklace with a purple heart pendant, a beaded bracelet, and a blue butterfly buckle belt. Some of her accessories are from Mezzo Piano and 6%DokiDoki. (Photo: Tokyo Fashion)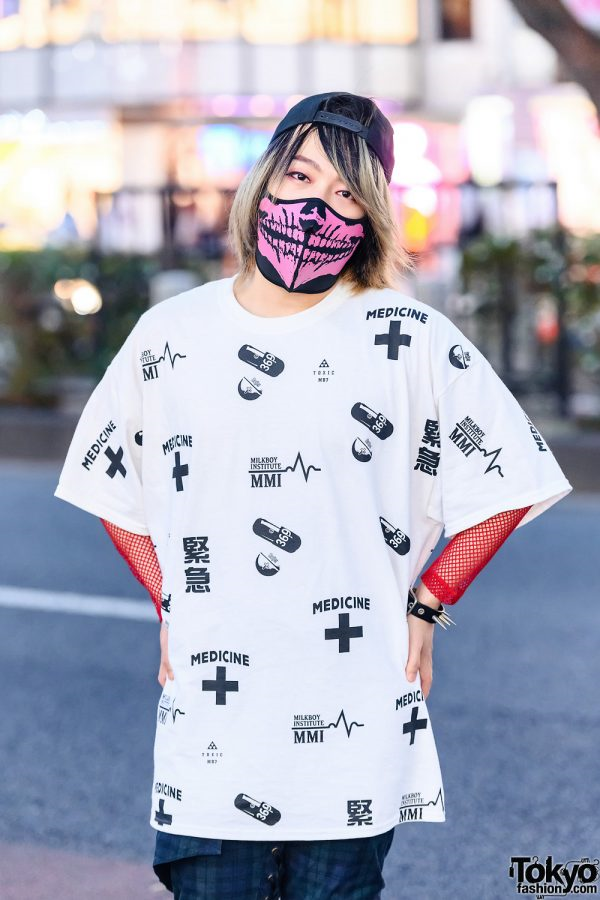 Ohshi, the popular DJ, pianist, and composer. Ohshi is sporting a two-tone bob underneath a black cap worn backward and his ensemble consists of a monochrome print t-shirt from Milkboy, which he styled with red fishnet arm sleeves. He also wore dark cropped plaid pants – also from Milkboy – with a skirt panel and laced detailing, donned red and blue checkered socks, and stepped into a pair of black leather lace-up boots from Dr. Martens. A spiked leather bracelet and a pink skull face mask rounded out his casual streetwear look. (Photo: Tokyo Fashion)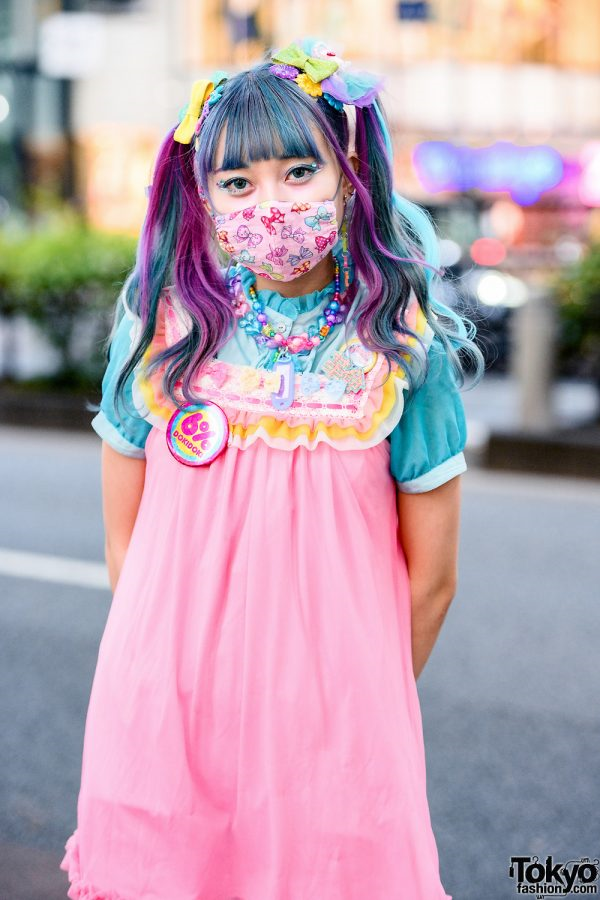 Sporting multi-colored pastel twin tails, the 6%DOKIDOKI Harajuku staffer stepped out in an aqua cap-sleeve blouse with a ruffle neck trim from 6%DOKIDOKI, which she styled with a short pink dress featuring ruffle trims and lace details. Yellow mid-calf socks, two-tone metallic platform boots from Demonia, and accessories such as pastel hair bows and decora hair clips, eye jewels, colorful kawaii earrings, a pink bow print face mask, kawaii beaded necklaces, a 6%DOKIDOKI badge, stacked decora bead bracelets and cute kawaii rings completed her style. Most of her accessories are from 6%DOKIDOKI and Glem. (Photo: Tokyo Fashion)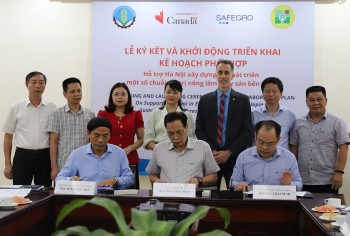 Make in Vietnam
As Vietnam furthers its international intergration, building agro-forestry-fishery high value chains is crucial for the sustainable development of the agriculture sector.