Vietnam sends masks, sanitisers to OVs in Malaysia
The activity is part of the programmes conducted by the State Committee for Overseas Vietnamese Affairs under the Ministry of Foreign Affairs to support overseas Vietnamese in preventing the COVID-19 pandemic.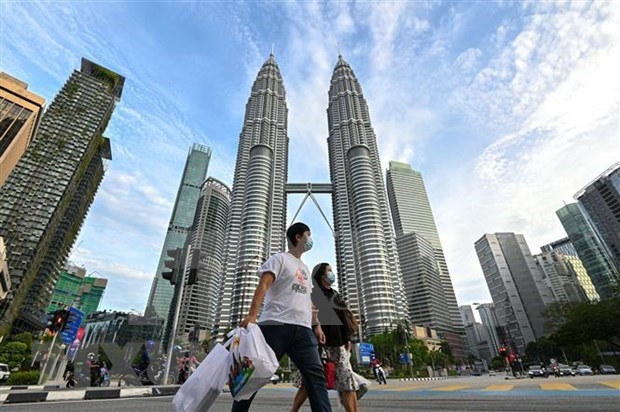 People seen wearing masks while walking the street in Kuala Lumpur, Malaysia. Photo: Xinhua/VNA
The Vietnamese Embassy in Malaysia, on behalf of the committee, presented medical equipment, antibacterial cloth face masks and sanitiser to the Vietnamese community in the country at a ceremony on February 20, reported VNA.
At the event, Ambassador Tran Viet Thai highlighted the difficulties and challenges facing the mankind amid the COVID-19 pandemic in 2020, including the Vietnamese community in Malaysia.
The committee has made every effort to support the Vietnamese community in the fight against the pandemic, helping them overcoming difficulties posed by the health crisis, he stressed.
The ambassador also announced the COVID-19 vaccination programme for foreigners in Malaysia, which is expected to be held in May or June. He affirmed that the embassy will serve as a bridge to support Vietnamese citizens in this programme.
The Vietnamese Party and State always pay attention to the Vietnamese community abroad in general and Vietnamese expats living and working in Malaysia in particular, Ambassador Thai said.
He also highly appreciated contributions by overseas Vietnamese to the homeland's development.
Earlier, as Malaysia re-introduced the movement control order (MCO) from January 13 – February 18 to stem the third wave of COVID-19, the Vietnam's Embassy did not celebrate this year's Lunar New Year festival with get-togethers of Vietnamese expats as usual. Instead, it has been keeping its door open to its staff and Vietnamese people living in Malaysia to offer incense and flowers to the late President at his worship altar.
In the Malaysian state of Jahor where a large number of Vietnamese people live, the embassy has coordinated with local organisations and associations to make "banh chung," Vietnam's traditional staple during Tet holiday, and present gifts to workers.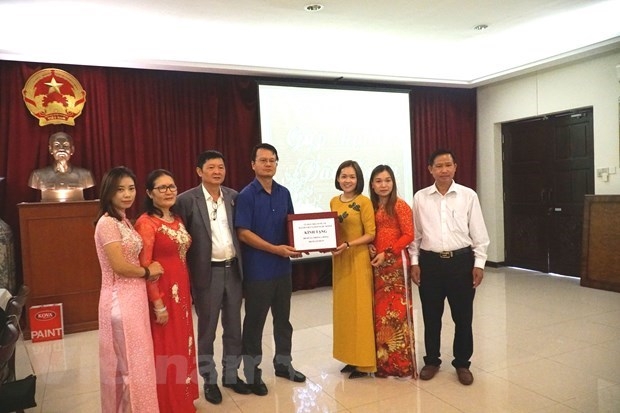 OVs in Malaysia get support for COVID-19 prevention. Photo: VNA
Malaysia on February 18 reported a new daily high of 25 COVID-19 deaths, taking the total fatalities in the country to 1,030.
The country also confirmed 2,712 new coronavirus cases, putting the national tally at nearly 275,000.
Malaysia has secured a total of 66.7 million doses of COVID-19 vaccines, enough to cover its entire population, according to a handbook setting out the country's vaccination programme launched on February 16.
The vaccination programme is scheduled to start in Malaysia on February 26./.