Khanh Hoa destination with three lovely "check-in" spots to get away the summer heat
Khanh Hoa is an ideal destination where tourists can have a relaxing holiday and stay away from the summer heat, while cheking out these three beautiful places below.
Three new "check-in" spots in Khanh Hoa
1. Santorini Villa Studio & Café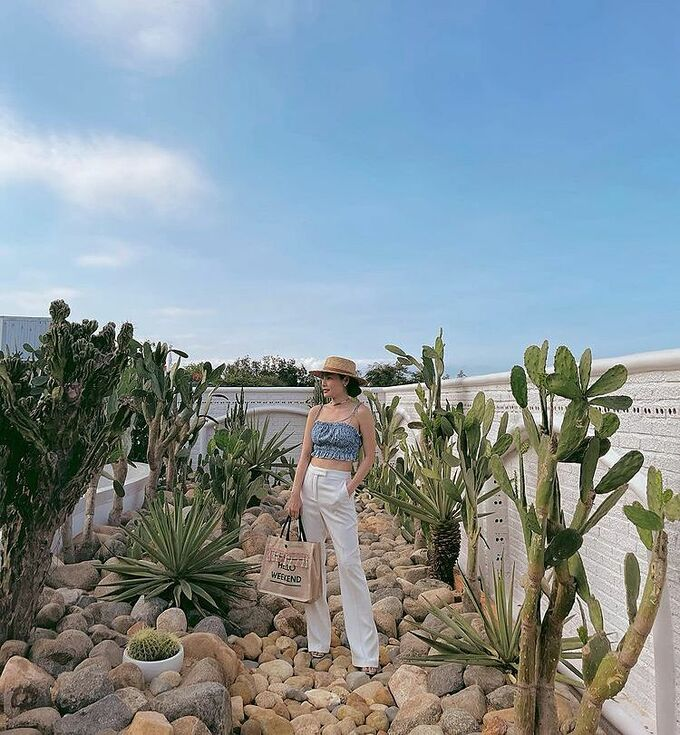 Photo: VnExpress
Santorini Villa Studio & Café is located on 507 Hung Vuong Main Street, Cam Nghia Ward, Cam Ranh, about 7km from Cam Ranh International Airport and 42km from Nha Trang to the South. The ticket's price is VND 40,000 per person for tourists who want to enjoy a hot cup of café and take pictures with beautiful "check-in" spots… With tourists who want to use homestay service, the price for one room ranges from VND 500,000 to 700,000 per night.
The café is designed just like its name: Santorini – the famous island for tourism in Greece, where the houses are built near each other and are painted with two colors: blue and white. Because of the unique design and beautiful view of the beach, Santorini Villa Studio & Café is a perfect place for relaxing, staying away from the summer heat and exploring lovely "check-in" spots as if you are travelling in Greece.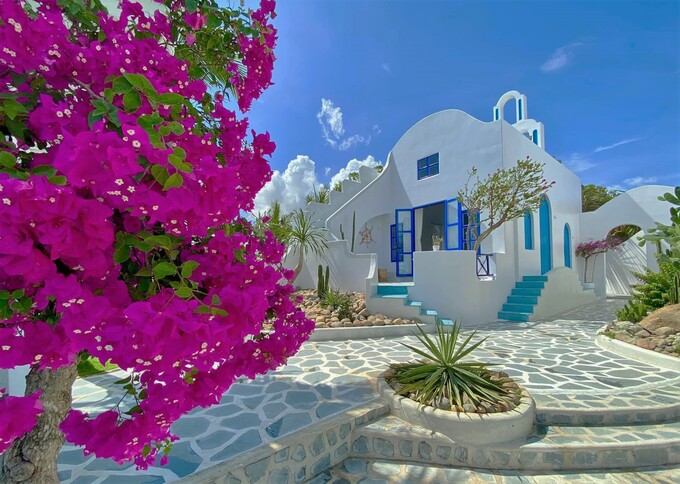 Photo: Santorini Villa
2. Dep To Ong Farmstay
Dep To Ong Farmstay is a large farm, about 8 hectra and is located near Am Chua Lake, Dien Dien Commune, Dien Khanh District, about 15km from Nha Trang to the Northwest. This place is perfect for families with children who want to have a peaceful vacation and spend time with their loved ones. The road leading to the farmstay is a little bit difficult to drive on.
Tourists can enjoy different experience such as bathing in the lake, fishing, kayak paddling, camping… with other joyful activities for children. The price is VND 200,000 per person one day, VND 400,000 per person overnight, and VND 100,000 per person for tourists who hide spots for camping. Farmstay currently opens for guests in Wednesday, Saturday, Sunday and in the holiday.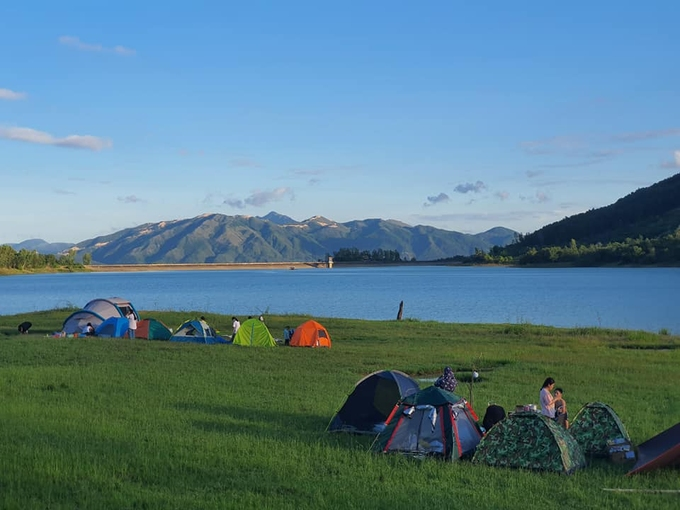 Photo: Dep To Ong.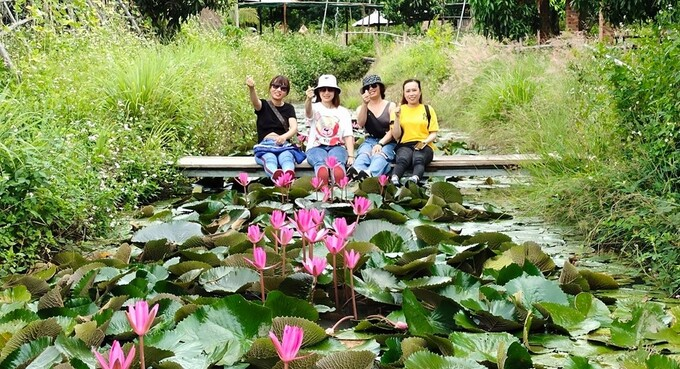 Photo: Chi Le
3. Thien An Pagoda
Thien An Pagoda in Tinh An Dong Commune, Quang Ngai Town stands at 100 m above sea level amidst a dense forest. Built 1694-1695, the pagoda is one of the oldest sacred places in town.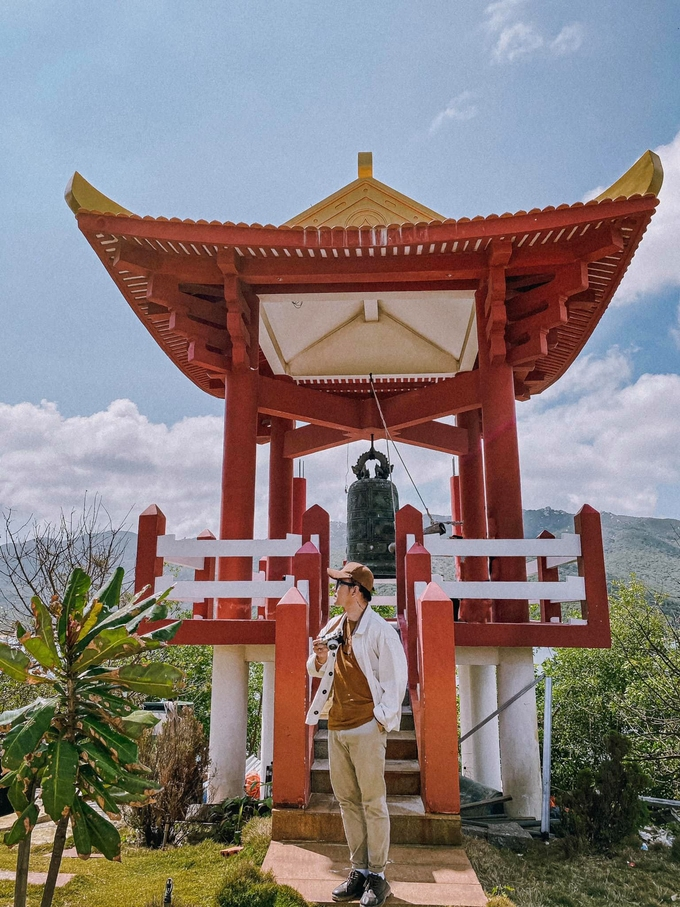 Photo: Cuong Quoc Pham
Locals come to the pagoda to pray on different occassions, including the first and 15th day of the lunar month. The Ministry of Culture, Sports and Tourism has recognized the pagoda as a national heritage site since 1990.
Visitors to the Thien An Mountain can also stop and pay respects at the tomb of Huynh Thuc Khang, acting President of the nascent Democratic Republic of Vietnam in 1946 who stood in for President Ho Chi Minh when the latter was in French for the peace talks.
Other attractions in Khanh Hoa to visit
Khanh Hoa is a famous tourist destination with beautiful beaches and islands, temperate climate. The Khanh Hoa tourist destinations that make visitors excited must include: Nha Trang, Cam Ranh, Ninh Hoa, Van Ninh …
Dubbed "Island paradise", Khanh Hoa owns nearly 200 large and small islands with many beautiful bays such as Van Phong, Cam Ranh, Nha Trang. With a coastline of about 385 km from Dai commune At the end of Cam Ranh Bay, Khanh Hoa has entered the top of the most beautiful coastal provinces in Vietnam.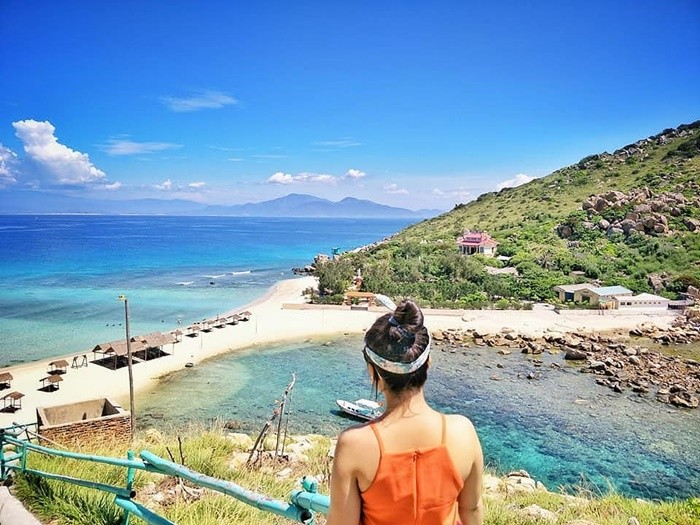 Photo: Vinlove
In particular, Khanh Hoa has been blessed by mother nature with a mild climate with an average temperature of 26⁰C and more than 300 beautiful sunny days a year. Plus many famous landscapes, historical and cultural relics such as Ponagar tower, Dai beach, Diep Son island, Dien Khanh citadel. This is a favorable factor for Khanh Hoa to become one of the major tourist center of Vietnam.
Ponagar tower: Ponagar tower is located on a hill 50m above sea level. Located in the magnificent natural scenery amidst immense mountains and hills. Ponagar tower shines in the middle of the majestic mountains with majestic and ancient architectural beauty, marking the period of great Hinduism.
Photo: Vinlove
Hon Chong – Hon Vo: Another popular destination that is mentioned by people when they come to Nha Trang is Hon Chong – Hon Vo. In fact, this is just a natural rocky beach piled on top of each other by large rocks lying precariously on the stretching coast of Nha Trang.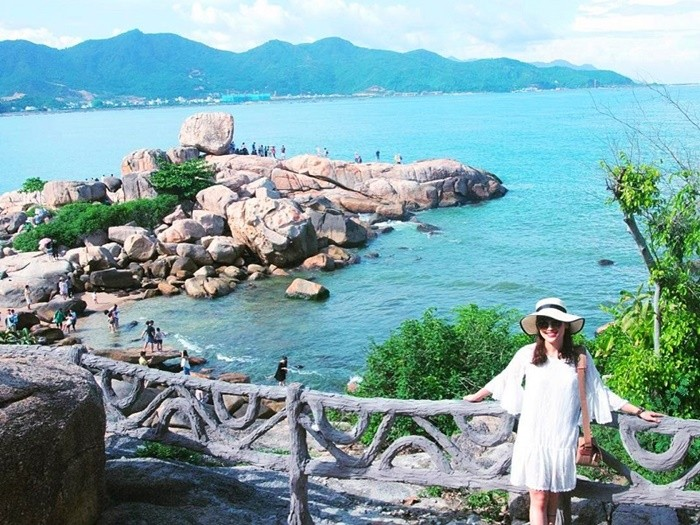 Photo: Vinlove
When traveling to Hon Chong Hon Vo Nha Trang , visitors will surely enjoy the full natural scenery in a sweeping view. A majestic picture of nature appears, with a beautiful poetic sea scene and fresh air, making us separate from the hustle and bustle of life and return to peace of mind.
Yen Island – Hon Noi: Yen Island – Hon Noi is one of the destinations in Nha Trang that many travelers have to admire. Because nature has favored this place with beautiful scenery with natural vertical cliffs. In the middle of the island, a smooth natural sand beach is formed, forming a beautiful double beach in the middle of the island.
Cam Ranh Long Beach: It is indispensable if you travel to Khanh Hoa island and skip the Bai Dai Cam Ranh destination. This place is like a beautiful fairy when lying hidden by one side is the immense sea, deep blue; One side is a majestic mountain. Bai Dai in the eyes of visitors still has a wild and natural beauty. Coming here, visitors will enjoy a wonderful space with blue sea, golden sunshine, white velvet sand. Walking on the beach you will be blended with nature as one. All worries and sorrows are sent away by the wind and waves, bringing peace of mind. And don't forget to check in the beautiful pictures of the ocean, nature, and people here.
Binh Lap Island: When your Facebook is "idle" because of the lack of beautiful pictures? Why don't we try to refresh ourselves by traveling to Cam Ranh Khanh Hoa? And Binh Lap Island will be a not bad suggestion for you. Binh Lap Island – One of the famous tourist destinations in Khanh Hoa is attracting hundreds of thousands of visitors every year. Because the island still retains its idyllic and untouched natural beauty. Moreover, the sea water here is as blue as a mirror, the climate is cool, fresh, and the natural landscape is close and poetic. Will definitely help visitors own beautiful pictures that make many people jealous.