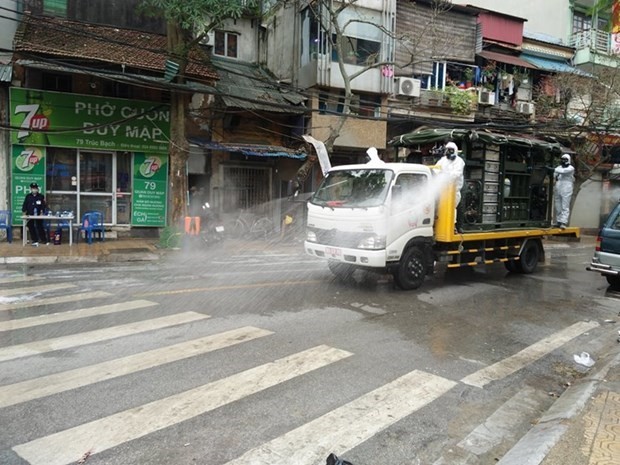 Hanoi's streets are sterilised after a resident is confirmed to be infected with the SARS-CoV-2 (Photo: VNA)
One of the new cases, a 27-year-old patient from northern Ninh Binh province arrived in the RoK's Daegu city on February 17 and came back to Vietnam on flight VJ981 from Busan to Van Don airport in the northern province of Quang Ninh on March 4, the ministry said in a statement.
After entering Vietnam, the patient was brought to a concentrated quarantine area and had samples tested positive for the novel coronavirus SARS-CoV-2.
The other two cases were a family member and the driver of a Vietnamese woman who returned to the capital city of Hanoi from Europe on Monday and tested positive on Friday.
The two patients include a 64-year-old woman who is the female patient's aunt and a 27-year-old man – the patient's driver.
They are among those who had close contact with the 26-year-old patient, N.H.N, and have been quarantined at the National Hospital of Tropical Diseases.
N.H.N earlier visited her sister in the UK, then travelled to Italy and returned to Hanoi on March 1 on flight VN0054.
On Friday night, Hanoi authorities blocked several streets around the woman's house, which was sprayed with disinfectant on Saturday morning.
Vietnam has to date detected 20 COVID-19 infection cases. Of them, 16 patients had been successfully cured and discharged from hospitals.
MoH said 101 suspected coronavirus cases are quarantined in the country while 23,228 others are being monitored./.
Covid-19 and Vietnam"s auto industry

Chinese supplies of input materials for the auto industry have been interrupted due to the Covid-19 epidemic, and may run out by the end of ...
VNF