Likely a space of possibility that Vietnam reopens int'l flight in July
Although Vietnamese air carriers are the right state of mind for preparation to reopen their international flight routes starting from July, the uncertainties of the Covid-19 pandemic still a hindrance.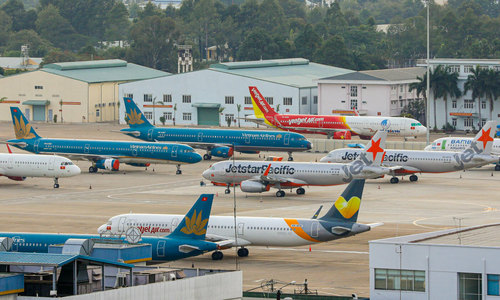 Illustrative photo. Source: VnExpress.
As early as June, the national flagship Vietnam Airlines submitted a plan to resume outbound and inbound flights as of July 1 with the proposed destinations including South Korea, Taiwan, Hong Kong, Thailand, Singapore, Laos and Cambodia.
In a conference in June, Head of the Development Plane Board of Vietnam Airlines Nguyen Quang Trung also stressed that the air carrier had set up teams taking responsibility for each area, markets as well as prepared all resources, flight team, flight attendants… for the reoperation.
Concurrently, it also established and issued regulations to ensure safety for passengers in accordance with the Government's instructions.
For the longer hop to Europe, the US, not until the end of 2020 or early 2021 will the international flight routes been considered to resume.
Bamboo Airways also announced its alike plans with the first destination in July should be Taiwan, and then China, South Korea, Japan, Australia, Europe, and the South East Asia countries.
However, the aforementioned plans may ruin as the Covid-19 pandemic is resurging in some regions in the world. Even countries having 30 days in a row free from the virus still face potential risks of infection.
Zing.vn cited a recent statement from the International Civil Aviation Organization (ICAO) to the worldwide aviation industry that taking into effects from June 16 to September 16, flights to Vietnam is still restricted to carry passengers except for those who entry for diplomatic or official duty, foreigners who attend important foreign affair events, experts, business managers, highly-skilled workers and special cases with the approval of the National Steering Committee on Prevention and Control of Covid-19.
Flights from Vietnam to other countries are allowed to carry passengers and cargo but the former shall be subject to compulsory quarantine for 14 days and comply with existing regulations on quarantine and epidemic prevention.
As a result, it seems that the plan for international air transport in Vietnam is still far from possible until September. Otherwise, other countries have yet to get ready to open their aviation border for inbound flights due to Covid-19 pandemic.
According to Luong Hoai Nam, member of the Tourism Advisory Board (TAB), the reopening of international flights can not a one-way move and he proposed the Ministry of Foreign Affairs to connect with other foreign counterparts to reach consensus.
The expert also noted that it is infeasible for domestic countries to resume their international routes when the negotiation between Vietnam and other potential countries has even yet to start.
Previously, Prime Minister Nguyen Xuan Phuc allowed the reopening of international flight routes to areas without Covid-19 cases in 30 days. He asked the Ministry of Transport and Foreign Affair to suggest suitable routes and flights. While, People's Committees of provinces and cities take responsibilities of ensuring quarantine areas, picking up visitors as well as providing proper medical tests. The Ministry of Finance and Ministry of Health are in charge of working on current regulations to offer quarantine fees, especially medical costs to ensure the state budget.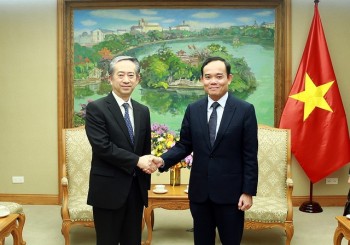 Friendship
Deputy Prime Minister Tran Luu Quang received Chinese Ambassador Xiong Bo in Hanoi on February 8, reviewing the nations' past cooperation and discussing ways to step up the comprehensive strategic cooperative partnership in the time to come.