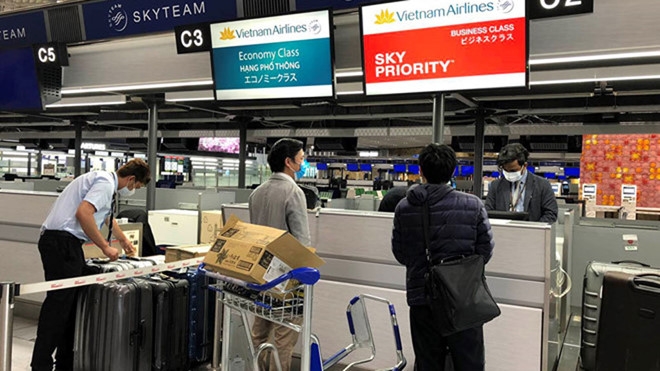 Illustrative photo
Accordingly, the Ministry of Transport requested the Aviation Department to study and report on the resumption of international routes on a bilateral basis to restore tourism, trade and investment.
Aviation Department is required to make the plan before June 10 for submission to the Prime Minister.
Currently, domestic routes have been reconnected, but international routes are still suspended due to complicated progress of the COVID-19 pandemic in the world.
Recently, Vietnam only licensed some international flights to repatriate Vietnamese citizens 'stranded' overseas.
According to Airports Corporation of Vietnam (ACV), the aviation market has gradually recovered since the beginning of May. The number of flights began to increase, so far there are about 644 takeoffs/day. It is expected that the number of domestic flights in May will reach 60% compared with the time before the pandemic.
ACV said that Vietnam has well controlled the COVID-19 pandemic, and its socio-economic activities have gradually returned to normal. All regulation on safe distance between passengers on domestic flights have been removed from May 7.
According to statistic of Vietnam Aviation Department, in May, the number of aviation passenger across the country reached 2.88 million, down 70% compared to the same period last year. However, compared to the April figure of only 188,000 passengers, this is a significant rise.
At a seminar on stimulating tourism after the COVID-19 pandemic, experts proposed to resume international flights on a bilateral basis. In the immediate future, Vietnam should reconnect routes to countries which successfully contained the COVID-19 such as Australia, New Zealand and Thailand.
Jennifer Tran