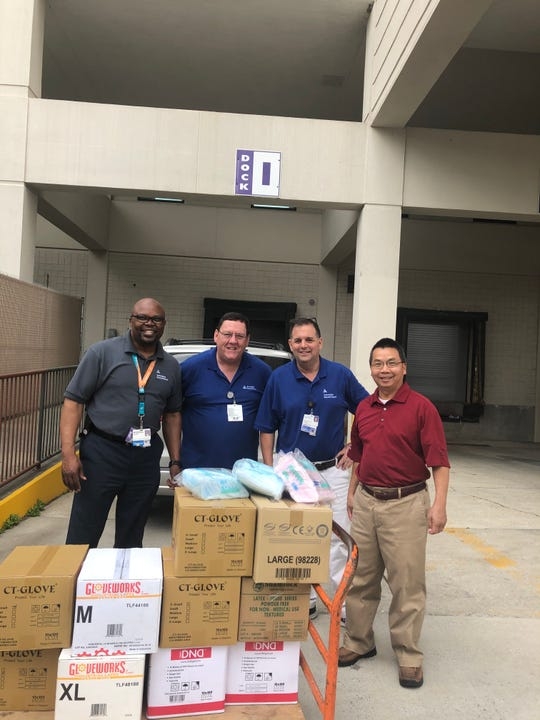 The Pensacola Vietnamese community donated thousands of surgical gloves and masks to both Sacred Heart and Baptist hospitals, March 30. (Photo: Courtesy of Thu-Hong Nguyen)
On March 27 afternoon, Pensacola resident Thu-Hong Nguyen called on Vietnamese community leader Quang Nguyen to ask local nail salons and hair stylists — and suppliers of those businesses — to donate surgical gloves and masks to Pensacola's hospitals.
It only took one weekend for a community of close to 3,000 people to over-deliver.
"The request came out on Friday, and over the weekend, we received 20,000 gloves, immediately," Thu-Hong Nguyen said. "By March 30 morning, we had 20,000 gloves and 1,000 masks. That was pretty amazing."
Those figures have jumped since then, Thu-Hong Nguyen said. As of March 31 morning, Baptist Hospital of Pensacola, Baptist Hospital of Gulf Breeze and Ascension Sacred Heart Hospital have received 50,000 gloves and 1,650 masks.
Another 12,000 gloves were delivered to Arcadia Health and Rehabilitation Center, located in the Ferry Pass area of Pensacola.
"(Personal protective equipment) is critical," said Kathy Bowers, Baptist Hospital's media relations specialist, in a prepared statement. "The safety of our team members and those we serve is at the core of everything we do. We are diligently focused on PPE acquisition and are utilizing all available pathways to find ample supplies for the long-run. We have put measures in place to conserve these precious resources so that we will not run out. We are working with traditional and non-traditional supply partners, and our local, state and federal government, to ensure we are prepared to meet the increasing needs for PPE."
The effort from Pensacola's Vietnamese community has no plans of slowing down either,Thu-Hong Nguyen said, as community members are starting their next phase to help out.
"As of now, there are plans in place to sew masks," Thu-Hong Nguyen said. "Many local individuals and local businesses are willing and ready to sew masks."
The Pensacola Vietnamese community donated thousands of surgical gloves and masks to both Sacred Heart and Baptist hospitals on March 30.
A rapid influx of patients has doctors, nurses and other health care professionals around the world running through clean and unused masks and gloves at a blistering pace. Nail salons and spas around the country have recognized the value in their resources and are donating the products they aren't using at the moment due to either a lack of business or voluntary closures.
The Nail Room in Pace, which chose to close March 18, played a vital role in donating thousands of marks over the weekend, per Nguyen's request.
"We have a lot of clients, friends and family members in the health care industry and want to do our part giving back to our beloved community," the Nail Room posted in a Facebook status.
Thu-Hong Nguyen said she takes great pride in the localized effort the people of her heritage have embraced. "What really highlights this is that the community is willing to think of a greater good, not just looking out for themselves," Nguyen noted. "They could have said, 'I'm not going to give, I'm going to hold on to this material so when things turn around, I can use these again.' But no, they want to donate to help out the situation."
The efforts have not gone unappreciated, reported the article citing Mike Burke, the manager of marketing and communications with Ascension Sacred Heart Hospital, said that each and every piece of donated equipment is put to good use.
"The community's donations of gowns, masks, gloves and other protective equipment shows how much people in this community care about and support our associates, especially our front-line caregivers, during this crisis. It means so much to our team," Burke said. "Our staff is our greatest asset and we have to protect them to continue to provide safe care to our patients."
VNT