Made-in-Vietnam face mask kills 99 percent of coronavirus on contact
The anti-viral Wakamono face mask has been certified by FDA, CE, TGA and becomes one of the first face masks with viruscidal barrier against Covid-19 worldwide.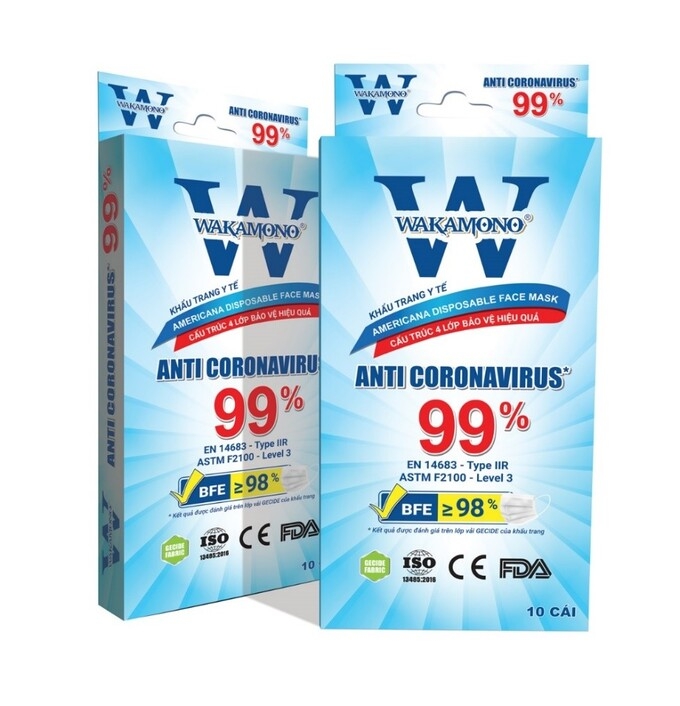 A pack of Wakamono face mask (Photo: VNE)
Wakamono face mask has four layers, with the outer structure pretty much the same as the conventional ones. The Nano Gecide layer, an anti-viral cloth – however, helps to destroy up to 99 percent of different bacteria and viruses upon contact, including coronavirus, Mr. Lai Hai Nam, Chairman of the Board of Directors, the inventor of Wakamono mask, told VNE.
Researchers from Eurofins Scientific – a worldwide laboratory testing service based in the US, found the made-in-Vietnam face mask can kill the novel virus within one minute after contact. Lab tests in Canada, India, Singapore, and Vietnam also prove the mask has virucidal efficacy from 90-99 percent against nCoV within 10 mins to 2 hours after contact.
As of early 2020 when the pandemic first broke out in China and spread to other countries, Wakamono started to develop its face masks based on Nano Biotech technology. The company spent months of research to find out the natural virucidal Bionano compounds (named Gecide) and another 6 months to perform efficacy tests in laboratories around the world.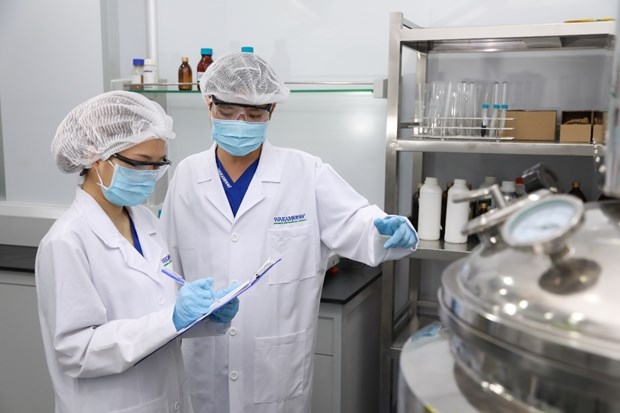 Experts working on the Gecide, natural virucidal Bionano compounds that kill coronavirus (Photo: Vietnam Plus)
Wakamono face mask meets the standards of the American ASTM F2100 (Level 3) and European EN 14683 (Type IIR). To date, it has been certified by the US Food and Drug Administration (FDA), received Therapeutic Goods Administration's (Australia) and European regulatory approval and carries a CE mark.
According to Wakamono, in February only, over 10 million of Wakamono face masks have been sold in Portugal, Italy, Australia, New Zealand and the US. With promising results in foreign market, the manufacturer is planning to sell the product in Vietnam at VND 4,500 (US $0.19) each, around US $0.5 cheaper than in the US.
With its research and mass production, Wakamono hopes to bring a better outcome for the public health and thereby join hands in the fight against COVID-19.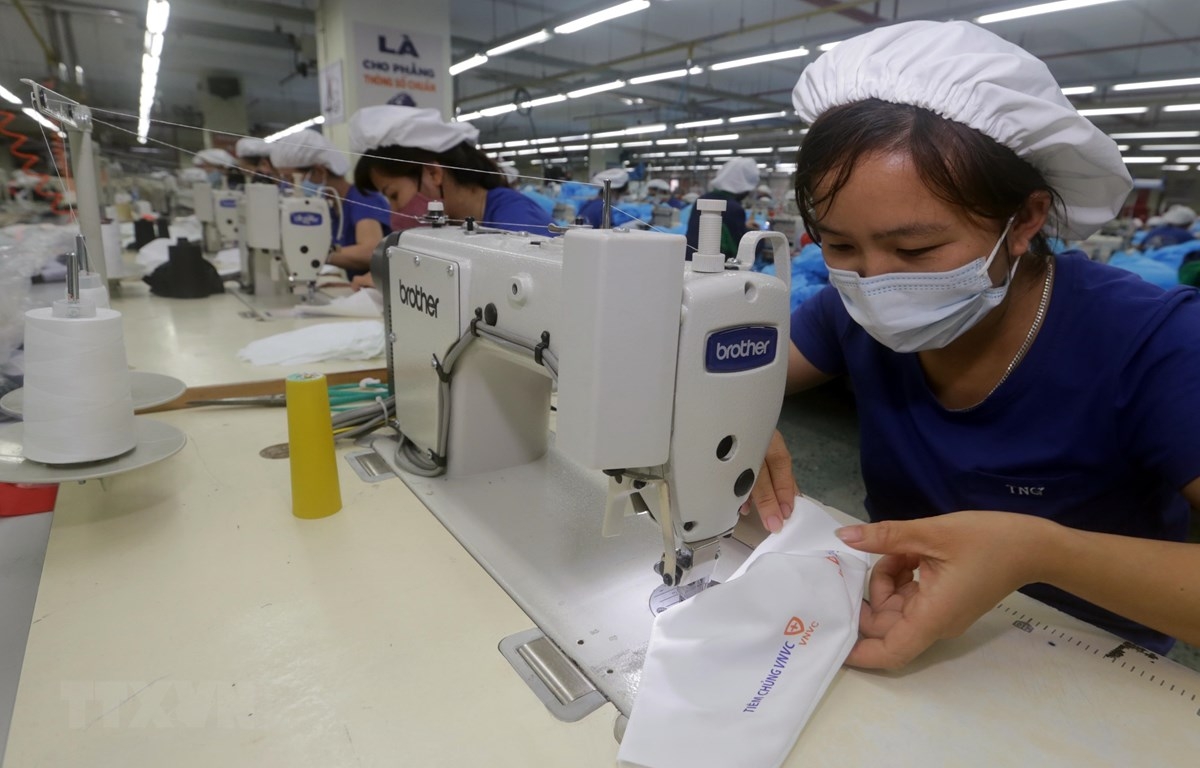 One worker is captured while making face mask at TNG (Photo: Vietnam Plus)
Vietnam, the country's been showered with praises over comprehensive and effective COVID-19 containment attainment is having four potential vaccines on hands. The vaccines are studied and produced by Nanogen, Vabiotech, Polyvac and the Institute of Vaccines and Medical Biologicals (IVMB), all have completed the laboratory production process.
IVMB's candidate Covivac has entered the first phase of human trials in early March after yielding safe and strong immunity response on animals. In the meantime, Nanocogen's Nonacovax vaccine has gone half the way into the second phase. Nanogen Biopharmaceutical company is expected to end its Nanocovax vaccine's human trials by February 2022.
Deputy Prime Minister Vu Duc Dam on March 26 received the second shot of made-in-Vietnam NanoCovax vaccine. After the injection, the official waited 30 minutes for medical monitoring and then talked to other volunteers, expressing his trust in those engaging in NanoCovax research and trials.
At the current progress, scientists would be able to submit the preliminary test results to the National Council for Ethics in Biomedical Research in late June or early July for the approval of the third phase of trial on a larger scale, he continued.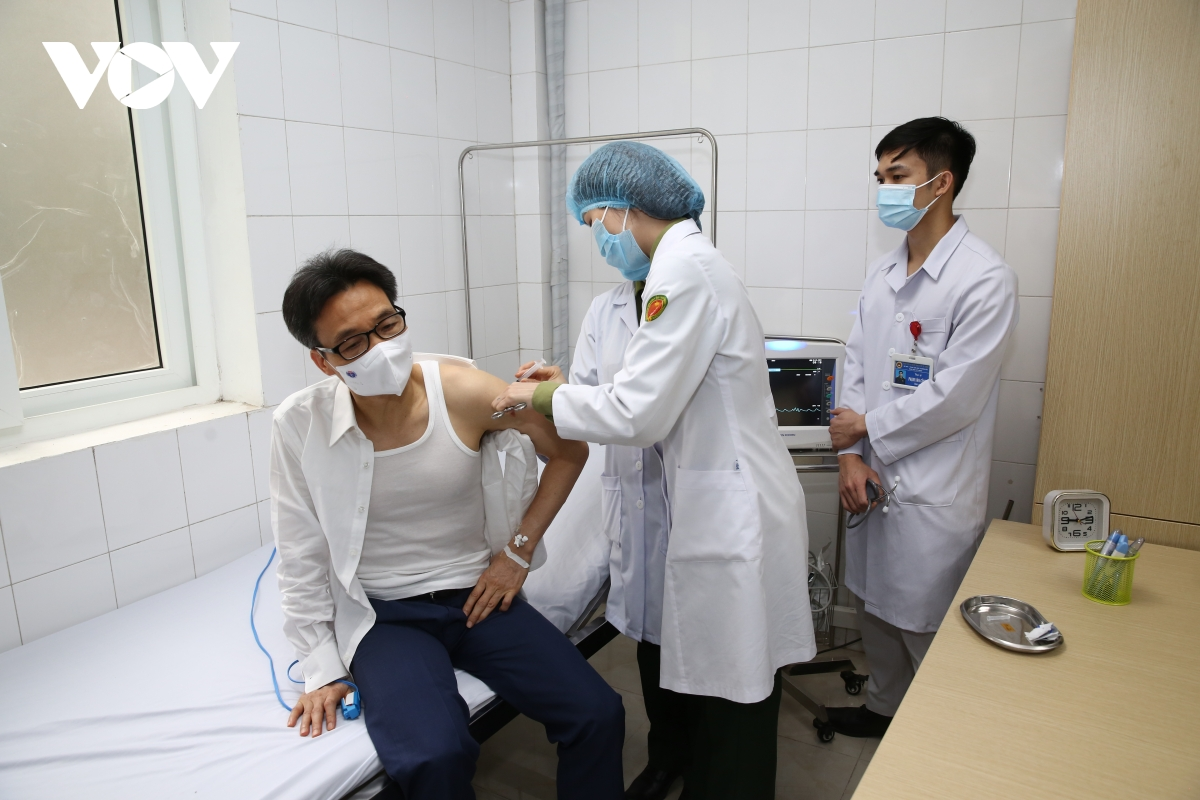 Deputy Prime Minister Vu Duc Dam gets the second shot of made-in-Vietnam NanoCovax COVID-19 vaccine. Photo: VOV
On the morning of March 30, no new cases found. Three imported cases of COVID-19 were detected in the past 12 hours to 6 pm on March 29, who were put into quarantine after entry, according to the Health Ministry.
Of the new patients, two are Vietnamese women entering through the Moc Bai international border gate and are now being treated at the General Hospital of Tay Ninh province, and the remainder is a 30-year-old Indian expert. She is now being quarantined and treated at the Cu Chi Hospital for COVID-19 treatment in Ho Chi Minh City.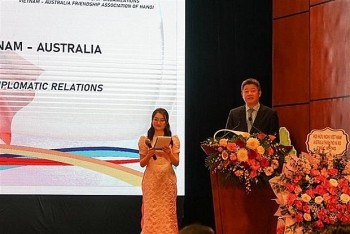 Friendship
A friendship exchange programme has been held recently in Hanoi to celebrate the 50th founding anniversary of the Vietnam-Australia diplomatic relations (February 26).