Medical face mask export licensing requirement was agreed to be abolished by Vietnam PM
Prime Minister Nguyen Xuan Phuc on April 29 signed a resolution on the exports of medical masks amid the COVID-19 prevention and control period allowing the abolition of the regulation imposed an export licensing regime on medical face masks.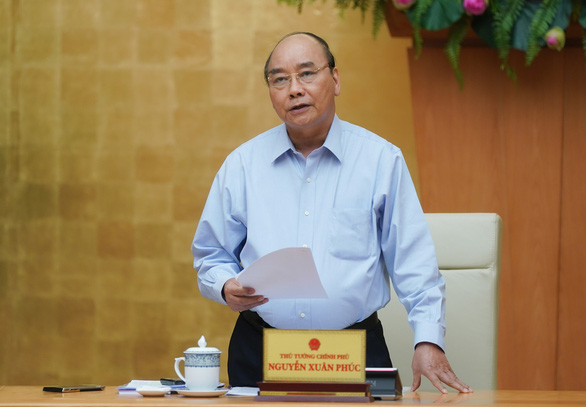 PM Nguyen Xuan Phuc in the meeting on April 28 agreed to re-export medial face masks (Photo: Chinhphu)
The Prime Minister has issued the Resolution 60 on the medical face mask export in the stage of COVID-19 prevention and control basing on measures taken by Vietnam to prevent the epidemic considered properly, timely, effectively, and at low cost.
Accordingly, the regulations imposed export licensing regime on medical face masks will be abolished in accordance with the Government's Resolution No. 20 dated February 28, 2020.
As per the Directive 20, the Vietnamese government assigns the Ministry of Health to impose an export licensing policy on medical masks.
Medical masks are only allowed for export for the purpose of international aid and assistance.
In addition, the export amount shall not exceed 25 percent of the country's output of medical masks, while the remaining 75 percent must be ensured for domestic COVID-19 prevention.
The licensing requirement is not applicable to the export activities of enterprises specializing in the production of export goods that were already granted investment certificates, and companies manufacturing medical masks for foreign traders that have signed processing contracts before March 1, 2020.
According to the Resolution 60, the Government assigned the Ministry of Health (MOH) to report to the PM for consideration and decision of appropriate measures to manage the export of medical masks to ensure sufficient supply for the domestic fight against the disease.
The MOH and the Ministry of Industry and Trade were asked to publicize the list of medical mask producers and their production capacity, while the Ministry of Finance was tasked with publicizing the list of mask exporters and their export volumes.
The Ministry of Industry and Trade shall intensify inspection, prevent and strictly handle businesses raising unreasonable prices of raw materials, speculation, stockpiling of masks and any non-compliant production of medical masks .
The exporting businesses shall bear all responsibilities for the quality of their products and sell masks to domestic health establishments upon request, the resolution said.