Make Chilled Avocado and Coconut dessert soup recipe to beat up summer heat by yourself
In the hot summer days, dessert soup made from ripe avocado and coconut milk is a refreshing and easy-to-do treat favored by many Vietnamese.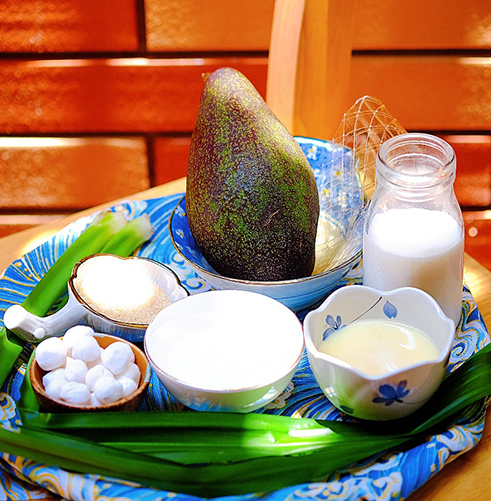 Ingredients to make avocado and coconut sweet soup (Photo: VNExpress)
Ingredients:
- 400gr avocado flesh
- 400ml of unsweetened milk
- 2 tablespoon of condensed milk
- Around 30gr of sugar (adjust to taste)
- 10gr gelatine powder (or 3 gelatine sheets)
- 1 can of coconut milk (140ml)
- 1 teaspoon of lime juice
- 2 pandan leaves for aroma, tapioca starch bubbles to serve on the side (optional)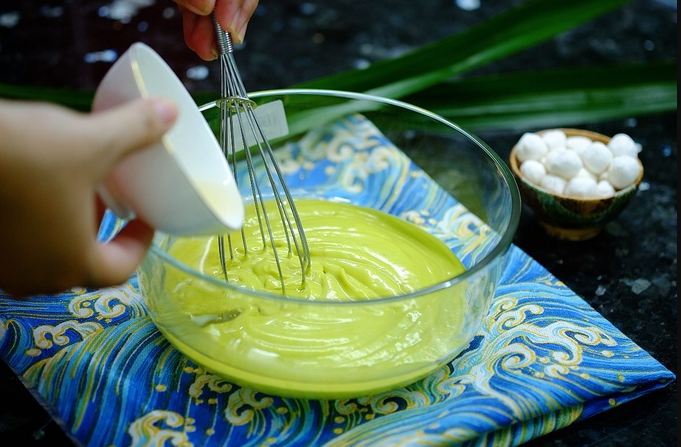 This kind of sweet soup does not require complex cooking techniques (Photo: VNExpress)
Instructions:
- Leave gelatine in around 30ml of cool water until it is softened then stream till it turns into liquid form. Keep the gelatine warm so that it doesn't cuddle.
- Prepare the avocado and place it in a blender with 200ml of fresh milk + 2 tbsp of condensed milk + 1/2 tbsp of coconut milk + 1 tbsp of sugar + 1 tsp of lemon juice. When the mixture becomes smooth, pour it into a bowl.
- Pour the steamed gelatin into the blended mixture and stir well until they are evenly mixed. At this stage, do not reheat the avocado mixture to avoid bitter taste.
- Divide the mixture into small bowls /molds, then put them in the fridge for 3-4 hours to solidify.
- Prepare the coconut milk: put 200ml of fresh milk + 1/2 cans of coconut milk + 1/2 tbsp sugar in a saucepan. Put the saucepan on the stove, turn on the stove at medium heat. Stir well to prevent cuddle and burn. You can add pandan leaves to the mixture in order to create attractive aroma. After about 10 minutes of boiling, turn off the heat and leave the mixture to completely cool.
- After staying in the fridge for a while, the avocado mixture has solidified. Take it out the plate, add coconut milk, tapioca starch bubbles, coconut rice and enjoy.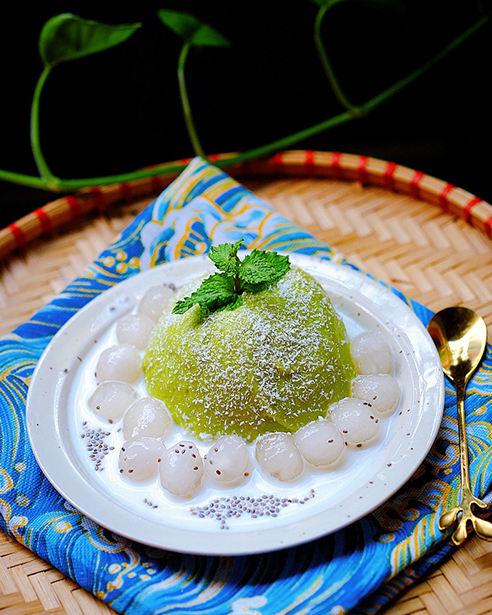 In hot summer days, avocado and coconut sweet soup is an attractive refreshing treat (Photo: VNExpress)
Once ripe, avocado has a creamy, tender texture and a special taste. Not only is it rich in vitamins and antioxidants, avocado also contains healthy fats that help maintain a healthy cardiovascular system, reduce the risk of stroke, heart attack and many other heart-related diseases.
Compared to other fruit dessert soups, a small bowl of green and tender avocado served with bubbles and coconut milk creates a voracious appetite. Both convenient and nutritious, this dessert soup recipe is definitely a must-try this summer!