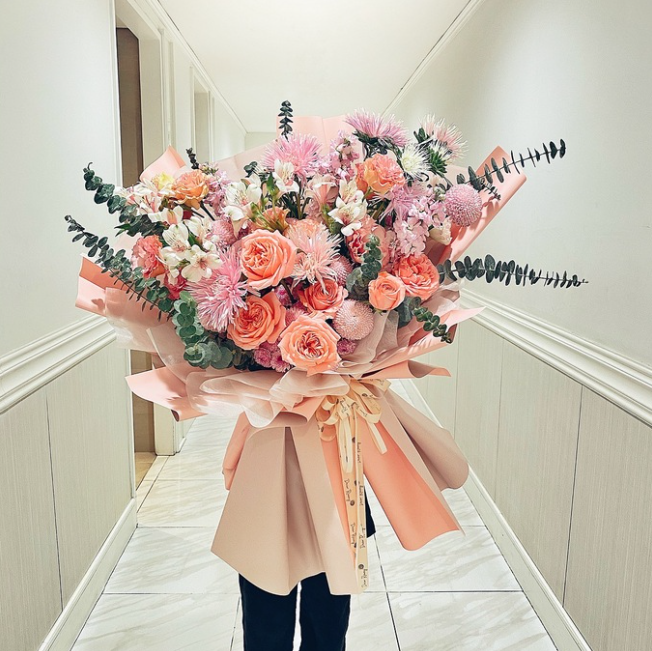 A VND 3 million (USD 130) flower bunch ordered for March 8. (Photo: VN Express)
According to flower traders in Ho Chi Minh City and Hanoi, about a week ago, the input prices of flowers, especially roses, skyrocketed. However, on March 4th, flower prices started to fall and mostly stayed at twice the level of normal days' prices.
At Ho Thi Ky flower market (District 10, Ho Chi Minh City), flower prices increased slightly compared to March 8 last year. To be specific, Da Lat roses are sold at about VND 200,000 (USD 8,7) for bundles of 50, per sunflower is sold at VND 7,000-10,000 (USD 0,3-0,4), each daisy bunch is at about VND 20,000 (USD 0,9)
Quang Ba flower market (Tay Ho, Hanoi) also recorded a sharp increase in flower prices. Although the input price rises, the demand for flowers on the occasion of March 8 this year is also high because customers like to give their loved ones flowers on this occasion. Besides, many shops did store flowers for Valentine's Day that fell on the Lunar New Year, which also leads to high input prices.
The high-end flower segment also recorded a jump in pre March 8 orders. Ms. Nguyen Thi Anh Hien, the owner of a flower shop in District 3, Ho Chi Minh City, said that the number of retail customers to order flowers has increased by 50-60% compared to normal days, while the price of fresh flowers has also doubled.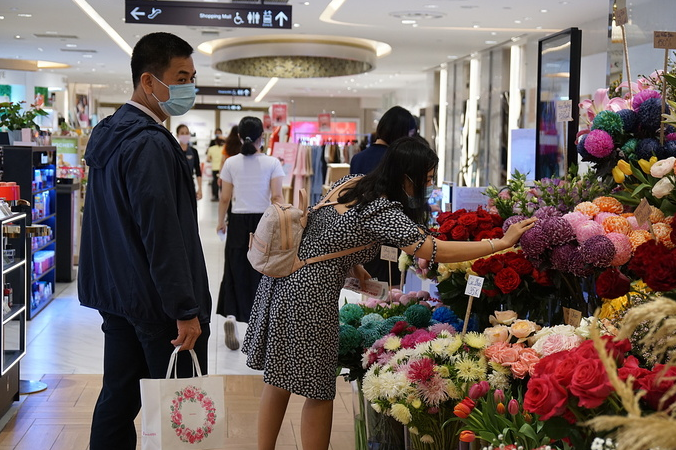 On International Women's Day (March 8), some kinds of flowers in Ho Chi Minh City are sold at a double price compared to the regular. However, flower shops are still crowded with retail customers. (Photo: VN Express)
"Our staff has worked overtime for two days. Currently, the most popular retail orders are bouquets costing about VND 1.5 million (USD 65). Customers' tastes of flowers this year are quite diverse, but the majority still choose popular kinds such as roses, tulips." Hien said.
In the group of business customers, her shop has received orders since the beginning of the week. Each company buys at least 50 bundles, even up to 250-300 ones. However, the value of each bundle for business customers is rather small, mostly from VND 150,000 to 250,000 (USD 6,5-11).
Previously, sharing with VnExpress, Ms. Van, representative of Flower box (District 1, Ho Chi Minh City) said that the number of customers from the business sector this year tended to decrease slightly, while the value of their orders also falls, possibly due to the impact of the pandemic.
However, in Ms. Van's shop, as well as other flower shops, the number of individual customers has increased sharply, with major orders priced from VND 1 to 5 million (USD 43-217). In some cases, customers will pay for a flower vase of several tens of million dong (USD 870 or higher) to gift their relatives.
Valerie Mai