Massive flooding in south China, Three Gorges (Sanxia) Dam at risk of collapse any time
Three Gorges Dam (Sanxia dam) faces serious test as Chongqing hit by worst flooding in 80 years. Chinese experts warn the world's largest power station-dam in danger of break at any time.
Flooding along Yangzi River in Chongqing. (Weibo photo)
As southern China sees some of its worst flooding in 80 years, videos on internet taken by local Chinese have surfaced showing extreme quantities of water inundating 10 provinces and cities, threatening the vaunted Three Gorges Dam.
As China's Yangzi River Basin enters its flood season, the upper reaches of the Three Gorges Dam are seeing the highest flood levels since 1940. Weather China has issued its highest warning for flooding and rain for the middle and lower reaches of the Yangzi River to Guizhou.
The rainfall is expected to peak on Tuesday and Wednesday (June 23 and 24). Flood warnings have been issued in more than 10 provinces and municipalities in China, including Guizhou, Chongqing, Hunan, Hubei, Jiangxi, Anhui, Jiangsu, Zhejiang, Shanghai, and Guangxi.
On June 1, storms and landslides started to cause erupted in southern China, causing 7,300 houses to be destroyed and affecting the lives of nearly 8 million people as of June 21. Local officials roughly estimated the economy's loss was about $ 2.9 billion.
Flooding in Guizhou Province like a waterfall taken on a Chinese twitter.
In Guizhou, torrential floods have inundated farmland and houses, with 6 counties submerged. Injuries and deaths are unknown, with reports ranging between three to 20 people.
The Chongqing Municipal Hydrological Monitoring Station on Monday (June 22) issued its first red alert flood warning in 80 years for the Qijiang River. It is predicted that there will be severe flooding in the area within 8 hours.
Based on live Chinese news broadcasts, it seems that the flood is currently passing through Qijiang District. Gas stations, street lights, and telephone poles have disappeared beneath a brown soup of floodwaters, reported the taiwannews.

Massive flood in the south of China, photo snapped from video by local Chinese on Weibo.
Many people are believed to be trapped by the floodwaters in the province's Bajiao Township. In Tongren City in Guizhou's Yanhe Tujia Autonomous County, a landslide has sealed off the highway tunnel to Guanzhou Township where houses and shops are also swamped with floodwaters.
The Guizhou Meteorological Bureau has continued to issue red warnings for torrential rain in Wuchuan County, Zheng'an County, Yanhe County, and Tongzi County. In addition, 13 counties under the jurisdiction of Zunyi City and Tongren City have issued yellow flood warnings.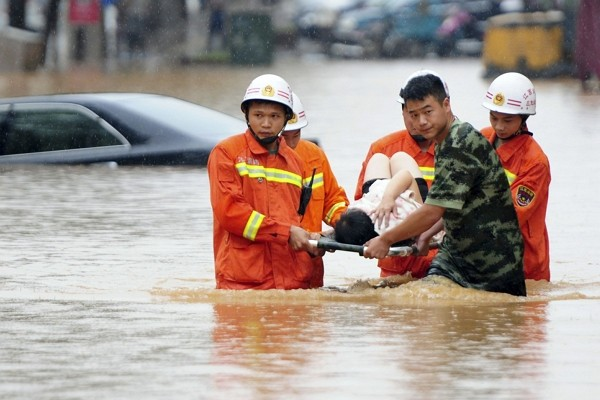 Extremely heavy rains continue to batter southern China. (AP photo)
Given that the Qijiang is a tributary of the Yangzi River, the Three Gorges Dam will be facing its biggest test since it opened in 2003. At least one Chinese scientist, hydrologist Wang Weiluo, is questioning the dam's integrity, given numerous cracks observed and substandard concrete used in construction.
China's Three Gorges Dam in danger of collapse any time
Scientist Wang Weiluo said that the Three Gorges Dam was not as stable as many people thought. Besides, Mr. Wang pointed out that the design, construction and quality assessment of the dam were all done by the same expert teams and the project completion time was too fast.
At a press conference on June 10, Chinese Vice Minister of Water Resources Ye Jianchun also acknowledged that the water level on at least 148 rivers in the country exceeded the warning level, proving that the flood control capacity of The Three Gorges Dam at a limit.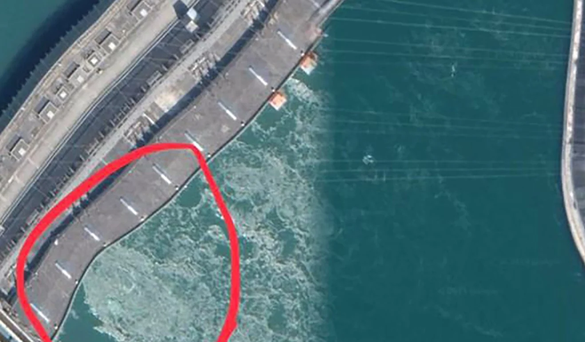 The photo on Google Map shows a section of the Three Gorges Dam been dented and has not received an explanation from the Management Group - Photo: South China Morning Post / Google Maps
In addition, Mr. Wang also said that the biggest concern was the cracks and the quality of concrete did not meet the standards during the construction of the Three Gorges Dam. According to him, if the dam breaks, there will be catastrophic consequences for people living in the lower Changjiang River and warning people to prepare for evacuation as soon as possible.
According to the online television channel CNTV, the water level inside the Three Gorges dam was over 2 meters higher than the flood control standard.
Xinhua cited data from China Three Gorges Dam Group, which said that in the past 17 years, a total of 873,800 vessels carrying 12.23 million passengers and 1.46 billion tons of cargo had stopped by the Three Gorges Dam.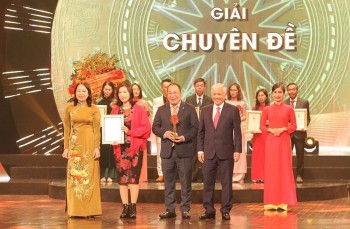 Overseas Vietnamese
VietnamTimes (Viet Nam Union of Friendship Organizations) is a reliable address for overseas Vietnamese to quickly and objectively update political, economic, cultural, and social news. The agency has created a helpful forum and connection between expatriates and the motherland.