Mekong river facing severe drought amidst serious flooding in China
Mekong water remains at a significantly low level, while Vietnam, Cambodia and Thailand call for a reconsideration of the Sanakham hydroelectric dam project in Laos.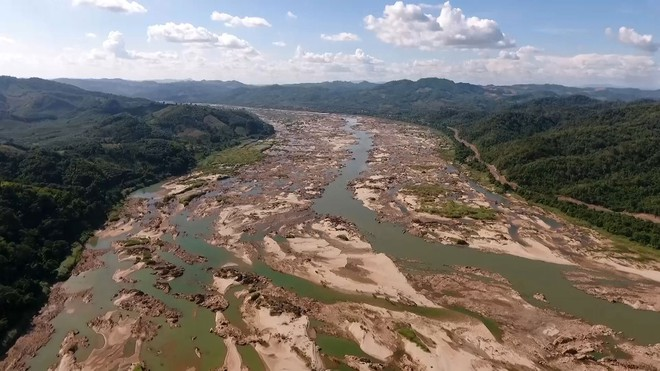 A section of the Mekong River was dry in October 2019, about 300 km downstream from the Xayaburi Dam in Laos AFP
According to the Pattaya Mail, Thailand's Department of Water Resources (NWA) confirmed that serious flooding in China has yet to raise the Mekong's water level. Due to continuous heavy rain, the Chinese government has immediately released the water from many lakes and reservoirs. Keeping a close watch on Mekong river's water in Thailand, the NWA reported that the water level has not been affected by such actions, as flooded areas in China are not related to this river's upstream.
Under the Mekong - Lancang Cooperation Agreement, China will notify the Mekong River Commission (MRC) member countries before conducting flood discharge from Chianghung Dam into the Mekong River.
As reported by the NWA, the hydrological stations in Chiang Rai and Ubon Ratchathani (Thailand), Luang Prabang and Pakse (Laos) and Chianghung (China) recorded the severely low water level on June 29th.
The major sources of water flowing into the Mekong river are from the melted snow on Tibetan Plateau and rainfall along the basin. Water from Tibet also flows into the Thanlwin River (flowing through China, Myanmar, Thailand) and the Yangtze River in China.
The Mekong River's part that flows through China is called Lancang, while its downstream flows through Laos, Thailand, Myanmar, Cambodia, and Vietnam.
Regarding the Sanakham hydroelectric dam project in Laos, on July 1, the Mekong River Commission (MRC) announced that they had just completed a six-month pre-consultation process. Accordingly, Thailand, Cambodia and Vietnam asked Laos to conduct rigorous research on cross-border impact assessment and strengthen the proposed measures to mitigate impacts from this 1,460 MW dam project.
At the meeting on June 30th, the MRC Joint Committee cleared the plan to apply a joint statement and provide a mechanism and basis for continuing reporting on the progress and operation of Laos' Sanakham hydroelectric dam project on the Mekong River.