Ministry of Health: Ready to welcome 116 Vietnamese Covid19-infectious-citizens back to home
The Ministry of Health said that a medical team of physicians and nurses on resuscitation and emergency was ready to fly to Equatorial Guinea to welcome 219 citizens to return home, including 116 people infected COVID-19 on July 16.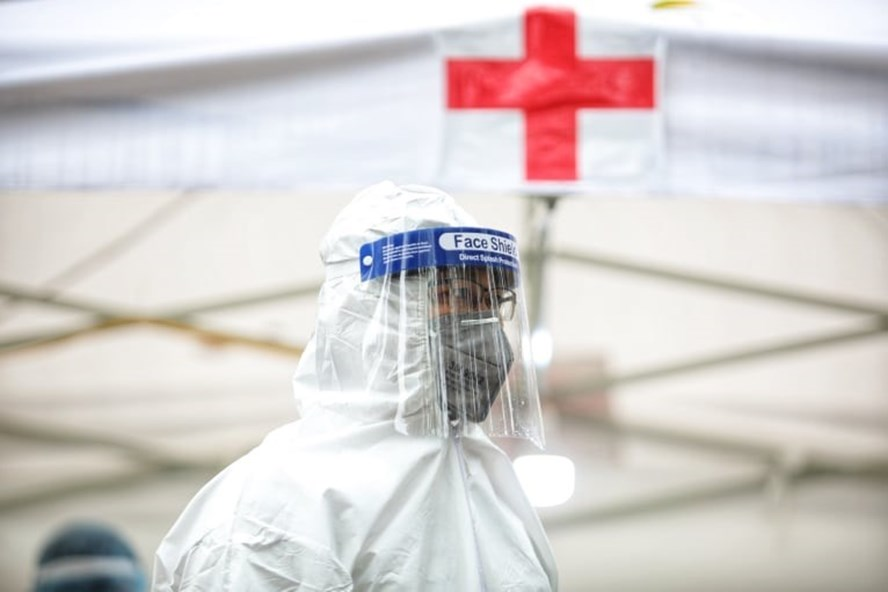 Medical staff self-protected when contacting, taking samples for testing COVID-19. Photo: Laodong News
Assoc.Prof. Dr. Luong Ngoc Khue - Director of the Medical Services Administration said that following the Prime Minister's direction on urgently planning to bring Vietnamese citizens in Equatorial Guinea back to Vietnam, the Agency of Health Examination and Treatment - The Ministry of Health and representatives of Vietnam Aviation Corporation held a meeting to discuss options for medical flight planning.
Immediately after the meeting with the representative of Vietnam Airlines, the Agency of Health Examination and Treatment contacted representatives of the Foreign Labor Administration Department - Ministry of Labor, War Invalids and Social Affairs, and representatives of 3 companies related to Sendje Hydroelectricity building are known:
There are 219 workers and managers (194 workers, 2 drivers, 23 project managers), of whom the local health service tested COVID-19 twice by RT-PCR, the first time on 1/7 for 24 cases, the second time for all workers.
102 people tested negative for SARS-CoV-2, 117 cases were positive (116 cases were positive, 1 case was first positive but the second was negative). Counting from the first test has been 14 days.
According to the report of the company's representatives, there were only 2 cases in the previous days, when they had to go to the recovery room and breathe oxygen mask, but now have recovered and moved to the room with nursing, without breathing oxygen anymore. All three companies do not have a physician or accompanying medical staff but employ the medical staff of the general contractor.
The average age of these workers and managers is 38 years old, the lowest is 19, the highest is 68. Of which 135 people (62%) were aged 19-39, 63 people (29%) were in the age group from 40-49, 8 people (8%) are aged 50-59 and 4 people (2%) are over 60 years old.
Due to the long registering time, it is expected to last until 3/8, about 1 month from the first test. The health situation of workers will then change, the number of positive cases may increase, and many positive cases will recover. In the meantime, it is important to monitor the health of workers who are infected in order to provide timely assistance.
It is expected that on July 16, the Agency of Health Examination and Treatment will continue to work with representatives of 3 companies to make a list of cases with clinical manifestations, and those being treated at health clinics for the medical plan and assistance when needed.
The representative of the National Hospital of Tropical Diseases said that he was getting ready and sent a team of doctors and nurses specialized in resuscitation and emergency to prepare for his journey to Equatorial Guinea to take citizens back.
Earlier, Prime Minister Nguyen Xuan Phuc had asked related agencies to organize the return of Vietnamese citizens of Equatorial Guinea, in the spirit of doing their best to protect the citizens.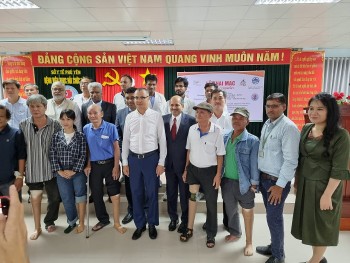 Friendship
This is the 5th time the Jaipur Foot Artificial Limb Fitment Camp has been held in Vietnam since 2018 by the Indian Ministry of Foreign Affairs, Indian agencies and organizations.