Miss Earth 2020 : Chinese candidate wears outfit resembling Vietnamese "ao dai" in talent competition
Jie Ding, the representative from China competing in 2020 Miss Earth, wore a gown that resembles the traditional Ao Dai of Vietnam, sparking controversial discussions about national identity.
Jie Ding's talent performance where she wears Ao Dai (Video: Miss Earth)
Chinese contestant Jie Ding, 25, is reportedly wearing a white long dress whose form is indistinguishable from Ao dai - Vietnam's iconic gown in the video streamed online October 14 night as part of 2020 Miss Earth's talent contest.
This year Miss Earth is unprecedentedly held online, given the complicated COVID-19 pandemic. Each contestant themselves records one video to promote their national images and traditional dance.
As Ding's video live-streamed on Miss Earth's website on Wednesday evening, Vietnamese viewers immediately recognized what the Chinese beauty contestant was wearing was actually Vietnam's iconic Ao Dai.
Ding was quoted on the live-stream that she was dancing to the deeply-rooted choreography imbued with Chinese cultural values. Yet, the beauty did not give any comment on the costumes she's wearing.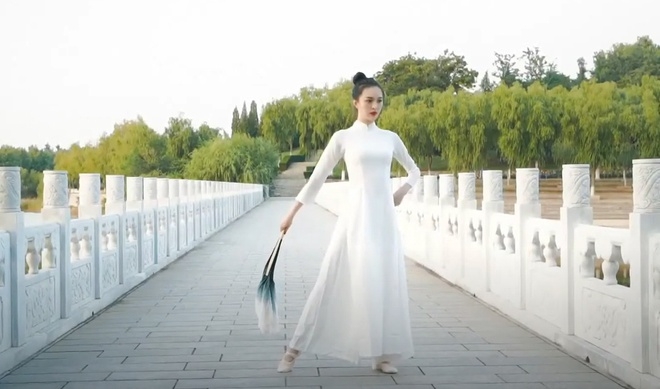 Jie Ding's costume resembles Vietnam's Ao Dai (Photo: Captured)
"I don't know why a Chinese contestant would wear Ao Dai in a global contest?", a Vietnamese netizen comments to the video.
"Didn't the judges and team recognize this was Ao Dai?", another wrote.
These are just two of the many comments criticizing Ding's unsuitable garment. Some even firmly said that Vietnamese people must raise voice so that international friends wouldn't mistake what Ding was wearing for any kind of Chinese dress.
A Vietnamese student wearing white Ao Dai. (Photo: Du Doan Vietlott)
Wearing white Ao Dai to school has long been the norm in Vietnam (Photo: Baamboo)
Designer Do Trinh Hoai Nam confirmed that Ding's costume in the video was actually Vietnamese Ao Dai. "From the collar, the lap right at the waistline, to the wide-legged pants, all have the look of Ao Dai. This white Ao Dai model is ubiquitous among female Vietnamese students. Miss Vietnamese also wear the dress in national beauty contests", he said.
Nam expressed his surprise seeing a Chinese contestant wearing the national costume of Vietnam throughout her dancing in an international beauty pageant. He believed this is an act of "cultural aggression", whether intentionally or unintentionally.
"I really want Vietnam's female Ao Dai would soon gain UNESCO's recognition as a cultural heritage and become a national dress, to avoid such unfortunate events from happening", Hai said.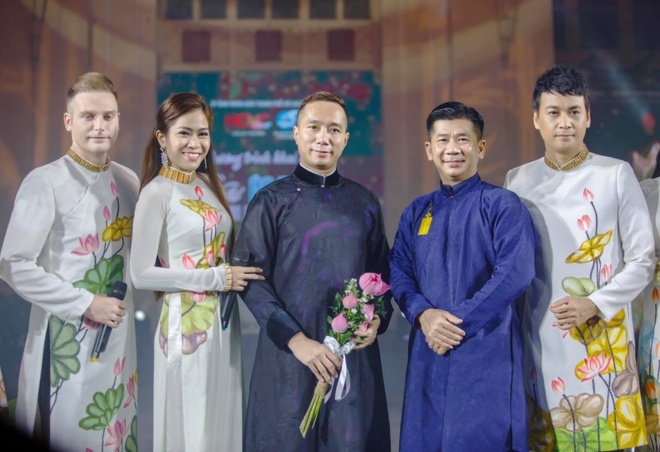 Designer Do Trinh Hoai Nam has designed many Ao Dai with patterns of lotus on (Photo: Zing News)