More than 52,000 Vietnamese inoculated with Covid-19 vaccine
On April 2, more 875 Vietnamese people were administered the Covid-19 vaccine, raising the tally of recipients to 52,091.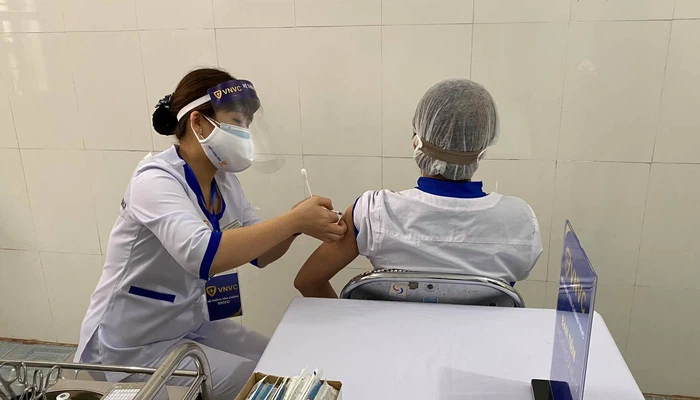 More than 52,000 Vietnamese have been inoculated with the Covid-19 vaccine. Photo: Vneconomy
On April 2, more 875 Vietnamese people were administered with the Covid-19 vaccine, raising the tally of recipients to 52,091, according to the National Expanded Program on Immunization.
The prioritized groups receiving the vaccine are medical workers directly treating Covid-19 patients, those involve in taking samples, testing, contact tracing, members of Covid-19 community groups, and members of the Steering Committees for disease prevention and control.
Among 875 vaccine recipients in 8 provinces and cities on April 2, Hai Duong counted 21 people, Hai Phong (218), Bac Giang (56), Ha Giang (12), Dien Bien (107), Ho Chi Minh City (354), Binh Duong (47) and Gia Lai (60), Vneconomy reported.
The National Expanded Program on Immunization organized training in the implementation of Covid-19 vaccination for the Departments of Health, the Centers for Disease Control/ Preventive Medicine, and the Provincial General Hospitals across the country.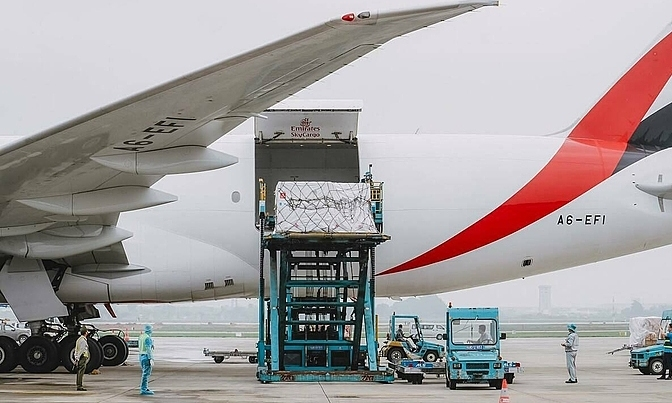 An aircraft carrying 811,200 doses of AstraZeneca vaccine doses lands at Noi Bai Airport in Hanoi, April 1, 2021. Photo by VnExpress/Phan Cong.
In the time ahead, the Covid-19 vaccination campaign is expected to be deployed on a larger scale and for more subjects.
The first batch of 811.200 vaccine doses sponsored by the global vaccine access mechanism Covax arrived at Hanoi's Noi Bai International Airport on April 1.
These vaccine doses were then transferred to the National Institute of Hygiene and Epidemiology (NIHE) for storage, awaiting the Health Ministry's instructions on distribution, according to Vnexpress.
The original plan was to deliver 1.37 million doses on March 25. But a lack of supply has meant that just 811,200 doses were made available in the first batch.
Another batch containing more than 3.3 million doses via Covax is scheduled to reach Vietnam in May.
Vietnam had been promised 30 million doses of the AstraZeneca vaccine under Covax, a global mechanism for developing, manufacturing and procuring Covid-19 vaccine candidates that help member countries access vaccines as they become available.
Vietnam saw three new imported COVID-cases in the evening of April 2, according to the Ministry of Health, which added that all the patients were sent to quarantine immediately upon arrival in Quang Ninh, Ho Chi Minh City and Tay Ninh.
As of 6 pm on April 2, the national count was 2,620, including 1,603 domestically transmitted cases, said the ministry.
The MoH's Medical Service Administration reported that as many as 2,383 have been given the all-clear from the coronavirus SARS-CoV-2 so far.
The death toll from the disease was still kept at 35, the administration said.
Among active patients undergoing treatment at medical establishments across the country, 38 tested negative for the virus once, 15 twice and 28 thrice.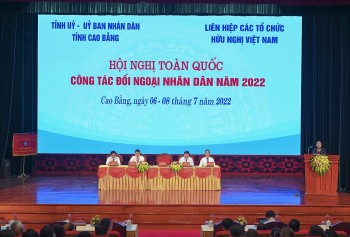 Friendship
During the event, many important issues will be discussed, and constructive suggestions and solutions will be provided to promote more effective people-to-people diplomacy operations.