More than USD 43.000 to support Ho Chi Minh city's people through Habitat's COVID-19 Response Project
The Vietnam Red Cross Society just held a kick-off ceremony of the COVID-19 Response Project, sponsored by Habitat For Humanity Vietnam.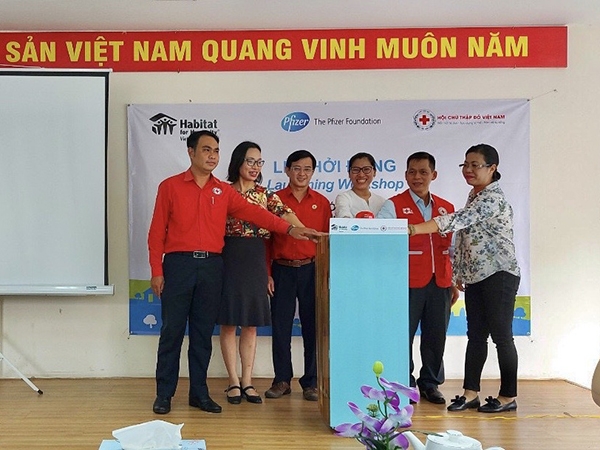 At the ceremony. Source: VOH
The COVID-19 pandemic has become a human crisis pressuring the lives of people, pushing the most vulnerable groups - such as people with disabilities, informal workers, women, and children - into long-term deprivation.
Vietnam has gone through 33 straight days without a single COVID-19 community infection as no new local cases were reported on October 5 evening.
However, statistics show that many businesses have to either cut down on the labor force or close workshops. Many stores and small business households have been forced to close the door due to lower purchasing power and no profit.
With more than 70,000 businesses suspending their operations and more than 31 million employees affected, it will pose a great challenge for Vietnam, especially small and medium-sized enterprises (SMEs), say experts.
Habitat Vietnam has launched COVID-19 Response Project, in collaboration with the Vietnam Red Cross Society and The Pfizer Foundation, to support 1,600 families hit hard by the pandemic in Ho Chi Minh City during the period from October 2020 to January 2021.
This is essential as the pandemic has hit tourism areas such as these particularly hard and low-income seasonal workers struggle to find enough economic resources to keep their families fed and educated
The project, worth of VND 1 billion (USD 43.000), will provide comprehensive services of Emergency supplies distribution - including food and hygiene kits; Rental relief: three-month rental subsidy will be sent directly to the family's landlord, and Short vocational training courses to build capacity and skills so that they would be ready to secure new jobs after COVID-19.
The direct funding for people through the Central Red Cross Society is VND 255 million (USD 11.000) and the funding for goods provided by Habitat Vietnam through the supplier is VND 700 million (USD 30.200).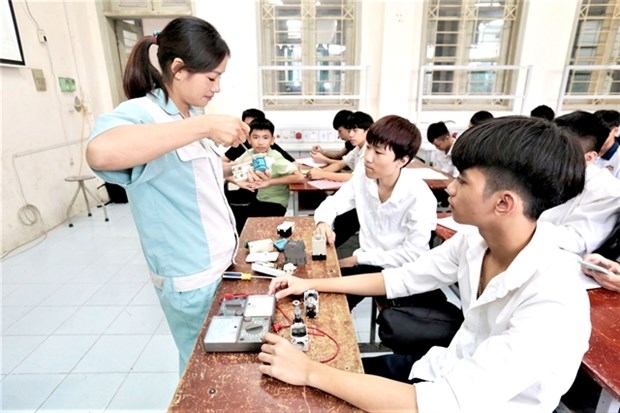 Students who graduated from secondary school attend an electricity class at Hanoi Industrial Vocational College. Photo: VNA
Beneficiaries of rental assistance are: households in difficult circumstances severely affected by the COVID-19 epidemic, having unstable jobs or reduced income due to the effects of COVID-19, families have two or more people, does not have a house, is currently renting a house, cannot receive any other housing assistance package, will receive a housing support cost of VND 1,5 million (USD 64.9)/ month/household for 3 months.
The target group of people receiving support for vocational education and training is: Households with a person of working age, capable of acquiring knowledge and working, and aspiring to participate in training to look for job opportunities, individuals currently unemployed or unstable jobs or reduced income due to the effects of the epidemic. This group will be participating in the training course for 2 months.
Along with the priority, criteria are households with people with disabilities, the elderly, children, households with women as the main bread-earn, women who are pregnant or nursing children under 12 months of age, a family member with a fatal disease.
This project also kicked start Habitat Vietnam's efforts to celebrate the month of World Habitat Day 2020./.